Challenging, but valuable work
I majored in biology at Northwest University in Shaanxi province, but after graduation I worked as a manager at a pharmaceutical company for about 10 years.
In 2013, I was invited to join the Chain Forensic Science Department in Zhejiang province. I accepted because I was passionate about evidence identification and I wanted to use my knowledge of biology to help people in trouble.
My job mainly involves verifying DNA samples and detecting poisons. I have witnessed numerous cases in which parents have found a missing child thanks to our DNA identification. I always appreciate their thanks and the sense of achievement my work provides.
Despite that, there have been some challenging moments. For example, at the end of last year, I accepted a case that involved a hit-and-run accident.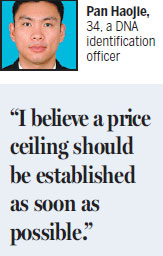 I was unable to find any evidence at the scene until I discovered some of the driver's DNA on a small gas container that had been in the car when the accident occurred.
The man's DNA was already on police files, so, as a result of my discovery, he was identified and the case was solved quickly.
I also remember a farmer who asked for my help when police refused to act after several of his cows died unexpectedly.
My investigation proved they had not died of natural causes, but had been poisoned with arsenic.
The death of livestock causes large economic losses for farmers, which was why I made every effort to help him. After my discovery, the police began an investigation and identified the man responsible. It's very satisfying when my discoveries help investigators to uncover the truth.
Although I enjoy my work, I often have concerns about the profession, such as the extremely high fees charged in Sichuan province. Currently, the fees in some regions are calculated in line with the amount of compensation a person has applied for.
I don't think that's reasonable. Many civil disputes involve millions or even billions of yuan, so is it appropriate for verification fees to soar without limit?
I don't think so. I believe a price ceiling should be established as soon as possible.
Also, we need to establish a national qualification standard for employees of judicial appraisal institutes, and we must raise the quality threshold for expert witnesses in court cases.
Pan Haoji spoke with Cao Yin