Chinese warming up to holiday in Antarctica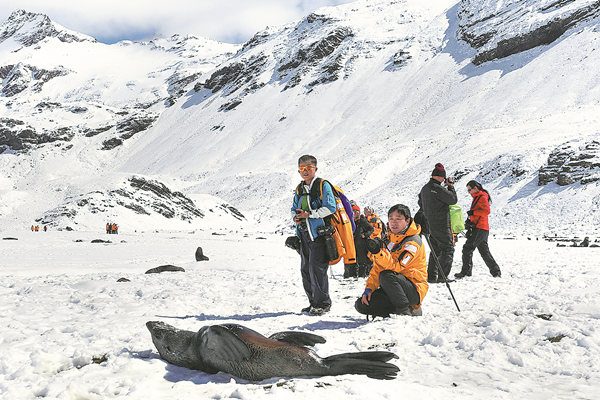 Chinese tourists take pictures of seals in Antarctica in January.WANG YANAN / FOR CHINA DAILY
More wealthy Chinese adventurers have scrambled to get to Antarctica during this Chinese New Year holiday season, with the country's biggest online travel agency reporting a sharp rise in bookings, which can cost more than 200,000 yuan ($29,150).
Since November, Ctrip has received more than 100 orders for its Antarctica tour packages, nearly double that of the same period a year ago.
According to Ctrip, the high-end cruise packages, or traveling by taking a direct flight from Chile to Antarctica instead of taking a cruise, have price tags ranging from about 170,000 yuan to 220,000 yuan.
Some Chinese tourists prefer tour packages that last more than 30 days and include tours of more South American countries.
"In recent years, Antarctica has become a more popular tourism destination, due to the rise of income of Chinese who seek more unique traveling experiences as well as media promotions," said Peng Liang, public relations director of Ctrip's vacation business department.
"With an increasingly mature development of tourism services in Antarctica and more advanced cruise facilities, health requirements have become lower," he said. "We received orders from tourists over 70 years old."
Du Jie, a 29-year-old Beijing traveler, took a trip to Antarctica for 10 days in November. In Antarctica, he tried a polar plunge, jumping into icy water, while hiking the snowy mountains with other cruise members.
"It's nice to see animals such as penguins, seals and orcas living in places where they truly belong," he said.
Meanwhile, with more travelers visiting Antarctica, there are concerns about environmental protection. The management teams of cruises usually require tourists to leave behind nothing and take away nothing from the continent, and they said tourists need to further understand the need for environmental protection.
The best period for traveling to Antarctica is between November and February, which is summer there, when temperatures in some areas can reach between 0 C and 10 C, according to travel agencies. The period, which covers China's Spring Festival break, has become a peak time for Chinese to travel there.
Zheng Yiran contributed to this story.