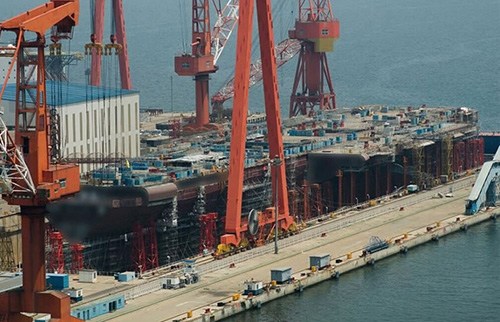 Construction photo of the Chinese made aircraft carrier. [Photo from the Internet]
China's first self-developed aircraft carrier "will not only look more elegant, but will have better internal qualities", said Wu Qian, the spokesman of the Ministry of National Defense, at a regular press conference on Thursday.
According to Chinese media reports, the assembly of the body of China's first home-made aircraft carrier is almost complete.
Wu did not give a timetable, but said the project was going smoothly and according to plan.
At the ministry's last press conference in 2015, ministry spokesman Yang Yujun confirmed that China was independently designing and building its second aircraft carrier in Dalian, Liaoning Province, which would improve on many aspects of the "Liaoning," China's first aircraft carrier.
The refurbished Soviet-made carrier was delivered to the People's Liberation Army Navy in September 2012.