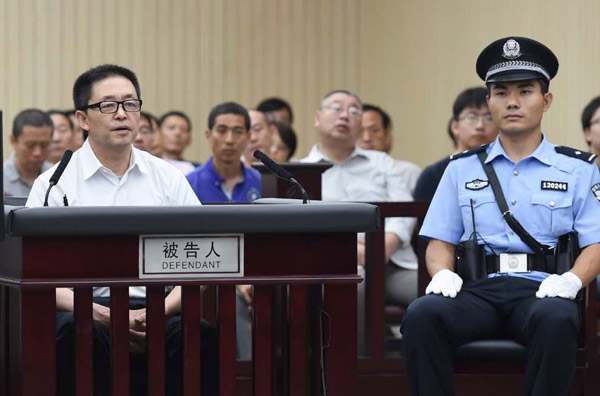 Gou Hongguo, who was convicted of subverting State power, is tried at the Tianjin No 2 Intermediate People's Court on Friday. [Photo/Xinhua]
Four people were convicted of subverting State power and were sentenced by a court in Tianjin in a series of trials last week.
Of the four, Hu Shigen, leader of an illegal church, got the longest prison term of 7.5 years. At 61, he was the oldest defendant and had engaged in anti-State activities since the 1990s.
Zhou Shifeng, a lawyer who formerly managed the Fengrui Law Firm in Beijing, was sentenced to seven years in prison.
Zhai Yanmin, an unemployed resident of Beijing, was sentenced to three years in prison, suspended for four years.
And entrepreneur Gou Hongguo received a suspended three-year sentence.
Zhai and Gou may not be jailed if they do not reoffend during the probation period.
All the defendants confessed to the charges against them and expressed remorse. None chose to appeal.
The four met to "establish a systematic ideology, method and steps" to subvert State power, according to court statements.
Hu was the mastermind, spreading subversive ideas and plans and training agents such as Gou. Zhou ran the law firm as a front to carry out subversive activities with Hu and others. And Zhai was the "enforcer", instructed by Hu to organize paid petitioners for illegal protests, according to the statements.
Chen Yaodong, deputy director of the Law School of Nankai University, who observed proceedings, came to the conclusion that the trials were "open and fair" and that China's judiciary handled these sensitive cases with order.
"There's no place for outlaws in our country under the rule of law, and any activities to subvert State power via violence, peaceful evolution or street politics will be punished by law," he said.
Hu is a native of Nanchang, Jiangxi province. He was a teacher at a Beijing university before engaging in subversive activities. He was sentenced to 20 years in prison in 1994 for "counterrevolutionary" crimes. He returned to his subversive ways not long after he was released in 2008, the court found.
Hu spread the idea of "pushing down the wall", a metaphor for overturning China's existing system.