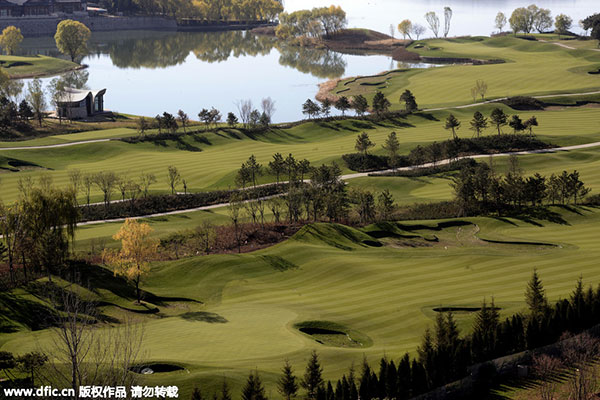 A golf course in Beijing. [File photo/IC]
Beijing will tighten restrictions on water usage on golf courses and ski resorts amid the increasingly serious water shortage in the arid city, Beijing Youth Daily reported.
The report said Beijing authorities will impose different quotas on water usage for golf courses and ski resorts according to their locations and annual precipitation.
Earlier on March 31, water usage formally became part of the criteria implemented across the city for whether construction projects get approved. As of July 31, only 295 out of 456 construction projects have been approved.
"We must tighten water usage for water-intensive industries", said an official with Beijing Water Authority, "For golf courses and ski resorts, they can choose either to pay a high price for extra water beyond the limit, or to reduce usage by adopting water-saving measures including replacing appliances and improving recovery rate of used water."
The move is the latest in a spate of measures in Beijing's water-saving campaign since 2005. So far ten public living industries have been required to meet their own water usage quotas set up by the government. These industries are schools, restaurants, hospitals, state organs, office buildings, car-wash firms, hotels and catering and bathing industries.
Beijing is among a number of cities in China affected by water shortages. In 2014, the total water usage of the whole country reached 609.5 billion cubic meters, which almost reached the 2015 "red line" limit of 635 billion cubic meters set up by the government, above which water consumption levels are unsustainable.