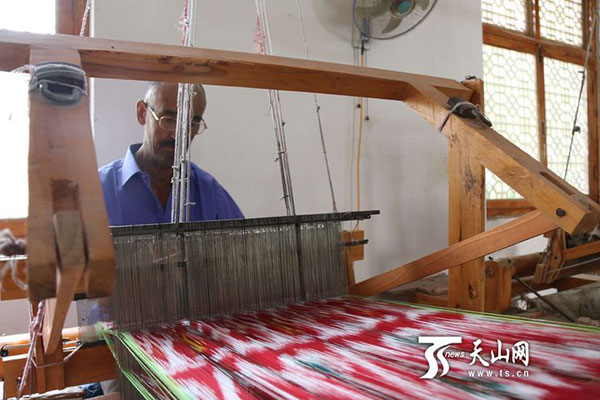 Amar Ali, a fifth generation practitioner of the traditional Atlas technique. [Photo/ts.cn]
For more than 1,000 years traditional craftsmen have been making Atlas silk in Hotan prefecture, Xinjiang Uygur autonomous region. Inspired by the shapes of flowers, leaves and fruits, the people weave beautiful patterns.
Atlas designs have now been rejuvenated and used on new products. Young designers are experimenting with the mix and match of traditional art and modern techniques and the Atlas handbag, one of the successful examples, is now on the crowdfunding platform of taobao.com, drawing admiring looks from many.
Chang Yan, a young designer from Xinjiang, is fascinated by the color and design of Atlas. To make it and Xinjiang culture known by more people, Chang has taken a bold step with the Atlas handbag. The bag, with Uygur characteristics, has become an iconic product of Jiya township in Hotan, hometown of Atlas silk. It combines traditional patterns with modern designs, and the black and white color match is simple but fashionable.
The crowdfunding project has attracted nationwide attention on the Internet. Many users have shown support. According to one, calling himself 'the memory of time': "I am living outside my hometown Xinjiang but always interested in Atlas products. This handbag remains the soul of traditional Atlas, but innovative and modern at the same time. I am so happy when it is delivered to me. My colleagues love it as much as I do".
All money raised from the crowdfunding will go to planned workshops in Jiya to promote local employment. Lots of locals in Hotan are already inspired, eagerly making their own creations.
Bahargul Kasim is president of Bahargul Atlas Textile Company. Her self-designed accessories have received great feedback. "I am excited to use Atlas fabrics on different products. By these creative Atlas designs, like the Atlas handbag, we can make Atlas silk known by more people."
Amar Ali, a fifth generation practitioner of the traditional Atlas technique, works in the Liren Atlas handmade silk factory in Jiya. He visited Shanghai to display the beauty of the technique to more people.
"Before coming to Shanghai, I only saw Atlas silk as a fabric for clothes, never thinking about making it into other products, or changing its patterns. During my stay in Shanghai, an idea occurred to me that Atlas silk could have more possibilities. I am inspired to create new patterns now," Amar said.
"We should make Atlas creative and diverse, in order to keep this traditional technique alive. When the Atlas creative workshops have been set up more people will fall in love with this traditional technique," he said.
Bumayram runs a garment factory in Hotan. She said that when design courses are held in Hotan she attends lectures. She is fascinated by how to make modern fashion designs with Atlas silk. She thinks Atlas should embrace diverse creations to spread to more places.
By combining the tradition and fashion, Hotan locals see a promising future. It will not only be about the traditional technique of Atlas but also about career opportunities of their own.