BEIJING - Evidence of China's regional development gap can easily be found so far as education is concerned.
Recent media reports stated that 3,000 primary school students in Central China's Hubei province had to bring their own desks and chairs to school when the new semester began on Monday, with some Internet users posting photos of their shabby classrooms on Sina Weibo, a popular microblogging site.
Education facilities in villages near the Dabie Mountains, where the 3,000 children live, are poor indeed. Some of the region's teachers don't even have their own desks. The students have become accustomed to bringing their own desks and chairs at the start of each semester.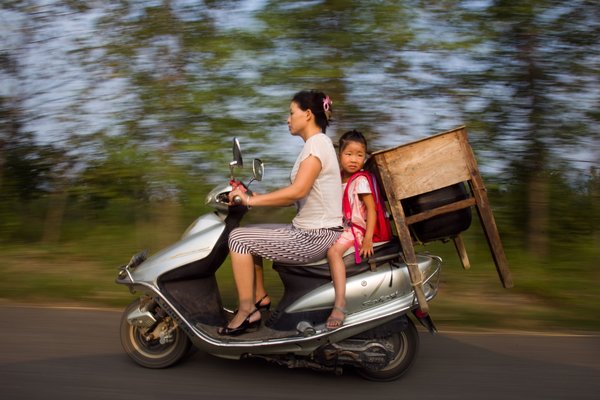 A mother rides a motorbike with her daughter and a desk on the back for the first day of school in Shunhe town, Macheng city in Central China's Hubei province, Sept 1, 2012. [Photo/CFP]
Local resident Zhong Keqin, 57, sent his granddaughter Zhong Kexin to school with her own wooden desk on Monday. He said the desk was made more than 20 years ago for his son.
Student Lu Siling's parents borrowed a desk from a fellow resident of the village of Nangang before school began. The desk is 18 years older than the six-year-old girl.
The poor condition of the region's schools has attracted attention from the media and public, who have criticized the local government's failure to provide adequate education resources.
"I think local authorities haven't paid much attention to education. Instead, they would rather waste money on vanity projects," wrote Weibo user "shengxiaoxing."
Although the underdeveloped condition of the local economy has been blamed by some, others have questioned the local government's passion for providing quality education.
"If the officials would only spare some of the money they spend on cars and lavish banquets, the children could have desks and chairs," wrote user "a Beijinger in Beijing" on news portal Sina.com.
Statistics released by the Ministry of Education showed that the number of primary school pupils declined by 143,400 to 99.26 million last month, with a similar drop seen in the number of junior high school students.
Although some have cited the statistics as evidence of a surplus of education resources, the imbalance between urban and rural areas is massive, according to Tang Lihong, a professor at Fuzhou University in east China's Fujian province.
Inadequate facilities are not the only problem facing rural educators, who have also had to struggle with a shortage of qualified teachers, as many new teachers refuse to take jobs in far-flung rural areas.
Urban schools also suffer
While shattered windows, broken desks and dirty walls are a sad but common sight in rural schools, similar conditions can also be found in bustling cities.
In Sanya, a tourist city in South China's tropical island province of Hainan, a shabby two-story building contrasts sharply with its surrounding high-end hotels and villas, some of which are located just a stone's throw from the school. The building is part of a primary school for the children of migrant workers.
Photos of the school were posted on popular Internet forum Tianya.cn earlier this year, leading many netizens to express their concern regarding education for the children of migrant workers, a valuable but often marginalized population in China.
Although the government has repeatedly pledged to make efforts to improve education for migrant children, computers and other essential equipment and facilities are still rare or nonexistent in migrant schools, even in developed cities like Beijing.
Prof. Tang said long-term, overall planning is needed to ensure that education resources are distributed evenly to all of the country's children, no matter where they live.
The city government of Macheng, which administers the villages in the Dabie Mountains, said it plans to spend 5 million yuan ($787,415) to purchase desks and chairs for all the primary and junior high schools under its jurisdiction.
On August 29, the State Council, or China's cabinet, approved a string of measures designed to narrow the education gap between urban and rural areas, pledging more investment in rural and poverty-stricken areas.
It said promoting balanced and quality education will be a primary task for the nation over the next several years.
According to the new measures, qualified teachers and college graduates will be encouraged to go to rural schools in order to eliminate the shortage of qualified teachers there.