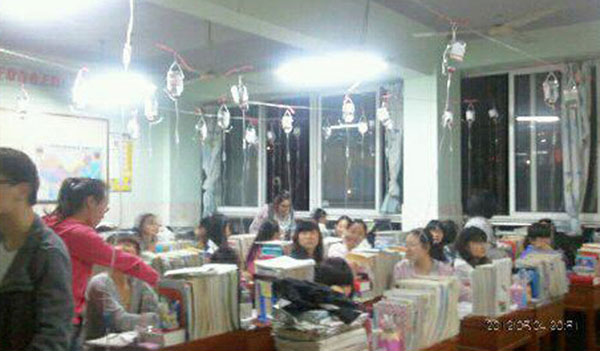 [Photo/163.com]
An investigation is underway after shocking images circulated on the Internet showing teenagers in a late night study session taking intravenous injections while studying for the National College Entrance Exam, Beijing Times reported Monday.
More than 30 students, some sitting and continuing to study – others standing – were captured on film injected with intravenous drips of amino acid hanging from the classroom of Xiaogang No 1 High School in Xiaogang city, Central China's Hubei province during an evening study session.
The photos, which have garnered lots of controversy online, were posted on May 4 by a micro blogger dubbed "CHImushroom" who claims to be a third-grade student at the key provincial school.
The school has confirmed the photo is authentic, but did not confirm when it was taken. The National College Entrance Exam, or Gaokao, is usually held early June.
Thousands of messages followed online with most outraged and expressing sympathy to the students. Many believed the students were sick and studying.
But the school confirmed the liquid being bumped into the veins of their third grade students was in fact amino acid to supply energy. A solution normally used in acutely ill people in a hospital setting.
The school's administrative officer surnamed Xia said students were offered the injection to help improve their physical condition and energy supply ahead of the gaokao. The school decided to administer the fluids in the classroom to save study time.
According to Gao Pingqiang, director of supervising office of the school, the pre-gaokao injection has become very popular over the years and some micro bloggers also said they had the injection and it helped them perform better for the highly-pressured exam that determines which university a student can attend.
Gao believes injecting amino acid has no harmful effects, can help relax students and refused to stop offering the fluids. "The school will not suspend the injection and we will continue if students want it," said Gao.
However, a survey of micro bloggers showed, 11,163 disagreed with the policy and 1,248 supported it.
The effectiveness of injecting amino acids was also doubted by some experts.
"It is stupid for the school to let students have the amino acid injection," said Zuo Xuezhi, a nutritionist with Tongji Hospital. "Without mention the effectiveness of amino acids, the intravenous injection itself may lead to adverse reactions", added Zuo.
State Food and Drug Administration expert Sun Zhongshi says it is not necessary at all for a normal person to get supplied with additional amino acid. Students are also vulnerable to infection when taking injections in a classroom, Sun added.
Aside from the effectiveness of the injection, some experts also suspect the work of special interest groups that are benefiting from the injection, as a bottle of amino acid costs about 100 yuan.
Xia, director of the school's administrative office, added that each gaokao attendee is guaranteed by regulations to enjoy a 10 yuan a year subsidy for an amino acid injection.
Meanwhile, Gao Pingqiang, claimed each student needed to pay 10 yuan for a 500 ml bottle of amino acid.
However, Hubei provincial education authority said they have never known such a subsidy and has launched an investigation.