Editor's Note: China has taken the lead in recovering from the global financial crisis, and offers huge market potential in many industries. Here are ten areas where China has scored - or is destined to make – number one in the year 2009, as selected by China Daily website editors. We have left infrastructure projects, which include many top 10 candidates, for a separate category. [Top 10 Everything of 2009]
1. Fastest GDP growth
With the world still haunted by recession, China seems to be the promise land with a 7.7 percent year-on-year economic growth rate in the first three quarters.
The figures outperform all the other countries, including India, China's old rival in terms of economic growth rate, ensuring China an annual GDP growth over 8 percent in 2009.
China's year-on-year GDP growth stood at 6.1 percent, 7.9 percent and 8.9 percent respectively for quarter one to quarter three, according to the National Bureau of Statistics, showing a robust but stable recovery.
China, together with other emerging economies, plays an important part in leading the world out of the economic downturn, analysts said.
Related readings:


 Premier Wen defends China's development rights


 Economy grew 9.6% last year


 Private sector plays greater role
2. World's No 1 exporter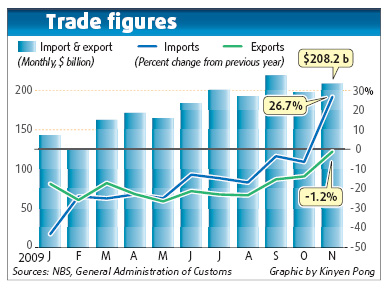 China will "very probably" surpass Germany to become the world's largest exporter this year, the Ministry of Commerce said on December 27.
According to the World Trade Organization, during the first half of 2009, China had, for the first time in the past seven years, edged narrowly ahead of Germany in exports. During the January-June period, China exported goods worth $521.7 billion, slightly more than Germany, which exported $521.6 billion worth of goods.
Economists predicted such momentum will be sustained during the second half of 2009 and the years ahead, especially with the toll the financial crisis has taken on developed countries, including Germany.
Although the figure for December has not yet been announced, Zhong Shan, vice-minister of commerce, predicted that China's exports for the whole year in 2009 will drop by 16.5 percent year-on-year to $1.19 trillion. Given the drops in China's exports that have already taken place this year, that actually means that exports for December will likely grow by 9.6 percent compared to last year, to $121.86 billion.
Related readings:


 Country set to be largest exporter


 China may surpass Germany as world's biggest exporter


 Exports narrowly edge past Germany's for first time
3. Top IPO destination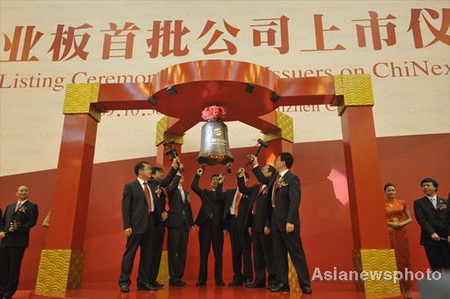 Chairmen of the boards from companies ring the bell in Shenzhen Wuzhou Hotel on Dec 30, to announce  the first batch of companies' IPO debut on China's Nasdaq-like ChiNext bourse.
Companies raised more capital through initial public offerings (IPOs) on Chinese stock exchanges, including in Hong Kong, than in the US this year – the first time the US has not been the top IPO destination since 2006.
Companies raised $51.6 billion in China, including $27.2 billion in Hong Kong and $24.4 billion on the mainland. In the US, companies only raised $26.5 billion, according to statistics from the British research company Dealogic.
Companies from the mainland accounted for 46 of the 66 new listings on the Hong Kong exchange this year. China Minsheng Banking Corporation raised the most, with HK$30.2 billion ($3.89 billion), and eight of the top ten largest IPOs were mainland companies.
 Related readings:


 China outstrips US as center for IPOs


 Hong Kong is IPO dollar-power champ


 Chinese firms rush to jump on IPO bandwagon


 IPO fever helping to restore market confidence
4. World's biggest auto market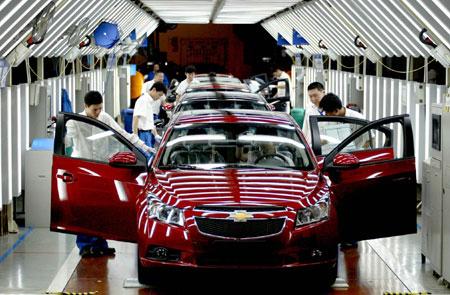 GM sold 1.459 million vehicles in China in the first 10 months. Hao Ran
China's total vehicle sales exceeded 12 million in the January-November period, retaining its leading position in auto sales and production since January, according to statistics released by the China Association of Automobile Manufacturers (CAAM).
China sold 7.22 million new vehicles in 2006, overtaking Japan as the second-largest auto market after the US. In January 2009, China sold 735,500 home-made vehicles, surpassing US as the world's top auto market.
China's auto sales hit 10.9 million in the first ten months of this year, up 37.8 percent over the same period last year, breaching the 10-million barrier for the first time ever.
Boosted by government stimulus measures such as tax cuts and subsidies for trade-ins, sales of all automobiles for the whole year are set to break the 13 million barrier, which has consolidated China's top position in the global automobile market.
Related readings:

 China leads the world in auto sales, production


 China auto sales top 10 million


 China auto sales top 10 million
5. Best performing air transport industry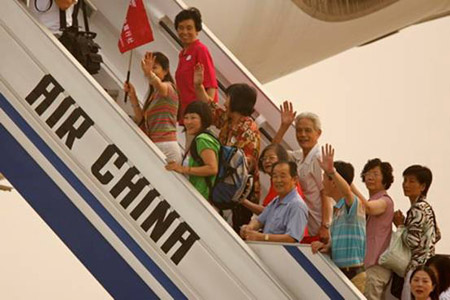 Tourists bound for an overseas destination board an Air China flight at Beijing Capital International Airport. [Agencies]
China's air transport industry made a total profit this year of 11.8 billion yuan ($1.73 billion) as of November, defying a forecast by the International Air Transport Association (IATA) that the industry would lose $11 billion globally this year.
"The performance of China's air transport industry is the best in the world," Li Jiaxiang, head of the Civil Aviation Administration of China(CAAC), told China Central Television.
The figure, which includes profits from both airlines and airports, released by CAAC on its website on December 14, shows that China's airlines have weathered the global financial crisis without too much turbulence.
A strong domestic market and the government's policy support have contributed to the profits, analyst said.
 Related readings:


 Airlines weather downturn


 Airlines are recovering?


 Mainland airlines returning to black
6. World's longest natural gas pipeline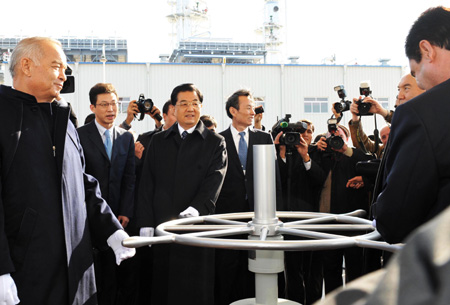 Chinese President Hu Jintao, Turkmen President Gurbanguly Berdymukhamedov, Kazakh President Nursultan Nazarbayev and Uzbek President Islam Karimov turn on the flow of natural gas together in the gas plant on the right bank of the Amu Darya River, Turkmenistan, on Dec 14, 2009. The four leader attended the inauguration ceremony of the China-Central Asia natural gas pipeline here on Dec 14.[Xinhua]
A new "Silk Road" linking China and Central Asia was opened on December 14: a 1,833-km natural gas pipeline, that starts in Turkmenistan, and winds its way through Uzbekistan and Kazakhstan before reaching China's Xinjiang region. It is the world's longest natural gas pipeline ever constructed.
Chinese President Hu Jintao and his counterparts from Turkmenistan, Kazakhstan and Uzbekistan jointly opened the pipeline at a ceremony in Turkmenistan. Hu said the China-Central Asia natural gas pipeline is a model of solidarity and mutually beneficial cooperation among the four countries.
Once it reaches full capacity between 2012 and 2013, it will be able to deliver 40 billion cubic meters of gas each year. That is more than half of China's current annual gas consumption.
China consumed 77.8 billion cubic meters of gas in 2008.
Related readings:

 Pipeline pulls region closer


 Hu attends inauguration of China-Central Asia gas pipeline


 Rolls-Royce banks on China's energy sector growth

7. World's largest gold consumer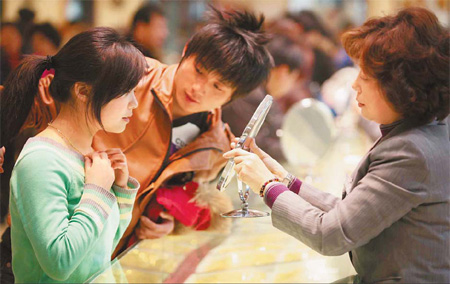 A couple selects gold jewlry at Caibai Store. Gold rings and necklaces are popular New Year gifts among local people. [Mirror Evening News]
China is set to overtake India as the world's No 1 gold consumer this year.
Metals consulting firm GFMS projects that China's gold demand will total 432 tons this year, and that India's will total 422 tons.
Gold demand in India fell by more than half in the first nine months of this year through September, according to the World Gold Council. In contrast, China's demand was up 8 percent in the same period.
Related readings:


 Central banks eager to get their hands on gold


 Guo's gold hopes enhanced by IOC changes to events


 Risks in gold trading, med insurance


 Analysts say gold not a long-term hedge

8. China leads in nuke capacity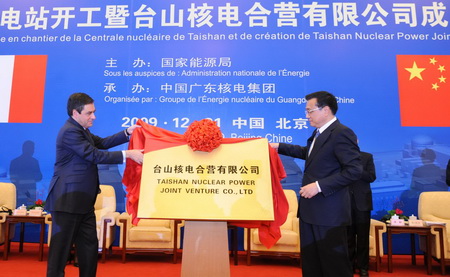 Chinese vice premier Li Keqiang (R) and visiting French Prime Minister Francois Fillon unveils the biggest Sino-French joint venture to construct and operate the first-phase project of the Taishan nuclear power plant at a ceremony marking the official start of construction of the plant in Guangdong province, Dec 21, 2009 [Xinhua].
With 24 nuclear power blocks under construction and a planned capacity of 25.4 gigawatts, China now has the world's largest nuclear power capacity under construction, according to a December 26 report of the National Development and Reform Commission.
China recently started constructing the Taishan nuclear plant in Guangdong province, which is expected to be the world's largest after completion. A total of 50.2 billion yuan ($7.35 billion) was invested in the first-phase project, whose unit capacity can amount to 1.75 million kilowatts.
According to China's nuclear power plants long and mid-term development plan, the installed capacity is expected to reach 40 million kilowatts by 2020 generating 260 billion to 280 billion kilowatt hours of electricity each year, accounting for 4 percent to 6 percent of the country's total.
China now has 11 nuclear reactors in operation, with a total nuclear power installed capacity of 9.08 gW.
Related readings:


 Four nuke plants to start by 2014


 Nuclear power plants set to go inland


 China, France ink aviation, nuke deals


 Construction of Taishan nuclear power plant begins
9. China's average housing prices top the world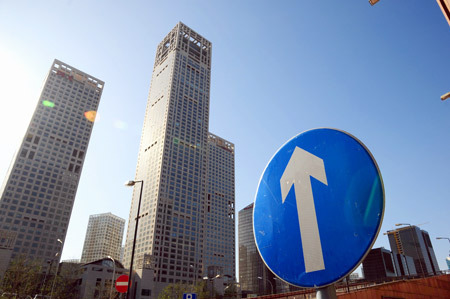 China's average housing prices have topped the world when compared to average incomes, Xie Guozhong, board member of Rosetta Stone Advisors said.
According to statistics of the first three quarters of this year, the average annual income of Beijing residents amounted to 26,720 yuan ($3,913.18). If a couple wanted to buy a 100-sq m second-hand apartment on loan they needed to save money for 49 years without spending a penny as the price would now be two million yuan.
The same situation is happening in other first-tier cities.
Research held by the Beijing News showed 80 percent of the 50 main buildings being sold in Beijing this year had a price rally of more than 50 percent.
The loose monetary policies of the Chinese government have spurred a record of $1.27 trillion in loans this year and the huge liquidity had created serious bubbles in China's stock and real estate markets that threaten the economy.
China's real estate market will not show a downward trend unless the US Federal Reserve increases the interest rate, which will lead to the appreciation of the dollar and obvious inflation expectations.
Related readings:


 Rush to buy real estate despite high prices


 Wen promises action against soaring housing prices


 Medical care and housing worry residents most
10. World's largest wind turbine market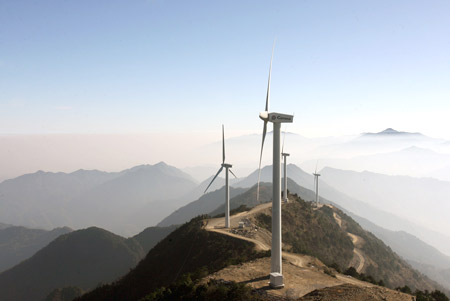 China is overtaking the US as the world's largest market for the installation of wind turbines in 2009, People's Daily reported, citing Arthouros Zervos, president of European Wind Energy Association.
In the first half of this year, China had new wind turbine installations producing 4.5 million kilowatts of power, surpassing the US, which had new wind turbine installation of 4 million kilowatts of power in the same period.
The data of China's total wind turbine installation of 2009 is yet to be announced, but it is predicted to overtake the US as the world's largest market for wind turbines this year.
The government's encouraging policies are seen as the main driving force to help create huge market demand for wind turbines. As a result, manufacturers propped up and investment flocked into the sector.
Related readings:


 'China speed' in clean energy business


 Debate on overcapacity blows up in China's wind power sector


 Wind-power market limit swept clear for foreign firms