Power systems provider Rolls-Royce said nuclear power and natural gas are two major growth opportunities for its energy business in China, as demand is driven by economic growth and a national focus on using cleaner energy.
The company, which is better known in China for its aerospace business, has supplied instrumentation and control systems for the Qinshan nuclear power plant in Zhejiang province and the Ling Ao nuclear power plant in Guangdong province. It is also exploring further cooperation opportunities with Chinese partners, John Rose, chief executive of Rolls-Royce plc, told China Daily in an exclusive interview during a visit to China.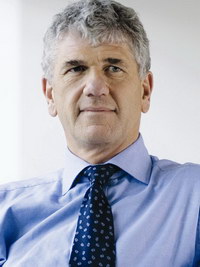 John Rose, chief executive of Rolls-Royce.
These systems help ensure safety and increase the efficiency, reliability and lifespan of nuclear power plants, he said.
In the area of natural gas, Rolls-Royce has provided turbines and compressors for China's two West-East natural gas transmission pipelines, he said. These technologies are derivatives of Rolls-Royce's civil aerospace engine technologies.
An increasing proportion of the components in these Rolls-Royce energy products are now sourced from China, he added.
"China will be one of our most important energy markets over the next decade," said Rose. "There are great opportunities, and we will work continuously to build a strong position in the energy sectors in the country."
In recent years, China has set ambitious national goals to build its nuclear power capacity and increase the use of natural gas. The objective has been to reduce the nation's dependence on coal and to promote environmentally friendly economic growth.
The country is also using advanced technology from overseas to improve its nuclear power industry. It has chosen two third-generation technologies developed by US and French companies to build six reactors in the country. Rolls-Royce is one of many foreign suppliers to China's burgeoning nuclear power supply chain.
China plans to increase the use of natural gas to 5 percent of its total energy consumption in 2010. Earlier this month a new natural gas pipeline linking Turkmenistan in Central Asia to China's Xinjiang Uygur autonomous region started operation. Rolls-Royce is also bidding to provide equipment to this pipeline.
Headquartered in London, Rolls-Royce has cultivated the largest nuclear skills base in the country, with more than 2,000 nuclear specialists in its workforce, and has accumulated more than 50 years of experience in providing equipment to the nuclear industry. The company has provided instrumentation and control systems to more than 100 nuclear power plants in Europe, the US and many other international markets, said Rose.
Rolls-Royce has a 45-year track record of business and partnerships in China. Its portfolio in China covers three areas, including civil aerospace, marine and energy.
"China is important to Rolls-Royce for many reasons. It is a significant market that provides tremendous opportunity for continued growth across our civil aerospace, marine, energy and civil nuclear power sectors," said Rose.
"It is already an important part of our supply chain, and is the regional headquarters for our marine business."
Related readings:


 Nuclear power plants set to go inland


 China plans 3 inland nuclear power stations


 China enjoys fastest growth in new energy


 China's new energy and renewable energy boom in recent years

China represents half of the Rolls-Royce's orders from Asia, said Rose. Asia, the fastest-growing region for new orders for Rolls-Royce, represent about one-third of Rolls-Royce's global order book.
Besides local manufacturing for its marine business in Shanghai, the company has also increased its R&D in China moderately, he said.
Rolls-Royce announced an R&D collaboration project with the Chinese Academy of Sciences early this year to develop new materials.
Rolls-Royce has also expanded its supply chain in China in the past decade. Chinese companies, most of which are subsidiaries of the Aviation Industry of China, have provided parts and components to Rolls-Royce's technology and products. In the past 10 years, the company has increased its orders in China fivefold, said Rose.