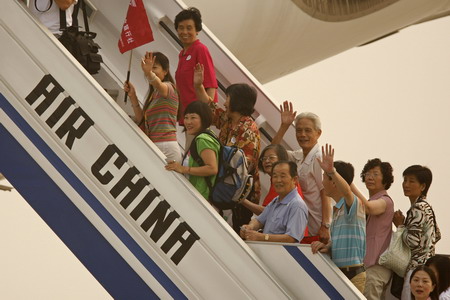 Tourists bound for an overseas destination board an Air China flight at Beijing Capital International Airport. China is the world's largest commercial airplane market outside the United States. [Agencies]
After battling with falling travel demand for months, many airlines began to fill their vacant seats this summer - a sign they might have passed through the worst turbulence.
But the seat belt sign is still on. The industry has yet to recover from the worldwide economic crisis, and airlines are worried it will take some time for things to return to the way they were two years ago.
The International Air Transport Association (IATA) said recently that worldwide passenger traffic is expected to decline 4 percent and cargo by 14 percent this year.
The Geneva-based association, which represents 230 airlines worldwide, said the global airline industry is expected to lose $11 billion this year.
The losses will continue in 2010, with the industry expected to report a $3.8 billion net loss, the association said.
"The bottom line of this crisis - with combined 2008-2009 losses at $27.8 billion - is larger than the impact of the Sept 11 terrorist attack," said Giovanni Bisignani, IATA's director general and CEO.
"This is not a short-term shock. The global economic storm may be abating, but airlines have not yet found safe harbor. The crisis continues," Bisignani said.
Despite the fact that passenger and freight volumes have stopped falling, rising costs and falling yields have squeezed airline cash flows. The sharp decline in yields will leave a lasting mark on the airline industry's structure, Bisignani said.
"Revenues are not likely to return to 2008 levels until 2012 at the earliest," Bisignani said.
US aircraft manufacturer Boeing made a similar forecast when it issued its annual long-term China market outlook in Beijing recently.
"Next year will be a year of economic recovery, 2011 will be a year of airline industry recovery and then in 2012, airlines will probably increase their demand for new airplanes," said Randy Tinseth, Boeing Commercial Airplanes' vice president for marketing.
Low yield
Latest statistics from IATA showed some signs of recovery but offered little relief to the battered finances of airlines, as average fares remain weak, the organization said.
The number of passengers on international scheduled flights fell 2.9 percent in July, a relative improvement over the 7.2 percent drop in June and the 6.8 percent decline recorded over the first seven months of the year.
The number of first-class and business-class travelers in international markets fell 14.1 percent in July compared with the same month last year, less than the 21.3 percent decline seen in June.
"Planes are full. Load factors are high. But revenues are way down," Bisignani said.
"Demand may look better, but the bottom line has not improved. We have seen little change to the unprecedented fall in yields and revenues. The months ahead are marked by many uncertainties, including oil prices," he said. "Spot oil prices have been driven up sharply in anticipation of improved economic conditions. The road to recovery will be both slow and volatile."
Related readings:


 EU files antitrust charges against three major airlines


 US airlines pack them in like sardines to cut costs

 Airlines face rough times


 IATA: Airlines expected to lose $9 billion this year
Frederic Kahane, general manager of Air France KLM for Greater China, shared Bisignani's view.
"It is difficult to say there is a recovery. There are many complicated factors to be taken into account," Kahane said.
"It looks like we have reached a stabilization, at least in terms of volume. But what's still worrisome is that demand remains pretty low in business class, and fares remain low in economy class. The combination of the two factors means that the unit revenue per passenger remains at a low level," Kahane said.