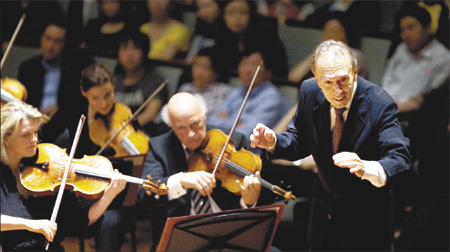 Claudio Abbado conducts the Lucerne Festival Orchestra concert at the National Center for the Performing Arts in late September. [File photo]
Despite the global crisis Beijing's cultural scene was brighter than ever in 2009. The 10 best shows listed by our arts reporter Chen Jie raise expectations for the new year... [The Top 10 Everything of 2009]
Working as a performing arts reporter in Beijing is like being a kid in a candy store. As China's cultural center, the capital's many venues host shows performed by artists from all over the world every night.
Though the global financial crisis hit most businesses, including the entertainment industry abroad, Beijing's theaters and halls were all booked out.
While the number of imported productions decreased, I was impressed with the variety of original shows made in China.
Pleasure was equally to be found in grand theaters such as the National Center for the Performing Arts (NCPA) and small venues and live houses.
As usual, I attended over 100 shows over the year and there were still many I'm sorry I missed. Here, in alphabetical order, I select my top 10 performances of 2009:
ABT Contemporary Ballet Gala, Nov 12-15, NCPA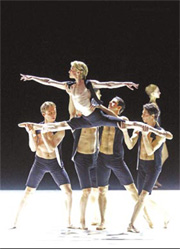 Beijing's ballet fans have waited to see American Ballet Theater (ABT) for a long time and the prestigious company did not let them down on its Beijing debut. ABT brought two programs. One was the full-length ballet, Don Quixote, staged by Susan Jones and Kevin McKenzie, the company's artistic directors, but the contemporary ballet collection of four pieces won over even more hearts.
Among them, Seven Sonatas, choreographed by Alexei Ratmansky, ABT's artist in residence, is a quintessential company piece, deploying six dancers in more or less equal roles and showing them off to great advantage. Seven ravishing Scarlatti sonatas played on a piano in one corner of the stage added a romantic atmosphere to the occasion.
Everything Doesn't Happen At Once, choreographed by Benjamin Millepied, was a sensation and made the young, handsome blond dancer, Daniil Simkin, a heartthrob among Chinese women.
Beyonce, Oct 23, Wukesong Arena
Without any doubt, Grammy-winning American R&B singer Beyonce gave the best live gig in Beijing in 2009. The show was her first in Beijing and the only mainland leg on her I Am world tour.
She greeted the audience by asking: "Beijing, do you want to dance?" and led nearly 10,000 fans to dance and sing wildly all night. Not many artists could excite a Chinese audience so much it did the Mexican wave while the performer was still in the green room. Beyonce did.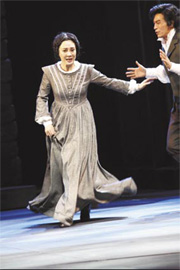 Jane Eyre, June 19-28, Dec 10-23, NCPA
When NCPA announced it would produce Jane Eyre in early 2009, many wondered, "Why choose such an old play?"
The result, however, was NCPA's best-selling drama production last year. In two runs, 24 shows all sold out.
People liked it because the story resonated with them, particularly the title role of Jane, who demands respect. Her decision to leave Rochester after she learns he has a wife, stands in sharp contrast with the prevailing notion here that women fare better being a paramour to a man with wealth and property than marrying for love alone.
The NCPA production owes much to the 1970 movie starring George C Scott and Susannah York. But director Wang Xiaoying's interpretation is thoroughly original and ingenious. In a sense, this theater edition is more cinematic than the film. The plot is tighter and more fluid and Jane's girlhood appears in flashbacks, which makes it more poignant.
Lucerne Festival Orchestra concert under the baton of Abbado, Sept 20 and 21, NCPA
One of the reasons China is considered the "future of classical music" by many Western maestros is that a number of high-quality classical concerts are held here every year, featuring world-renowned orchestras, conductors and soloists. So, it's really hard to pick out one to represent the genre.
This year came Zubin Mehta conducting the Vienna Philharmonic, featuring pianist Lang Lang; the Chicago Symphony Orchestra under the baton of Bernard Haitink; and Seigi Ozawa, Vladimir Ashkenazy, Maurizio Pollini, Helene Grimaud, Yo Yo Ma, Kiri Te Kanawa, Pinchas Zukerman, Midori and Sarah Chang, among many others.
I choose the concerts by Abbado's Lucerne Festival Orchestra, not only because it performed the wonderful Mahler's First and Fourth Symphony and Prokofiev's Third Piano Concerto, featuring the rising Chinese pianist Yuja Wang, but it was the 76-year-old Abbado's first tour to Beijing since his pioneering trip with the Vienna Philharmonic, in 1973.
However, although there was a great air of expectation, the maestro kept a low profile, denied all interview requests; stayed at a quiet private hotel next to the Summer Palace, some 20 km away from the NCPA where he performed; and took the subway every day. It is said that the maestro likes Chinese actress Zhang Ziyi, so NCPA's PR managers even thought of inviting Zhang to the concerts, so he might come out of his shell.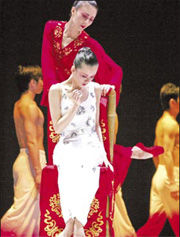 The Peony Pavilion (牡丹亭), Dec 8 and 9, NCPA
This ballet produced by National Ballet of China is a controversial production. Some critics say it's a bizarre contemporary work with banal choreography. But I love the bold experimental ballet adaptation of one of China's most famous classical love stories, written by Tang Xianzu in the late 16th century, with impressive and modern settings by the German designer, Michael Simon, and flowing costumes by Emi Wada.
It's a daunting task to adapt the original opera of 20 hours to a two-hour ballet. The young, talented in-house choreographer, Fei Bo, innovatively added two additional female lead roles, representing the alter egos of the leading role Du Liliang - a flower goddess, as well as a Kunqu Opera performer.
National Ballet of China premiered the dance in May 2008 and it got controversial reviews. But its revival at the Hong Kong Arts Festival in February was widely acclaimed. The two performances at NCPA last month celebrated the 50th anniversary of the establishment of the company.
Rigoletto, June 18-21, NCPA
The first NCPA Opera Festival highlight was Verdi's Rigoletto, by Teatro Regio di Parma Opera, a Beijing premiere that was greeted by thunderous cheers, 158 years after its debut in Italy.
For the 67-year-old tenor, Leo Nucci, who sang the title role, it was his 431st performance of the role and he had lost none of his dramatic power.
Seldom have Chinese audiences appreciated Western-style opera so much. This was partly due to the Chinese subtitles provided by Liu Shirong. Instead of slavishly following every word in the libretto, the translation captured the essence of the drama and rendered it into idiomatic Chinese, with good background information.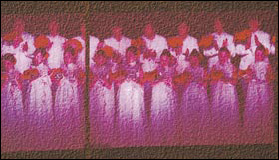 Road to Rejuvenation (复兴之路), Sept 23-Oct 5, Great Hall of the People
I was not around to enjoy the original gala performance of East Is Red (东方红) (1965) and I had a certain prejudice about revolution-themed productions, but Road to Rejuvenation changed my mind. I was moved to tears, both at the rehearsals and the formal performance.
The Opening Ceremony of Beijing Olympic Games was the most watched and significant show last year. One year later, its co-director Zhang Jigang accepted the commission to do Road to Rejuvenation to celebrate the 60th anniversary of the founding of New China. He did a wonderful job, directing some 3,200 performers to re-tell China's history since 1840 on the stage of the Great Hall of the People, where the representatives of China's people gather every year to hold the national congress.
China's 169-year-long history of struggle, revolution and development is presented in the most romantic, symbolic and artistic fashion. The focus is "people" and "harmony".
A long list of celebrated singers, dancers, actors, musicians and composers were involved. It is the first time that the Great Hall of the People has hosted more than 3,200 performers in one show.
The show will be revived at the NCPA in February and March, in 2010.
Super Band gig, April 18, Workers Stadium
Lo Ta Yu, 54, Jonathan Lee, 50, Emil Chau Wakin, 48 and Chang Chenyueh, 34, could easily sell out gigs, but together the four Taiwan singer-songwriters were a revelation.
They formed Super Band in July 2008 in order to revive the well-known Taiwan label Rock Records, to which the four belong. In this sense, boss Sam Duan made a smart move. Not only every leg of Super Band's 2009 world tour sold out, it also stimulated the record company's sales.
Super Band gave two concerts in Beijing. The first, in April, was a sensation. But the second in November, which wrapped up its 2009 tour, was OK. Obviously the four were exhausted by the year-long schedule.
Turandot: Oct 6 and 7, The National Stadium
In August 2008, Zhang Yimou wowed worldwide audiences with the Opening and Closing ceremonies of the Beijing Olympics. One year later at the same venue, the Chinese director won thunderous applause for his latest production of a classic opera, when he took a bow that was beamed onto two giant screens.
I chose this Turandot for my top 10 list, not because of its artistic quality, but because of the event's significance. It was designed not just for opera buffs, but for a mass audience, with the combined appeal of the Bird's Nest, China's biggest name in performing arts, a Western opera, and a Chinese backdrop.
This production is similar to Zhang's Forbidden City version of Turandot, in 1998. What made the Bird's Nest version "modern and Olympic-flavored" was a 17.5-m-high and 52-m-wide backdrop upon which various images were projected.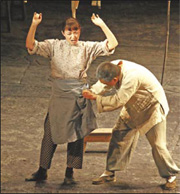 Wotou Compound (窝头会馆), Sept 25-Jan 18, 2010, Capital Theater
Beijing People's Art Theater (BPAT) had not been in action for a decade but its three-month run was a complete success.
President Zhang Heping, ambitiously tried to revive the tradition of realistic drama and former productions, such as Teahouse (1957) and Top Restaurant (1988). Wotou Compound, written by Liu Heng, directed by Lin Zhaohua, and performed by an A-list cast, was a first-rate idea.
Like most of BPAT's trademark plays, Wotou Compound depicts the lives of ordinary Beijingers in a typical community at a crucial time, to reflect social change. Wotou Compound is a poor residential area in south Beijing that houses four families facing a daily struggle for survival because of the imposition of unfair taxes and levies.