The country's movie-making industry is experiencing a boom, with ticket sales increasing and more quality offerings from homegrown talents. [The Top 10 Everything of 2009]

Box office takings in China have been rising 20 percent annually for the past five years, and though Hollywood blockbusters such as Transformers 2 and 2012 were the most profitable films this year, local productions were big hits too.
And 2009 was a bumper year for moviegoers with the gross box office surpassing last year's 4.3 billion yuan ($630 million) to reach 6 billion yuan.
Following, are 10 significant local films and though they are not all artistically refined, they made a big impact in 2009.
The Message (风声), Overheard (窃听风云), Night and Fog (天水围的夜与雾) and Bodyguards and Assassins (十月围城) excel in terms of acting and storytelling; while Pleasant Goat and Big Big Wolf (喜羊羊与灰太狼), Crazy Racer (疯狂的赛车) and Cow (斗牛) were breakout movies in their genres.
The Founding of a Republic (建国大业) and A Simple Noodle Story (三枪拍案惊奇) provided big talking points in the film industry; while City of Life and Death (南京!南京!) was appreciated for tackling a sensitive issue and raising discussion.  
(1)A Simple Noodle Story (三枪拍案惊奇)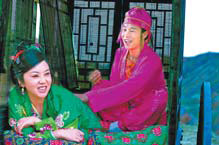 The film marked Zhang Yimou's return to cinema after he directed the spectacular Opening Ceremony of the Beijing Olympics last year.
Adapted from the Coen Brothers' 1984 crime thriller Blood Simple, the film is a combination of slapstick and thriller.
The slapstick part is mainly provided by three actors of er'renzhuan - folk duets featuring ballads, dancing and cheap jokes - and raised great controversy.
(2)The Message (风声)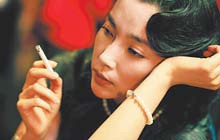 The spy thriller is one of the most refined films of the year. To begin with, each of the seven main actors did a brilliant job in putting life into their characters. Secondly, the script is well written. Set during China's War of Resistance Against Japanese Aggression, the movie centers on a cat-and-mouse game between a Japanese chief and five suspects, one of whom is a planted agent. The story is full of unexpected twists, yet convincing at the same time.
In addition, the Oscar-winning designer of Crouching Tiger, Hidden Dragon (卧虎藏龙), Tim Yip, made the entire wardrobe by hand. The set, two villas perched on a seaside cliff, features vintage furniture and ornaments collected from all over the country. The antique sofas, lights, tableware and LPs cost more than 4 million yuan ($585,420). The film won five nominations and the Best Actress award at the 46th Golden Horse Film Festival in Taiwan.
(3)Cow (斗牛)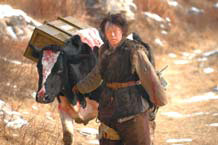 Cow is almost a one-man show. It signifies the coming-of-age for Huang Bo, the comedian who specializes in playing low-life characters. His nabbing of the Golden Horse - as best actor for this performance - is much deserved.
The War of Resistance Against Japanese Aggression (1937-45) is as often filmed in China, as the European theater of WWII is for Western cinema. So it is not easy to squeeze anything fresh out of it. Writer and director Guan Hu adopted a small-scale approach that was ingenious in both concept and execution. The story revolves around a cow, a gift from a European country, and how it has an unexpected impact on different people, including Japanese soldiers.
The flashbacks are seamless. The locale is so intricately integrated into the plot the audience has a strong sense of participation. All characters are richly delineated and not even the Japanese invaders are caricatured. An actor with star power may boost the box office, but Huang Bo brings out the poignancy of the human dilemma in this slightly farcical tale.
(4)Overheard (窃听风云)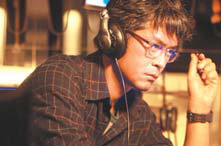 Written and directed by Alan Mak and Felix Chong, writers behind the Infernal Affairs (无间道) trilogy, Overheard focuses on insider trading, which has rarely been depicted in Hong Kong films.
Three wiretappers at the Hong Kong commercial crime investigation bureau find out about a listed company trying to manipulate the stock market. With the crucial information in hand and facing the temptation of getting rich overnight, they trap themselves in a fatal dilemma.
Stocks have been a big issue in the Chinese mainland, too, since the market hit a record 6,000 points in 2007, attracting millions of investors, ranging from tycoons to school kids.
With the help of his father and brother, both senior policemen, Mak talked with many former staffers at the Hong Kong commercial crime bureau, which investigates commercial fraud, computer crime and counterfeiting. He also asked for help from actress Anita Yuen, who has 10 family members working in the Hong Kong police force. The film tells an engaging story and the three Hong Kong actors, Lau Ching Wan, Louis Koo, and Daniel Wu all did a great job.
(5)Pleasant Goat and Big Big Wolf (喜羊羊与灰太狼)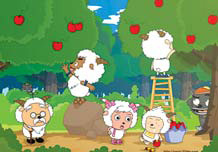 China has lacked a popular homemade cartoon series, while Japanese manga is hugely popular around the world.
Pleasant Goat and Big Big Wolf is an exception. The film is about a battle of wits between a herd of goats and a couple of wolves and earned more than 80 million yuan ($11.7 million), at a cost of just 6 million yuan.
Its success is largely attributed to a fan base reared on 500 episodes of a TV series aired on 50 channels nationwide.
Now, the smart sheep and stupid wolves are as well known as Mickey Mouse among children here.
A sequel will be released in February, 2010.
China has been working hard to produce its own cartoons and there are currently 5,600 animation companies employing at least 200,000 people. Other locally-made favorites include The Story of Hongmao and Lantu (虹猫蓝兔) and Calabash Boys (葫芦娃).