Editor's Note: As China continues to grow, lies and frauds bubble up like sediments in a flooded river. There is not much ingenuity in these scams, but they do harm people, sometimes large groups. But thanks to the Internet, more and more of them have been exposed and the perpetrators brought to justice.
Here in a chinadaily.com.cn special, we look back at the most notorious frauds and hoaxes uncovered in 2009, mostly in China but not limited to China. [The Top 10 Everything of 2009]
  1. Identity theft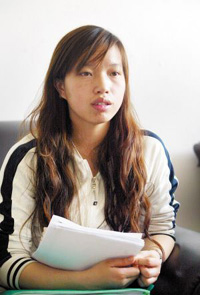 Luo Caixia [tianjinwe.com] 
The mayor of a small town in Hunan Province helped his daughter steal the identity of one of her classmates so she could attend Guizhou Normal University.
Wang Zhengrong forged a copy of the ID card of Luo Caixia, 23, and then intercepted an admission letter addressed to Luo from Guizhou Normal. Wang's daughter attended the school with the forged papers and stolen admissions letter, graduating with a teaching certificate, all the while pretending to be Luo.
The degree has since been revoked, and Luo is now demanding 135,200 yuan ($20,000) in compensation. Wang Zhengrong was sentenced to two years by a local court.
Luo, now a student at Tianjin Normal University, first realized that her identity had been stolen when she applied for a bank card and was rejected because the bank had already given a card to someone named Luo Caixia. So, China Daily website editors deem this the biggest scam story of the year in terms of impact on us and Luo Caixia the biggest victim.
Related readings:


 Power devalues education


 Officer's daughter enters university in name of classmate


 Former Hunan official held for ID theft


 Trading faces in testing times
2. Ethnic impostor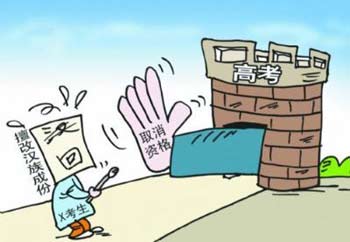 He Chuanyang, the student who had the highest score in Chongqing on the liberal arts portion of China's national college entrance exams, lied about his ethnicity in order to get extra points on the exam.
He's father, He Yeda, allegedly used his position as director of Wushan county admission office in Chongqing to register He as a member of the Tujia minority.
But the authorities were tipped off that He was not in fact of Tujia descent. Peking University turned him down once it learned he had lied about his ethnicity.
After further investigations, 15 officials in Chongqing were punished for falsifying the ethnicity of 31 students to give them extra points on the national college entrance exam.
China has policies of affirmative action that grant extra points to college applicants of ethnic minorities.
Related readings:


 Student deserves to be punished


 University of Hong Kong rejects top scorer


 Officials, students punished for ethnicity lies


 Crack down on fake ethnic identity scam
3. Counterfeit banknotes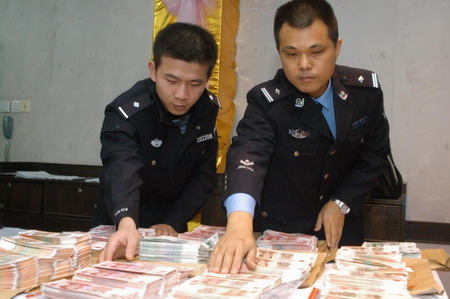 Police officers with the Public Security Bureau in Fuzhou, Fujian province, count a big stash of counterfeit money, March 18, 2009. [Xinhua]
Fake banknotes were found in more than 10 provinces ahead of the Spring Festival holiday in 2009.
The People's Bank of China said that some fake notes with bill numbers starting with "HD9026" might be hard to detect with low quality cash detectors, but they could be easily seen with the naked eye, if one knows what to look for.
All ATMs and the commercial banks' cash detectors can spot the fake HD-series notes.
Related readings:


 Beijing police seize record haul of fake money


 $26m fake banknotes seized in China


 $17m fake bank notes seized


 Fake money trading gang in E. China held
4. Twin counties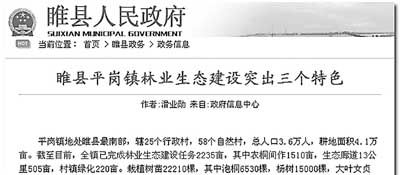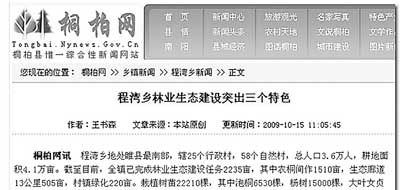 Two news reports about two different places were found to be almost identical in October.
Both Sui County and Tongbai County, two different areas of Henan Province, publicized their achievements in "developing forestry industry" on their government official websites. The content of the reports were almost identical; the only differences were the names of the counties.
Further investigation found that the person who operated the Tongbai county government official website was to blame for the incident. Local authorities in Tongbai claim that the operator "failed to save the revised version of the report" and called it a "malfunction".
5. Phone scam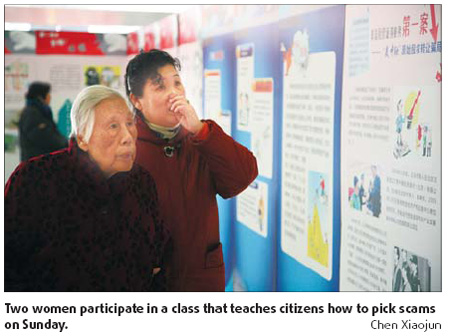 If you receive a phone call from the "telecommunications department," "the bank," or even "the police" telling you that your bank account has been hacked and you should transfer all your money to a safer account, beware - it could be a scam.
Telephone frauds run rampant in China. For instance, some victims said they received phone calls from people who claimed to be customer service staff from their banks, asking for their credit card information for "internal review."
Police said most of the victims were women older than 40 years of age, some of whom have been duped out of millions of yuan.
Related readings:


 Middle-aged women targeted in scams


 Phone fraud to rise as year ends


 Spike in scams smears port city


 Guangdong cops crack telephone scam
6. Celebrity endorsement of fakery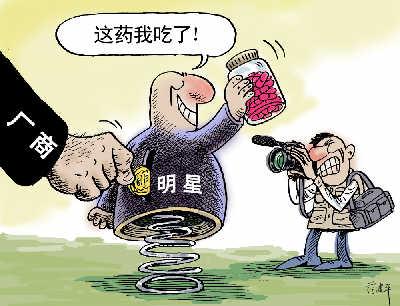 [CCTV.com]
Some Chinese celebrities have been forced to apologize to the public for appearing in TV commercials promoting fake or unregistered medicine and medical equipment, including veteran CCTV host Zhao Zhongxiang and famous comedian Hou Yaohua. A man also attempted to sue movie star Chen Daoming, claiming Chen's advertising of products was misleading, but he lost his case in December.
Related readings:


 CCTV host says sorry for fake ads


 TV stations should also be accountable


 Court rejects herbal tea claim for cash
7. Match fixing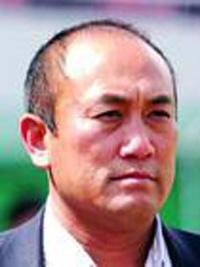 Former Shanxi club general manager Wang Po. Police said Wang was suspected of manipulating several First Division league matches since 2006.
[File photo]
The largest ever match-fixing incident in China's soccer history was exposed this year.
The scandal involved two clubs in the Chinese Super League (CSL) - Guangzhou Pharmaceutical FC and Chengdu Sheffield United FC, both of which offered opponents bribes to throw matches.
The scandal was first uncovered in March when a high-profile committee was set up by 12 ministry-level organs to clean up Chinese soccer, which had long been thought to be corrupt.
Related readings:


 China soccer match-fixing probe nets 3 execs


 Soccer betting targeted in China


 Former club official: Bribery rampant in leagues


 Police detain at least 4 in soccer gambling
8. Balloon boy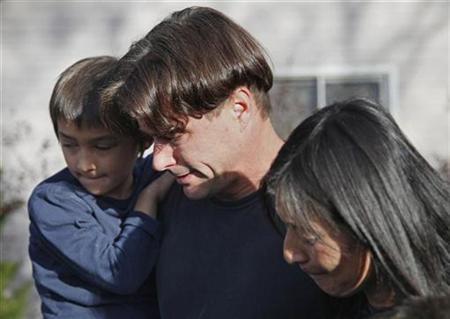 Richard Heene (C), his wife Mayumi (R) and son six-year-old Falcon Heene talk to reporters in Fort Collins, Colorado, October 15, 2009.[Agencies] 
A Colorado couple drew worldwide attention on October 15 when they reported that the youngest of their three sons, 6-year-old Falcon, had been carried away in a homemade helium balloon that accidentally lifted off from their backyard.
The odd-looking silver craft, built to resemble a flying saucer, drifted over Colorado for 50 miles, trailed by National Guard helicopters as authorities scrambled to reroute aviation traffic in and out of Denver International Airport.
The episode was followed for hours on live television and the Internet, transfixing millions as the balloon came down in a wheat field and was found empty.
It turned out the family had squirreled the boy away in the attic of their garage.
The father received a 90-day jail term and both face thousands of dollars in restitution. Yes, this happened outside China, but China Daily website editors feel it was a pretty ingenious scam, or to borrow an idiom from a Chinese movie, a scam "with high technological input".
Related readings:


 Lawyer blasts release of affidavit in balloon case


 Mom admits to "Balloon Boy" hoax: court record


 Colorado parents sentenced for "balloon boy" hoax


 Balloon boy parents are sent to jail for hoax
9. Conned into marriage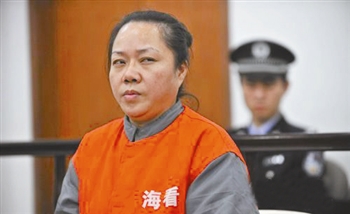 The swindler surnamed Xu
[022net.com]
A swindler who claimed to be the daughter of a senior Chinese diplomat successfully convinced a Tsinghua University student to marry her, and ended up stealing his money.
The 41-year-old woman surnamed Xu met a 23-year-old student named Fan at a party in February. The women claimed to be the daughter of former Chinese ambassador to the United Nations Qin Huasun, and said she was a 26-year-old doctoral student at Tsinghua.
Fan found out that Xu was not who she said she was after the wedding ceremony, and ended up losing 20,000 yuan ($2,924). The woman received a jail sentence of two years.
10. Temple homepage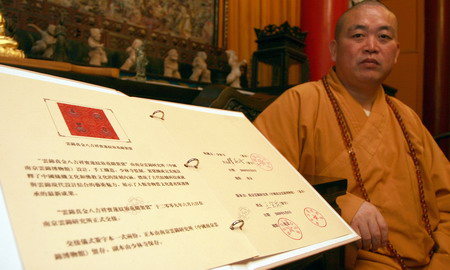 Shaolin Temple Abbot Shi Yongxin poses with the certificate of a luxury cassock, which was given to him as a gift by a silk company, in Songshan, Henan province, June 7, 2009. [CFP]
In November, the front page of the Shaolin Temple's website was replaced with a fake letter of remorse, which essentially accused Abbot Shi Yongxin of commercializing the 1,000-year-old temple during his 10 years at the helm, staining the religion's reputation and breaching its fundamental discipline.
At first, Shi thought the people behind the attacks were just curious about the temple's website. But after reading the letter, he believed they were making jokes about the temple, about Buddhism and about himself.
But he also said the attacks were a warning to the temple as well as to him and they will make efforts to improve themselves.
Shi has made a name for himself and the Shaolin temple by establishing at least five businesses using the Shaolin name in the past decade.
Related readings:


 Shaolin takes shot from web hoax


 Shaolin strikes back at online hacker attacks