Editor's Note: For some people 2009 may be another year with no particular meaning or significance, but for many others 2009 has been a year of life and death, a year filled with twists and turns, and a year that is destined to be etched into their memories forever.
Here in a chinadaily.com.cn special, we look back at some of the most unforgettable moments that changed some people's lives and shocked many others. [Top 10 Everything of 2009]
1. The towering inferno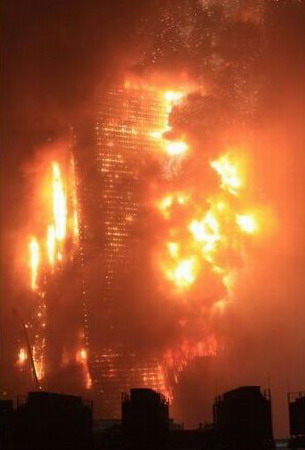 In this February 9 2009 file photo, the north wing of the CCTV's new tower is engulfed in flames. [people.com]

China Central Television's (CCTV) new tower, also known as the Television Cultural Center, was engulfed in flames on Feb. 9 after an illegal fireworks display was arranged and paid for by CCTV to mark the end of the Lunar New Year festivities. One fireman died fighting the blaze.
The fire at the CCTV building, designed by Dutch architect Rem Koolhaas and German architect Ole Scheeren, was caused by a combination of the illegal ignition of fireworks and flammable building materials, Beijing's fire authorities said.
Related readings:


 New president is appointed at CCTV


 Three more employees arrested over CCTV fire


 Neighbors ask for remedy after CCTV tower blaze


 Much ado about CCTV tower's naked truth


2. The highway explosion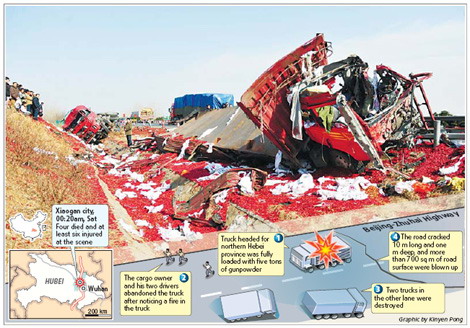 A truck carrying chili peppers lies toppled by the highway explosion in Hubei province on Dec. 5, 2009. [Xinhua]

Four people were killed and six others were injured after a truck fully-loaded with gunpowder exploded Dec 5 in Central China's Hubei province.
The accident occurred at 00:20 am at a section of the Beijing-Zhuhai Highway in the city of Xiaogan in Hubei. The explosion also damaged more than 300 houses in 10 nearby villages and injured at least 29 villagers, local officials said.
Related readings:


 3 detained over N China deadly blast


 Explosives blast highway; 4 dead
3. The defiant bidder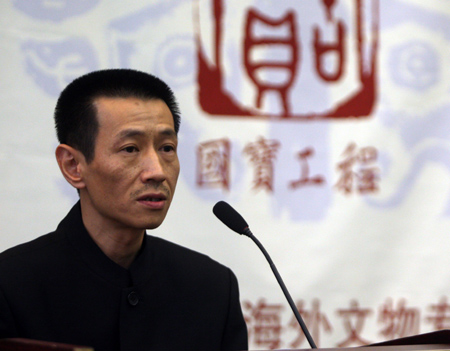 Cai Mingchao, an advisor to the National Treasure Fund of China, attends a news conference in Beijing March 2, 2009. [China Daily]

A Chinese man who successfully bid for two looted bronze sculptures auctioned in Paris says his winning bid will not be paid.
Cai Mingchao, a collection advisor to the National Treasures Fund, bid 31.49 million euros (US$39.63 million) by telephone during an auction at Christie's on February 25, but then said that "this money cannnot be paid" at a press conference.
China has repeatedly demanded the return of the sculptures looted when the Old Summer Palace (Yuanmingyuan) was burned down by Anglo-French forces during the Second Opium War in 1860. So far, five of the 12 bronze animal heads have been returned, while the whereabouts of five others are still unknown.
Related readings:


 FM: Auction of looted sculptures hurts national sentiment


 Chinese govt writes to Christie's to stop auction


 China fights to stop sale of looted relics


 Looted Chinese relics sold for 14m euros each
4. The safe landing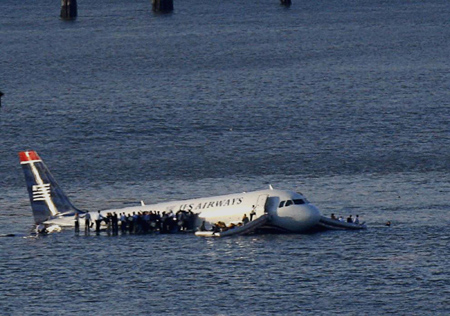 Passengers stand on the wings of a US Airways plane as a ferry pulls up to it after it landed in the Hudson River in New York, January 15, 2009. [Agencies]

A US Airways pilot ditched his disabled jetliner into the frigid Hudson River on Jan. 15 after a collision with a flock of birds knocked out both engines, but rescuers pulled all 155 people on board into boats as the plane sank.
Flight 1549 went down minutes after takeoff from LaGuardia Airport for Charlotte, N.C., splashing into the river near 48th Street in midtown Manhattan.
From 1990 to 2007, there were nearly 80,000 reported incidents of birds striking nonmilitary aircraft, about one strike for every 10,000 flights, according to the Federal Aviation Administration and the Department of Agriculture.
Related readings:


 Investigators search for plane's missing engines


 Survivors offer praise, gratitude after NY crash


 Thick mud hampers Hudson River plane investigation


 Engine of crash-landed plane pulled from Hudson River
5. The suicidal jump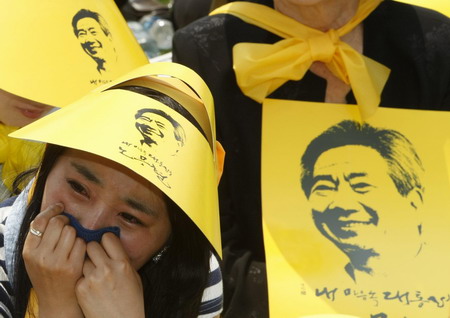 A woman cries during the funeral of deceased former ROK President Roh Moo-hyun in Seoul May 29, 2009. [Agencies]

Former Republic of Korea (ROK) President Roh Moo-hyun jumped to his death Saturday on May 23 while hiking in the mountains behind his rural home. He was 62.
A self-taught lawyer who lifted himself out of poverty to reach the nation's highest office in 2003, Roh had prided himself on being a "clean" politician in a country with a long history of corruption. But allegations that he accepted $6 million in bribes from a Seoul businessman were deeply troubling to the ex-leader and he was still the subject of a corruption probe at the time of his suicide.
Related readings:


 Emotional funeral for South Korea's Roh Moo-hyun


 500,000 turn out as Roh laid to rest


 ROK police brace for ex-president's funeral


 Ex-SKorean leader was alone when he died
6. The sudden release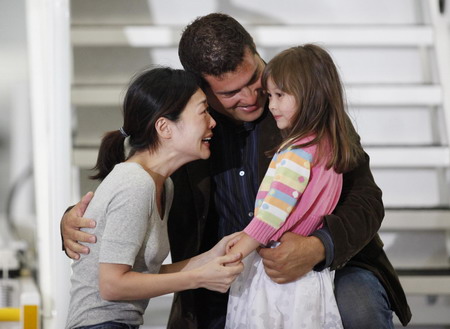 Freed US journalist Euna Lee (L) is embraced by her husband Michael Saldate (C) and daughter Hana Saldate after arriving with Laura Ling and former President Bill Clinton in Burbank, California August 5, 2009. Ling, 32, and Lee, 36, American journalists freed by Pyongyang from months of detention, returned to US soil early on Wednesday accompanied by Clinton. [Agencies]

Former US President Bill Clinton made a surprise trip to the Democratic People's Republic of Korea (DPRK) on August 4, and after meeting with the DPRK top leader Kim Jong Il, secured the release of two American journalists the next day.
The journalists, Euna Lee and Laura Ling, of US media outlet Current TV co-founded by former US Vice President Al Gore, were arrested when working on a story near the DPRK-China border in March and were sentenced in June to 12 years of hard labor for illegal entry and engaging in "hostile acts" before finally pardoned by Kim Jong Il.
Related readings:


 DPRK: US journalists admitted illegal crossing


 DPRK to try detained US journalists on June 4


 DPRK jails 2 US journalists for 12 years

 US keeps pressing DPRK to release two Americans journalists
7. The final revelation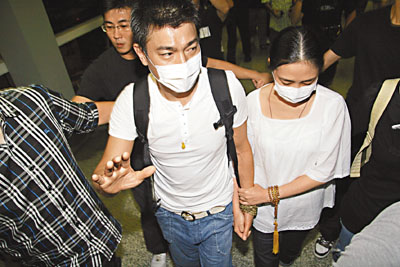 Hong Kong actor-singer Andy Lau and Malaysian beauty queen Carol Chu - his rumored girlfriend - are seen in this undated file photo. [cri.cn]

After denying his marriage in an interview with Hong Kong's Cable TV in February, veteran Hong Kong actor-singer Andy Lau admitted in August that he and his girlfriend had already married in the US.
He said he did not announce it because he wanted to protect his wife while they tried to have a baby. Lau did not identify his girlfriend, but public marriage records made available online by the Clark County Recorder's Office in Nevada show that Lau and Carol Chu wed on June 24, 2008.
He later apologized for lying about his marriage, saying he behaved inappropriately for a public figure.
Related readings:


 Andy Lau apologizes for lying about marriage


 Hong Kong actor Andy Lau announces his marriage
8. The prison break
Four convicts broke out of prison after killing a police officer in suburban Hohhot, capital of the Inner Mongolia autonomous region on Oct. 17.
They went on the run for three days before three of them were captured and the other one shot dead by local police on Oct. 20.
Related readings:


 Justice done; grief lingers on


 China orders jails to intensify security measures


 Chinese prison boss dismissed over deadly escape


 Convicts had plotted escape for over a year
9. The garrison attack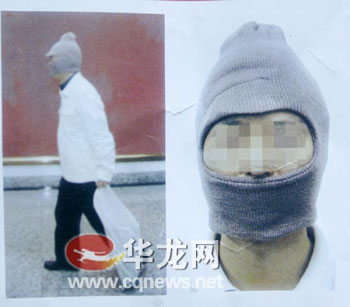 An artist illustration of the gunman released by Chongqing police. [cqnews.net]

Public security officials and the military in the southwestern Chongqing municipality are still working to track down an unidentified attacker, who shot dead a sentry on duty outside a garrison on the evening of March 19.
The attacker ran away after firing bullets at the garrison guard and robbing his submachine gun, according to the police.
Related readings:


 China doubles reward for sentry killer


 Garrison sentry in Chongqing shot dead in attack

10. The statuette assault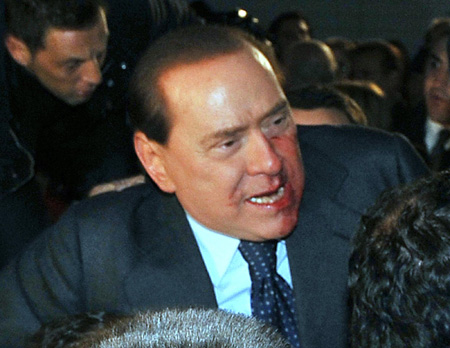 Blood covers part of the face of Italy's Prime Minister Silvio Berlusconi after he was attacked in downtown Milan December 13, 2009. Berlusconi was taken to hospital with blood smeared over his face after a man hurled a small model of Milan cathedral at him at a political rally, police said on Sunday. [Agencies]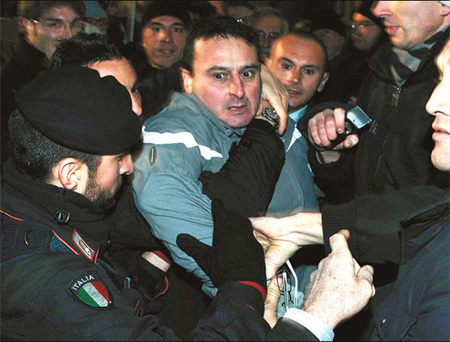 Police apprehend a suspect (center) after Italy's Prime Minister Silvio Berlusconi was attacked in downtown Milan December 13,2009. Berlusconi was taken to the hospital with blood smeared over his face after a man hurled a small model of Milan cathedral at him at a political rally. [Agencies]

An attacker hurled a statuette at Italian Premier Silvio Berlusconi, striking the leader in the face at the end of a rally on Dec. 13 and leaving the stunned 73-year-old media mogul with a broken nose and bloodied mouth.
Police said the 42-year-old man accused of attacking Berlusconi as he signed autographs in Milan was immediately taken into custody. The Italian leader was rushed to a hospital.
His personal doctor said the premier had suffered a fractured nose, two broken teeth and cuts to his lips that required stitches.
He said Berlusconi would be kept in at least overnight for observation and would need up to 15 days to recover.
Related readings:


 Italy to beef up security after Berlusconi assault


 Berlusconi attacker apologizes for 'cowardly' act


 Berlusconi joins long list of targeted politicians


 Berlusconi OK after assault