Editor's Note: Life is full of ups and downs, happiness and unhappiness. For some, 2009 was a sad year with the loss of young lives they loved. For some, 2009 was a year with moments and incidents they could hardly get through. For others, 2009 was a year they paid a high price.
Here in a chinadaily.com.cn special, we look back through the year at the top 10 saddest stories in China and share the grief and regret of those who lost.
1. Desperate worker has chest opened to prove diagnosis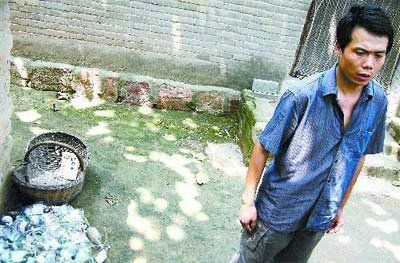 Zhang Haichao's fight for the "justice" he wanted was torturous and heart-breaking. And what is more heart-breaking is the lives of the like of Zhang. [tianya.cn]
A young worker from a brick factory in central China's Henan province who desperately wanted to get compensation for an occupational disease from his employer had his chest opened this June to prove he has "black lung" disease.
28-year-old Zhang Haichao finally received 615,000 yuan ($90,000) from Xinmi-based Zhengzhou Zhendong Fireproof Material Factory in Henan province where he used to work and where he developed the occupational lung disease pneumoconiosis.
Zhang finally got his "justice" at the cost of nearly three years' exhausting struggle, largely with the help of media exposure.
Related readings:


 Sick worker finally gets compensation


 After long struggle, 'black lung' diagnosis was welcome news


 Hospital punished for aiding lung patient


 Workplace safety investigation targets major coal mines
2. Man chops off finger to prove innocence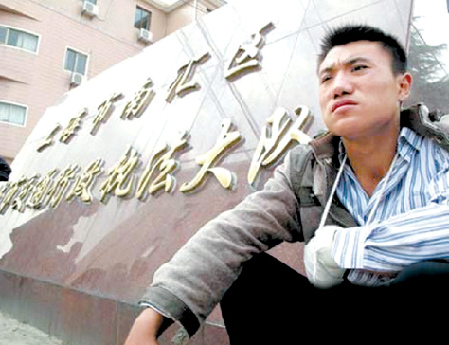 Sun Zhongjie finally got the apology from the local district government at the cost of a finger. [
cnjnls.cn]
Sun Zhongjie, 19, cut off his finger to demonstrate his innocence in October after being accused of operating an unlicensed taxi by the local traffic police in Pudong district in Shanghai.
A series of official investigations were then set off into the validity of the practice of entrapment. Sun cleared his name later that month when the district government apologized to him and admitted the illegal entrapment.
Related readings:


 'Entrapped' driver fights for reputation


 Legal on the road


 Shanghai confirms driver's entrapment claim


 Taxi entrapment was 'totally wrong'


 'Taxi' entrapment was illegal, court rules
3. Man jumps to death due to shame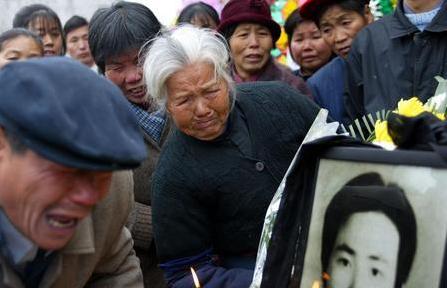 Family members of Sun Danyong mourn the passing of the young man. [it.com.cn]
At just 25 years old, Sun Danyong, a university graduate working for Taiwanese electronics manufacturer Foxconn, jumped to his death in July after being suspected of stealing a sample iPhone mobile phone.
According to reports, Sun's home had been searched and he had been beaten while being questioned during investigation launched by the company's environment and safety department.
The company finally said they would pay a compensation of 360,000 yuan ($52,709) to Sun's parents.
Related readings:


Missing iPhone led to employee's suicide
4. Man killed by speeding car at crosswalk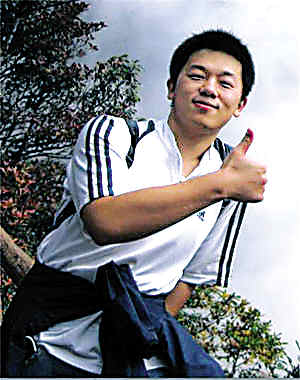 File photo of Tan Zhuo. [tianya.cn]
Tan Zhuo, 25, was killed by a speeding Mitsubishi sports car in a downtown Hangzhou crosswalk in May. A forensic report by motor vehicle experts showed the car was traveling between 84 km and 101 km per hour when the accident happened.
The driver of the car, 20-year-old college student Hu Bin even joked with his friends after the accident.
Hu received a three-year jail sentence in July. Tan's parents got 1.13 million yuan ($164,800) compensation for his death, mental suffering and other fees.
Related readings:


 Hangzhou drag racer gets 3-year jail term


 Putting the skids under street racing


 Deal can't bring his son back to life


 Comment: A cry for safer roads
5. Manager beaten to death by furious workers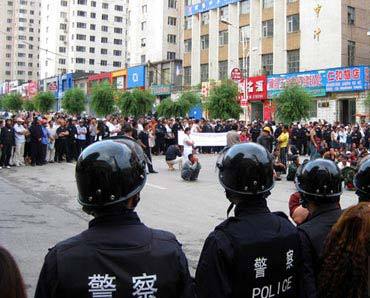 Police surround workers protesting outside the main building of Tonghua Iron and Steel Group in northeast China's Jilin province. [jiao6.com]
An executive was beaten to death in July as 3,000 steel workers threatened with job cuts protested following the takeover of their company in Tonghua, Jilin province.
Jianlong Steel Holding Company representative Chen Guojun was killed at a facility run by Tonghua Iron and Steel Group, in northeast China's old industrial heartland.
Chen was said to be dispatched by the Beijing-based Jianlong Heavy Machinery Group to merge the company with Tonghua. Some protesting workers had also allegedly blocked the approach roads to the factory to prevent the police and ambulances from saving the manager, according to a government investigation.
Related readings:


 Manager killed in plant riot


 Comment: A death and the disturbing facts behind it


 Workers speak of boss' murder

 Chief suspect nabbed in Tonghua case
6. Poor student hangs herself in dorm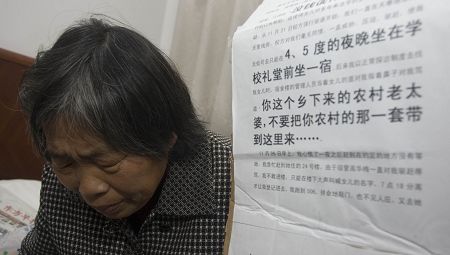 Yang Yuanyuan's mother talks to reporters about the treatment she received from the supervisor of her daughter's dormitory at Shanghai Maritime University. [blog.sina.com.cn]
Yang Yuanyuan, a 30-year-old postgraduate student at Shanghai Maritime University, was found dead in the bathroom of the dormitory where she lived. Police said Yang used two towels to hang herself on a sink faucet in the toilet in November.
An unnamed letter posted in an online forum revealed that the daughter killed herself because her mother was refused by the university to be able to live in her dorm.
According to Yang's younger brother Yang Pingping, their poor family failed to pay the full tuition fees for the sister when she graduated from Wuhan University in 2002 and she didn't get her diploma until 2007. During the five years, Yang tried hard to make ends meet by trying jobs such as tutoring, working at an insurance company and a newspaper and even selling clothes.
Related readings:

 Suicide draws criticism to university


 Help poor students cope with reality
7. Student who killed teacher gets death sentence reprieved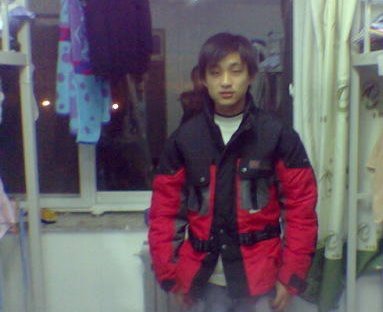 This file picture provided by Fu Chengli's friend online shows the young student in his dorm room. [tianya.cn]
Fu Chengli, a 23-year-old former student at China University of Political Science and Law, was sentenced to death with a two-year reprieve at Beijing No 1 Intermediate Court in October for stabbing to death Cheng Chunming, 43, a professor at the college.
Fu suspected his girlfriend, a postgraduate student surnamed Chen who was applying for the university's PhD program, had broken up with him because of an affair with Cheng.
The court refused to relieve the young man of the death penalty after an uproar of debate on whether China should cancel the death penalty following the tragedy at the law school.
Related readings:

 Wife of murdered professor doesn't hate killer

 Unwritten rules rampant on campus


 Student could avoid death sentence


 Campus crimes soar 150%
8. Jobless student robs bank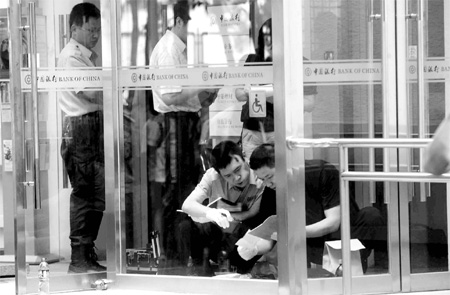 Police investigate the robbery at the branch of the Bank of China on the campus of Beijing University of Science and Technology on July 12. [China Daily/Zhang Mo]
Li Li, a 22-year-old student of the Beijing University of Science and Technology was jailed for robbing a bank on the campus and taking a fellow student hostage in July.
The student, who hailed from a poor village in Jiangxi province and majored in automation, turned to crime when he failed to find a job after running out of money, police said.
His classmates and relatives both said Li Li had very high self-esteem but was ashamed of his poor background. After spending six years in the university, he still didn't get a diploma for an engineering degree until the incident took place.
Related readings:


 Driven to desperation


 Mind the gap
9. Man kills 13, most family members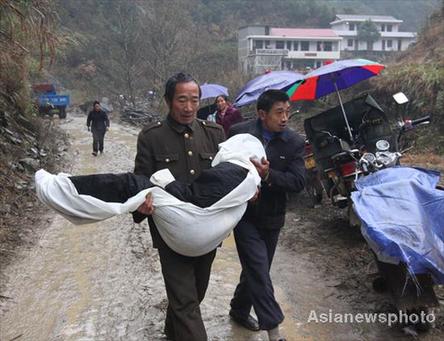 Villagers carry one of the victims allegedly murdered by Liu Aibing in a remote mountain village in Anhua county of Central China's Hunan province. Liu, 34, was captured in a manhunt that involved 1,000 police. [Asianewsphoto]
Liu Aibing, a 34-year-old farmer murdered 13 including his own family members using two shotguns, a cleaver and a torch in a village shrouded in mountains in Anhua county, central China's Hunan province in December. 12 died at the scene, another one died later. Liu was captured by the police hours after the rampage.
Liu allegedly first shot his uncle dead. He stayed there at night and later opened fire on another uncle's family of three and set their home ablaze. He later shot two dead and slashed Liu Jiesu, an 86-year-old with a cleaver and then turned to two of his cousins' homes, killing both families, five people altogether, before burning down their homes.
The alleged murderer concluded the bloody spree by setting fire to another uncle's home, killing his father Liu Bifang living inside. Liu was said to have a history of psychiatric illness.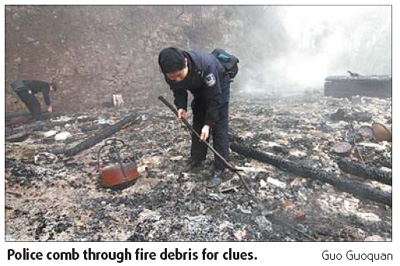 Related readings:


Man kills 13, mostly his relatives, in Hunan

Man arrested after village massacre
10. Mass killing at home in Beijing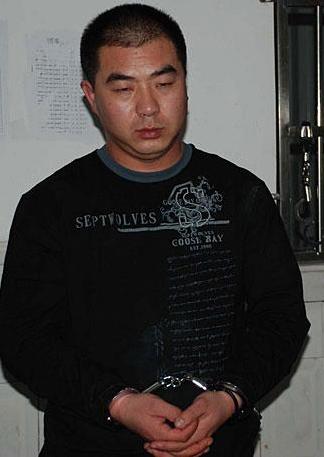 Li Lei, who hacked six family members at their home in Daxing District, Beijing was captured by police in Sanya, Hainan. [tianya.cn]
Beijinger Li lei hacked his parents, two children, wife and sister to death in their home in Beijing's Daxing District, and fled the capital to Sanya, south China's Hainan province in November.
The bodies of the dead, aged two to 54, were found by his wife's younger brother. Li later told police the killings were a result of long-time family conflicts.
Li was captured later that month in Sanya.
Related readings:


 Spree killing suspect caught in S. China