Another three people face criminal charges over the fatal fire caused by fireworks at China Central Television's new headquarters in Beijing.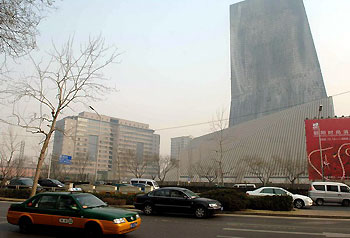 Vehicles passed by the fire-damaged Mandarin Oriental hotel, part of the new headquarters of the state television network, in Beijing's central business district February 10, 2009. [Xinhua]
Police arrested three CCTV employees, including Wang Shirong, deputy director of the CCTV Construction office, last Friday, Caijing magazine reported.
The other two employees are Gao Hong, chief engineer and deputy manager of the CCTV Gauging Consultants Co Ltd, and Geng Xiaowei, deputy director of the CCTV Construction office technical division.
Related readings:


 12 people arrested over CCTV new tower blaze


 5 more detained over CCTV new tower blaze


 CCTV fire probed by prosecutor handling dereliction of duty


 CCTV official detained over massive fire


 CCTV site manager questioned about fire
Police refused to comment on the latest arrests yesterday.
It brings to 20 the number of people that are in police custody over the Feb 9 inferno, the magazine reported.
The fire ripped through the 30-story building, housing the nearly completed luxury Mandarin Oriental Hotel, and part of the new headquarters of the State television network, in Beijing's Central Business District.
It killed one firefighter and completely gutted the 5-billion-yuan ($730 million) hotel.
CCTV had hired a company to ignite several hundred grade-A fireworks outside the hotel that night for the traditional Chinese Lantern Festival, which marks the end of Lunar New Year celebrations.
Fireworks were allowed in downtown Beijing until midnight during Spring Festival, but powerful grade-A fireworks needed police approval before being set off.
According to the Beijing fire control bureau, CCTV failed to get the police permit.
It also ignored warnings from officers for it to cancel the fireworks show, the bureau said.
The magazine reported that Wang tried unsuccessfully to ignite the fireworks on the night of the fire. A contractor lit the fireworks instead.
Police formally arrested 12 people in connection with the fire on March 17. They will face trial for "causing an accident with dangerous articles" and face up to seven years jail if convicted.
Included in the 12 people is Xu Wei, former head of CCTV's construction bureau, three employees from the construction team and eight employees from the fireworks provider Hunan Sanxiang Fireworks Company.
One of the CCTV employees is Sha Peng, also board chairman of Spectrum media development company, which is an intermediate company between CCTV and Sanxiang.
Xu was detained - but not arrested - by police just after the fire. The eight employees from the fireworks company fled Beijing and were later detained in neighboring Hebei province.
Police detained five other people on February 14 - three days after the other 12 people were detained. It is unclear if these five have now been formally arrested.
Meanwhile, the central government has appointed Party publicity official Jiao Li the new president of China Central Television (CCTV), it was reported Sunday.