Editor's Note
: With great power comes at least some responsibility. But not everyone with great power turns out a responsible person. Some tend to abuse whatever power they have in their executive positions. Here are ten stories involving some of the least upstanding members of China's business community of 2009 – if they are guilty as charged.
[Top 10 Everything of 2009]
Huang Guangyu - home appliance tycoon likely to face trial by year-end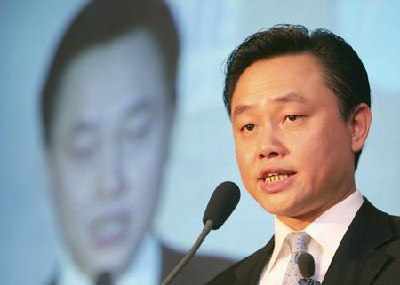 File photo of Huang Guangyu. [Agencies]
Huang Guangyu, former chairman and founder of Gome, one of the leading home appliance retailers in China, is expected to face charges of bribery and insider trading.
Sources say investigations are close to completion, and the case will go to court by the end of December 2009. However, Yang Zhaodong, Huang's lawyer, says the charges are yet to be confirmed.
Huang has hired several of the country's top lawyers to defend him. Legal experts say the debate will focus on whether the offense is considered personal or corporate behavior. And this will have an impact on the severity of punishment.
Huang was detained on Nov 24, 2008, as he was suspected of manipulating share trading for two listed companies - Sanlian Commercial Co and Beijing Centergate Technologies Co.
Huang, 40, founded Gome in Beijing in 1987. The company was listed on the Hong Kong Stock Exchange in 2004, and Huang was named China's second-richest man by Forbes in 2008, with an estimated wealth of $2.7 billion.
Related readings:


 Ex-Gome's chair faces insider trading


 Assets of former Gome exec frozen


 Huang shadow looms over troubled Gome


 Retail tycoon embroiled in irregularities
Tian Wenhua - boss of tainted milk producer gets life in jail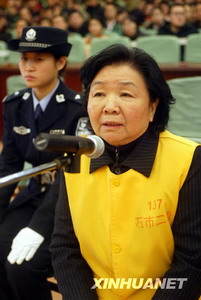 Tian Wenhua, the former chairwoman and general manager of Sanlu Group, stands trial on December 31, 2008. [Xinhua]
Tian Wenhua, 67, former chairwoman of Sanlu Group, was sentenced to life in prison in January 2009 on charges of producing and selling fake or substandard products.
Sanlu Group was at the heart of the 2008 melamine-tainted milk scandal. The company was declared bankrupt on Feb 12, 2009, because it was incapable of repaying outstanding debts as well as compensation it owed to families of children sickened by melamine-tainted formula milk powder.
The industrial chemical melamine can cause kidney stones and kidney failure. At least six children were reported dead and more than 300,000 others fell ill in the scandal since it broke in September 2008.
Related readings:


 Former dairy boss in milk scandal appeals


 Sanlu execs' fate 'may be' settled tomorrow


 Two get death in tainted milk case


 Court declares bankruptcy of Sanlu Group
Lan Shili, Li Zeyuan - airline executives under investigation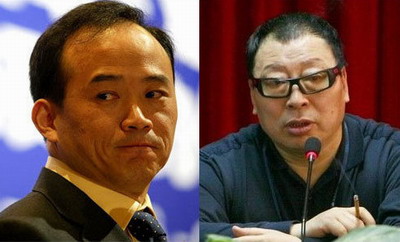 Lan Shili (L) & Li Zeyuan (R)
Lan Shili, president of the bankrupt private air carrier East Star Airlines, was detained by police at the Zhuhai airport on March 15, 2009, while allegedly trying to flee the country to escape huge debts. Lan was escorted back to Wuhan, where the airline is based.
East Star Airlines was set up in 2005. It was ordered by the authority to cease services on March 15 and went bankrupt on Aug 26.
Air China paid 23 million yuan ($3.3 million) on Nov 30 to take over the bankrupt airline's assets, after its offer to acquire all or part of East Star's stakes was rejected by Lan in March.
Shenzhen Airlines, which is also privately owned, said that Li Zeyuan, a senior advisor to the company who effectively controls the airline, was recently accused of economic crimes and is under police investigation. The airline continued to operate normally, it said.
Shenzhen Airlines was established as a State-owned enterprise in 1992, but in a restructuring in 2005, two companies owned by Li beat Air China to take a majority stake in the carrier. Li's probe is said to be linked with that purchase.
 Related readings:


 Debt-laden East Star Airlines goes bankrupt


 China's East Star Airlines reveals $110m debts


 Air China's Fan Cheng named to run Shenzhen Airlines


 Shenzhen Airlines gets a Tianjin-assembled A320
Xiao Shiqing - head of securities firm detained for graft probe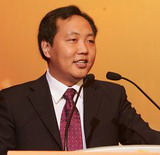 Xiao Shiqing
Xiao Shiqing, former president of China Galaxy Securities, was taken into custody on May 13, 2009, in connection with a graft investigation.
Born in 1964, Xiao has a PhD in management and joined the China Securities Regulatory Commission in 1996. In 2001, he was appointed chairman of Orient Securities, but was recalled to CSRC in 2004 to serve as the deputy director of the department for listed company supervision. In 2007, he was appointed president and legal representative of Galaxy.
The case is also linked with the bribery scandal involving Wang Yi, the former vice-chairman of the CSRC and vice-president of the China Development Bank.
Related readings:

 Galaxy ex-boss held for graft


 Galaxy appoints new head following Xiao exit
Stern Hu - executive arrested in Rio Tinto spy case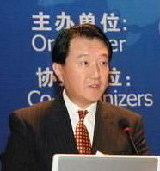 Stern Hu
Stern Hu, head of global mining giant Rio Tinto's Shanghai office, was detained by Chinese authorities in early July 2009 along with three other staff members on suspicion of espionage and stealing state secrets.
Nearly six weeks after being detained by the Shanghai State Security Bureau for suspected spying activities, Shanghai procuratorate authorities formally charged the four with infringing on business secrets and bribery.
Hu, born 1963 in Tianjin, graduated from Peking University, and later obtained Australian citizenship before becoming general manager for China operations at Rio Tinto's iron ore division.
 Related readings:


 CISA for unified stand against Rio-BHP alliance


 Rio employees 'held for espionage'


 Probe into Rio case expanding


 Four Rio Tinto employees arrested
Kang Rixin - nuclear company chief ousted for violations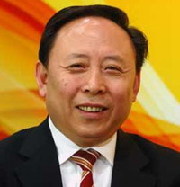 Kang Rixin 
Kang Rixin, general manager of China National Nuclear Corporation (CNNC), was removed from his position after being investigated for "grave violations of discipline", the Organization Department of the CPC Central Committee confirmed in mid-August 2009.
Kang was allegedly involved in a 1.8-billion-yuan ($260 million) corruption case, according to domestic media reports. There are two main accusations against him: appropriating public money to buy stocks, and interfering with the bidding results of nuclear power projects. In addition, Kang may also have taken illegal money from the company's main projects.
Kang had been the corporation's general manager and Party secretary since September 2003. In 2007, he was named one of the "Top Ten Gifted Managers of China."
Related readings:

 Sun takes the helm at CNNC

 Busting the bribe tribe


 China appoints new nuclear chief


 China's nuke chief ousted for violations

Yu Xiangdong - former Ford engineer accused of stealing designs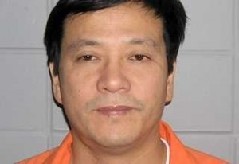 Yu Xiangdong 
Yu Xiangdong, a former Ford Motor engineer, was arrested on Oct 14, 2009 in Chicago. He is charged with theft and attempted theft of trade secrets and unauthorized access to a computer.
The charges allege that Yu copied design details on vehicle components in December 2006, less than a month before quitting Ford and used the information to hunt for another job in China.
Yu, after returning to China, first worked for Foxconn PCE Industry Inc, an electronics manufacturer in Shenzhen and then at Beijing Automotive Industry Holding Co, one of China's biggest State-run auto manufacturers.
The indictment does not accuse Foxconn PCE or Beijing Autos of wrongdoing. Beijing Autos said Yu, who joined its research institute last November, was only engaged in "some basic research activities."
Related readings:


 China auto producers monitoring theft case


 Beijing Auto plans own brand by 2010

Yang Shiming, Li Qingyuan and Ruan Juyuan - former execs of Jianlibao jailed for stealing from public fund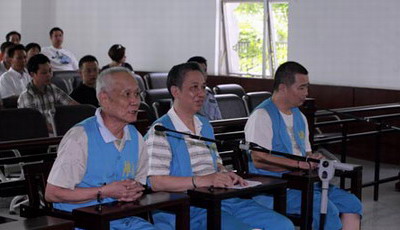 Ruan Juyuan (left), Li Qingyuan (center),Yang Shiming(right) stands trial on court. [Photo: nfdaily.cn]
Three former executives of China's one-time biggest beverage maker, Jianlibao Group, were jailed for stealing from the staff welfare fund to buy insurance for themselves.
Yang Shiming received an 18-year sentence and Li Qingyuan and Ruan Juyuan were each given 14 years. They were also fined 150,000 yuan ($20,000) each. All three were former vice presidents of the group.
In 2002, the three were accused of embezzling more than 11 million yuan under the guise of purchasing life insurance, but had been released by local police after the Foshan procuratorate decided not to charge them in 2004. They were detained again early 2009 in connection with the Li Jingwei case. Li, former president of Jianlibao Group, is accused of embezzling more than three million yuan of public funds and is still under detention.
Related readings:


 Beverage executives jailed for stealing from employee fund


 Corruption trial for beverage boss delayed on health concern
Yang Yanming - the first person executed for corruption in China's securities industry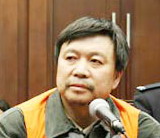 Yang Yanming
Yang Yanming, a former general manager of a Galaxy Securities branch in Beijing, was executed on Dec 8, 2009, for embezzling almost 70 million yuan ($10.25 million) and misappropriating another 25 million yuan, making him the first person to be executed for corruption in China's securities industry.
Yang declined to give the whereabouts of more than 65 million yuan, claiming that the money he misappropriated had been used to pay bribes to public officials.
Yang was arrested in 2004. He was first sentenced to death in 2005, and that judgment was upheld after his appeals.
Related readings:


 Hunt for missing cash as manager is executed


 Securities trader executed

Wu Ying -- nabobess sentenced to death for defrauding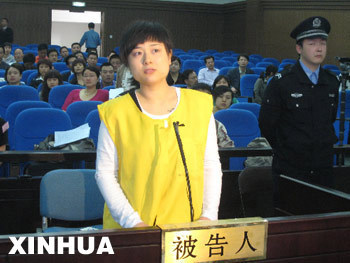 Wu Ying [Xinhua]
Wu Ying, 28, former owner of the Zhejiang-based Bense Holding Group, was sentenced to death in Zhejiang province on Dec 18 for defrauding investors of 384 million yuan.
Wu amassed the funds by promising high returns to investors between May 2005 and February 2007, according to the Intermediate People's Court of Jinhua city.
The money was used for Wu's personal consumption and to pay back loans and operation costs of her company, said the court.
Wu was arrested in February 2007 and indicted in September 2008. She retracted her confession in April.
Related readings:


 Businesswoman gets death sentence for defraud


 Ex-rich list woman in $57m fraud