SHANGHAI: China's former 68th richest person had swindled nearly 390 million yuan ($57 million) from 11 people in one of the country's biggest financial frauds committed by a woman, a court in Zhejiang province was told on Thursday.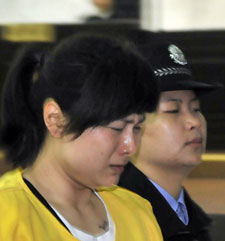 Wu Ying stands trial for financial fraud at Jinhua Internediate People's Court in Zhejiang province on Thursday. [Hong Bing] 
Wu Ying, 28, had been detained for more than two years before standing trial at Jinhua Intermediate People's Court. She appeared thinner than when she was arrested and remained calm throughout the proceedings.
The financial fraud charges she faces carry a maximum penalty of capital punishment, Caijing magazine reported on its website.
When the hearing began at 9:30 am, journalists and more than 200 local residents flocked to the courthouse to watch the proceedings.
Wu's 3.6 billion yuan in assets saw 2006 Hurun Report list her as China's sixth richest woman and 68th richest person. She was arrested in Feb 2007.
The indictment said she had collected nearly 390 million yuan for the "purpose of possession", promising high returns.
She told victims she would use the money to register companies, invest in projects, loan out or improve cash flow for her business.
But she instead used it to pay off loans and incurred interest, buy real estate and cars, or spent it on personal consumption.
"The amount she collected (from victims) was extremely large and resulted in huge losses," the indictment said.
At first, Wu was charged with illegal fundraising, which carries a maximum penalty of 15 years in prison.
On those charges, she would have stood trial at a district-level court.
But as investigators uncovered more evidence against Wu, the charges were changed to financial fraud, which can carry the death penalty, and the case was handed over to the intermediate court.
Wu's attorney Yang Zhaodong insisted his client was innocent, Caijing reported.
He told the court on Thursday that Wu simply borrowed the money but did not cheat anyone. Yang also said Wu used the money for business and did not illegally spend it. Wu told the court she had been investing in highly profitable businesses, including trading companies, hotels, investment guarantee agencies and property developments.
The 11 people who lent her money were her friends - not the "general public" as they were defined in the indictment, Yang said.
He also said Wu should not be responsible for the amounts the 11 investors collected from others to give Wu.
In January, seven people who had allegedly collaborated with Wu were convicted of fraud. Their prison sentences ranged from 22 months to six years, and their fines ranged from 20,000 yuan to 300,000 yuan.