Editor's note:
The Mayan prophecy may have foretold doomsday for 2012, but for 2009 our surprises have been much milder and more manageable. Pleasant, unpleasant or simply meaningless, these incidents, as selected by China Daily website editors, filled us with wonder or disbelief. [
The Top 10 Everything of 2009
]
1. Obama wins Nobel Peace Prize
2. Teen girl survives Yemeni jet crash
3. Pregnant man gives birth for second time
4. Tomb of legendary 3rd century ruler uncovered
5. Iraqi reunited with mom 20 yrs after massacre
6. Gatecrashers at Obama state dinner
7. Miners found alive after 25 days
9. Former diving star to play model soldier
10. Conjoined twins free to go
1. It's true, Obama wins Nobel Peace Prize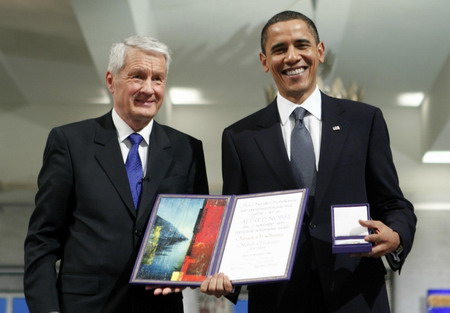 Nobel Peace Prize laureate US President Barack Obama poses with his medal and certificate as Norwegian Nobel Committee Chairman Thorbjoern Jagland stands with him in Oslo Hall December 10, 2009. [Agencies]
There was momentary disbelief across the globe as the announcement stunned people from Norway to the White House. But it was true. US President Barack Obama had won the 2009 Nobel Peace Prize.
Nobel observers were shocked by the choice so early in Obama's presidency. Obama expressed surprise on winning the prize but said he accepted the honor as a call to action for nations to confront the challenges of the 21st century.
Related readings:


 It's true, Obama is Nobel Peace Prize winner


 Castro endorses peace prize, not Obama

 Nobel jury speaks out in defense of Obama prize


 Nobel-winning Obama defends war in call for peace
2. Plane crashes in ocean, teen girl found alive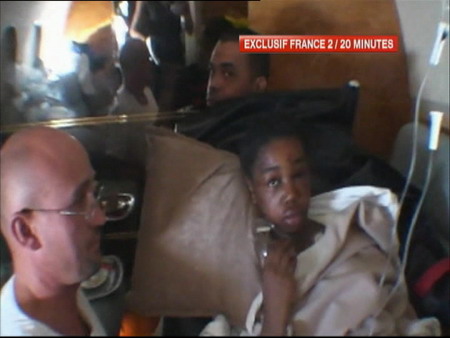 Bahia Bakari, 14, the sole survivor from the Yemeni plane which crashed into the Indian Ocean with 153 people on board, receives medical attention during her journey by French government jet to Paris July 2, 2009 in this video grab. [Agencies]
Bahia Bakari, 14, was the only survivor from a crashed Yemeni jet with 153 people on board as it tried to land during heavy wind on the island nation of Comoros in late June.
There were 142 passengers and a crew of 11 Yemenis on board when the Airbus A310, which had set off from the Yemeni capital of Sana, went down shortly before attempting to land in Moroni, on the main island of Grand Comore.
Bahia, a fragile girl who could barely swim, spent over 13 hours in the water clinging to wreckage before she was rescued.
Related readings:


 Teen jet survivor returns to family


 Comoros crash survivor reunites with father


 Yemen plane crashes in ocean, child found alive


 Yemeni plane crashes in sea off Comoros, 153 on board
3. Pregnant man gives birth for second time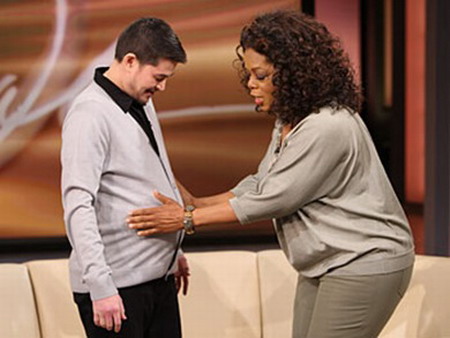 Thomas Beatie, the transgender man who gets pregnant by artificial insemination, appeared on "The Oprah Winfrey Show" in this April 3, 2008 file photo. [hollywire.com]
Thomas Beatie, 35, a transsexual man, gave birth to his second child in June.
The Oregon man had already hit the headlines around the globe last year when he gave birth to a daughter through artificial insemination. Beatie, legally male now, was born a girl and had gender reassignment surgery. Despite changing his gender, Beatie had kept his female organs which allowed him to be able to fall pregnant.
4. Tomb of legendary 3rd century ruler uncovered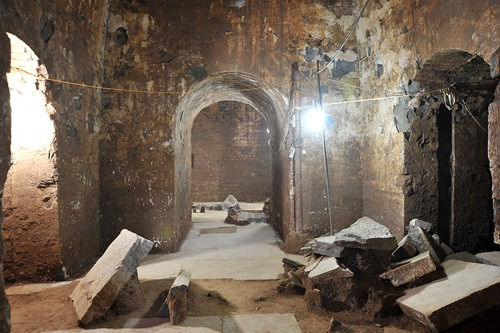 The austere interior of Cao Cao's tomb. [photo/news.163.com]
Chinese archaeologists have found what could be the tomb of Cao Cao, a skilful general and ruler in the third century who was later depicted in popular folklore as the archetypal cunning politician.
Archaeological officials say Cao's 800 sq m tomb complex, with a 40m passage leading to an underground chamber, was found in Xigaoxue, a village near the ancient capital of Anyang in central Henan province.
Historians say Cao Cao's outstanding military and political talents enabled him to build the strongest and most prosperous state in northern China during the Three Kingdoms period in 208 to 280 AD, when China had three separate rulers.
Experts also unearthed bones of three people, through which they identified their ages: One male of around 60, and two women, one in her 50s and the other between 20 and 25.
Experts say the male was Cao, who died at age 65 in 220 AD, the elder woman his empress, and the younger woman her servant.
Related readings:


 DNA tests on ancient ruler urged


 Tomb of legendary ruler unearthed


 Photos: Tomb of legendary ruler unearthed

5. Iraqi reunited with mom 20 yrs after massacre

Zimnaco Saleh hugs his mother. [Agencies]
Iraqi young man Zimnaco Saleh, 21, was reunited with his mother Fatima Hama Saleh 20 years after being taken to Iran as an infant and surviving the notorious Halabja chemical massacre.
With the Iran-Iraq war coming to a close in 1988, Kurdish rebels seized control of Halabja. In response, the Iraqi army shelled the village to force out the militia. On March 16 that year, Iraqi fighter planes released mustard gas and other nerve agents. An estimated 5,000 were killed, in what is now thought to have been the worst gas attack ever carried out against civilians.
Fatima saw her husband and her four other children die in the attack. She fainted with Zimnaco on her lap and woke up in an Iranian hospital but without her son.
At the time, baby Zimnaco was being treated in the same hospital before being placed in an orphanage in a northeastern Iranian town.
There, he was adopted by an Iranian widow who named him Ali and revealed his adoption when he was seven. He used the Internet to find Kurdish organizations helping victims of Halabja.
On Dec. 3, Zimnaco and the five families were brought together at a ceremony where an official announced: "According to the results of DNA tests, Ali is the son of Fatima Hama Saleh."
6. Uninvited couple gate-crashes Obama state dinner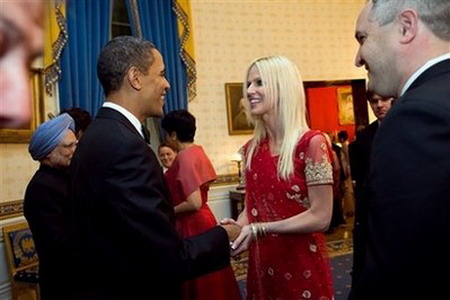 This photo released by the White House November 27, 2009, shows President Barack Obama greeting Michaele and Tareq Salahi, right, at a State Dinner hosted by Obama for Indian Prime Minister Manmohan Singh at the White House in Washington. [Agencies]
An uninvited northern Virginia couple, Tareq and Michaele Salahi, crashed the White House party which President Obama held in honor of visiting Indian Prime Minister Manmohan Singh on November 24.
The White House later released a photo showing the Salahis in the receiving line in the Blue Room with Obama and Singh. Obama and Michaele Salahi smiled as she grasped his right hand with both of hers as her husband, Tareq, looked on.
Three US Secret Service officers were put on paid leave for the security breach.
Related readings:


 Uninvited couple gate-crashes Obama state dinner


 Cable company filmed uninvited White House couple


 Secret Service: officers didn't verify crashers


 TV exec: Obama dinner crashers shopping interview


 Three agents on leave for WH dinner crashing
7. Miners found alive after 25 days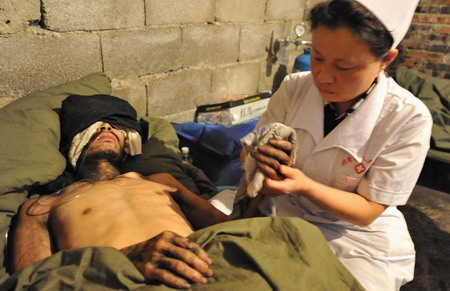 A medical worker attends to one of the three survivors who have been trapped in a flooded mine for 25 days at a makeshift tent in Qinglong county, southwest China's Guizhou Province Sunday, July 12, 2009. [Xinhua]
Normally, humans can survive no more than 10 days without food or water, but three trapped miners who lived at the brink of death below ground have extended that record to 25 days.
The three miners, who were buried by mountains of rocks in southwest Guizhou province after a mine flooding on June 17, were found on Sunday July 12. They miraculously stayed alive by eating tree bark and drinking water leaking into the mine.
Related readings:


 Miners trapped for 25 days: Bye hospital, hi uncertainty


 Miraculous survival tale retold


 Miners slowly recovering after 25 days of ordeal


 Miners found alive after 25 days

 Rescuers tell story of miners' miraculous survival

 After 25 days undergound, 3 miners come out alive


 3 miners rescued after 25 days underground
8. Lou Jing, the black angel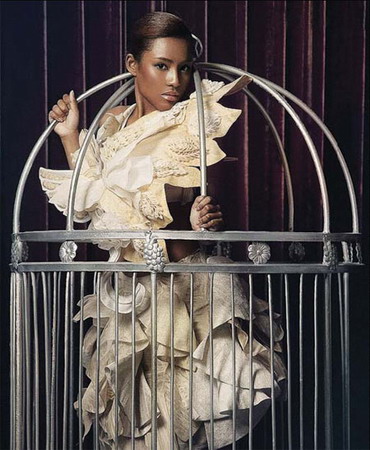 Lou Jing, 20, in a photo posted on angel.smgbb.cn, a TV talent show's website. [China Daily]
Lou Jing, a student of the Shanghai Drama Academy, found herself at the center of a stormy debate after she participated in Go! Oriental Angel, a talent show produced for Shanghai-based Dragon TV. Lou's Chinese and black heritage, and her mother's candid sharing of their family story on TV, has become a hot topic online.
Related readings:


 Seeing red over black Angel


 Born talented


 Coloring the debate
9. Former diving star to play model soldier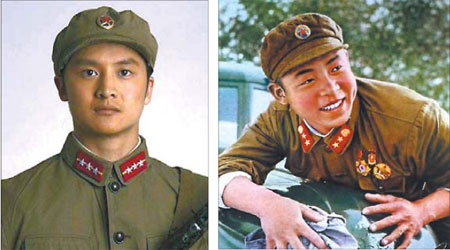 Tian Liang (left) will portray Lei Feng (right) in the new TV series Lei Feng. [File photos/China Daily]
The latest role of Chinese diver-turned-actor Tian Liang has sparked a big debate in China. Tian, a gold medalist in platform diving at the 2000 Olympics in Sydney, has been chosen to play Lei Feng, a soldier held up by Chairman Mao Zedong as an example of selflessness for all of China to follow.
The choice of Tian for the role has angered a host of Chinese netizens, who basically argue that Tian is too self-centered, materialistic and publicity-loving to play Lei Feng. Tian was kicked off the Chinese diving team ahead of the 2008 Olympics for too enthusiastically pursuing commercial activities.
Related readings:


 It's only make-believe
10. Conjoined twins free to go
Bangladeshi twins Trishna and Krishna had been joined at the top of their heads and shared brain tissue and blood vessels. The two orphans were separated on Nov. 17 after 25 hours of delicate surgery in Melbourne's Royal Children's Hospital and then underwent an additional six hours of reconstructive work.
They were discharged from the hospital on December 21, just in time to celebrate their third birthday.
Related readings:


 Australian doctors operate into the night on conjoined twins


 Formerly conjoined twins leave intensive care


 Once-conjoined twins leave hospital on birthday eve