Editor's Note: Heroes don't have to be rich or world-famous to inspire and touch us. The seemingly ordinary people who did extraordinary things helped make 2009 a special year.
Here chinadaily.com.cn editors select 10 heros from home and broad. [Listed in no particular order] [The Top 10 Everything of 2009]
1. The Chinese workers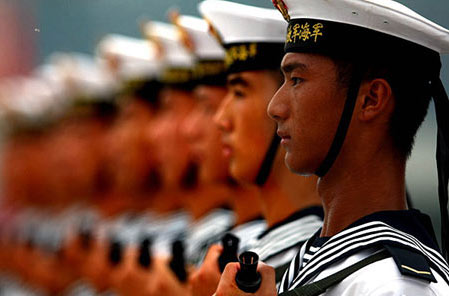 Soldiers practice precise moves in advance of the military parade at Tian'anmen Square in Beijing to celebrate the 60th anniversary of founding of the People's Republic of China on October 1, 2009. [cnsphoto]

A second Chinese group of people that amazed the world in 2009 was composed of the parade soldiers who awed the world's news media with their precision and unity during the 60th anniversary of the People's Republic of China.
These young men and women who accepted a critical mission in their 20s and 30s will be the future military backbone of China.
On March 7, Li Feng, a 38-year-old air force pilot with more than 2,000 hours of flight experience, encountered a mechanical problem in the engine of his homemade J-10 jet fighter during a tactical training exercise about 4,500 meters above sea level. In 401 seconds, he successfully landed on the ground - without injury to himself or civilians on the ground.
The emergency landing was regarded as a "miracle" in the annals of China's third-generation fighter aircraft history. Li was recently was awarded a First-Class Merit Citation and a Meritorious Pilot gold medal.

Related readings:


 Pilot lands Jian 10 after engine fails


 Hero pilot awarded after emergency landing
         
4. Anonymous bicycle man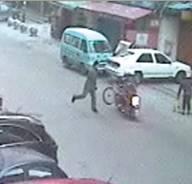 File photo of the incident in Wenzhou, Zhejiang province. [zjwmw.com]
He has no name and he cannot fly like Superman, but he was a hero who came to the rescue riding his bicycle.
On December 19, a woman named Chen was robbed by two roadside hooligans in Wenzhou, Zhejiang province.
A passer-by riding a bicycle saw the crime and threw his bicycle at the two suspects as they left on a running motorbike. The man's bicycle hit one of them, and other passers-by helped Bicycle Man catch the suspect and retrieve the woman's purse.
He did not leave his name before riding off on his bent bicycle. But this low-key good deed won praise among netizens throughout China.
5. Yang Jiyuan, good Samaritan

8. Mike Perham, youngest to sail solo around the world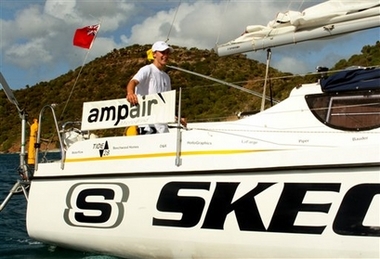 Young British sailor Mike Perham arrives at St. John's Harbor on the Caribbean island of Antigua. [Agencies]
A 17-year-old British sailor in 2009 became the youngest person to sail around the world without assistance. Mike Perham won the solo record after completing the 45,000-kilometer trip in nine months to cross the finish line in Cornwall in southern England in his 15-meter racing yacht he calls Totallymoney.com.
Perham is a few months younger than Zac Sunderland, a 17-year-old man from Thousand Oaks, California, who completed a similar trip in July in 13 months.
Related readings:



  Dutch girl, 13, in battle to sail solo around globe


  British teen sails across Atlantic alone


  US teen becomes youngest to sail world solo


  Aussie teen sailor starts round-the-world bid  
9. Richard Phillips, captain of MV Maersk Alabama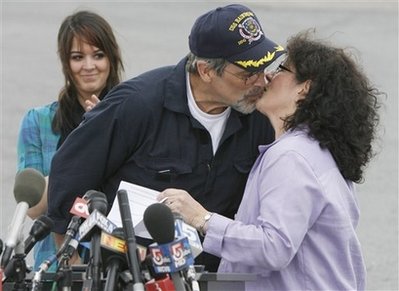 Richard Phillips kisses his wife Andrea after arriving on a plane in South Burlington, Vermont following an attempt to seize his cargo ship in April. Looking on is his daughter, Mariah. [Agencies] 
Civilian ship captain Richard Phillips offered himself as a hostage after pirates made an aborted attempt to seize the Maersk Alabama cargo ship on April 8 off the coast of Somalia. Phillips survived the ordeal after Navy snipers on the USS Bainbridge shot and killed the three pirates holding him.
One of the pirates had pointed an AK-47 at Phillips, who was tied up and in "imminent danger" of being killed when the commander of the nearby USS Bainbridge made the split-second decision to order his men to shoot, US Navy Vice Admiral Bill Gortney said.
"I'm just the byline. The real heroes are the Navy, the (Navy) Seals, those who have brought me home," Phillips said by phone to Maersk Line Ltd President and CEO John Reinhart, the company head told reporters. A photo released by the Navy showed Phillips unharmed and shaking hands with the commanding officer of the USS Bainbridge.
US President Barack Obama praised Phillips for his courage - as "a model for all Americans".
Related readings:


 TV show to track U.S. Navy's battles with pirates


 Pirate hostage captain praises SEAL 'superheroes'
10. Kimberly Munley, nemesis for the Ft. Hood killer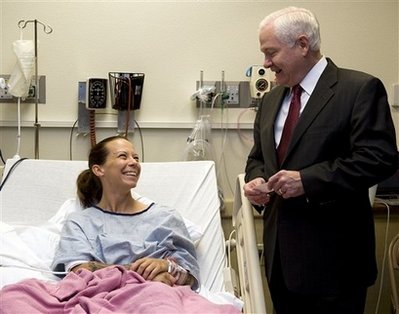 This November 2009 file photo provided by the US Department of Defense shows Secretary of Defense Robert Gates meeting with Police Sergeant Kimberly Munley at a military hospital at Ft. Hood, Texas. Munley is one of two civilian police officers who brought down the Army psychiatrist accused of going on a shooting rampage at the military base. Munley said her wounds will cut short her career as a street police officer. [Agencies] 
Civilian police sergeant Kimberly Munley was credited with helping to stop a man on a killing spree at Ft. Hood, a US army base in central Texas. Munley was shot in the leg and hand as she helped subdue the suspect after he killed 13 fellow soldiers during the November 5 rampage.
Munley, in a posting on her Internet blog, said she was lucky that she did not lose her leg, where a bullet hit an artery. She said she now has to use a wheelchair and walker, but added that she "cannot complain one bit" because she feels she was given a second chance at life.
"I have addressed more or less every thought and emotion about what's happened to everyone else - the injured and the ones that did not make it and their families," Munley told reporters. "I can't tell you if I have any thoughts towards what he's done to me, because I've been too overwhelmed with trying to come to terms with how everyone else has suffered through this."
Related readings:


 Fort Hood suspect charged with attempted murder


 Fort Hood suspect may be permanently paralyzed


 Fort Hood attack leaves US Muslims fearing backlash


 Military doctor kills 13 in US Fort Hood rampage