Beijing police uncovered the largest counterfeit banknote haul in the history of New China on Wednesday, seizing fake renminbi notes with a face value of more than 6.6 million ($970,590).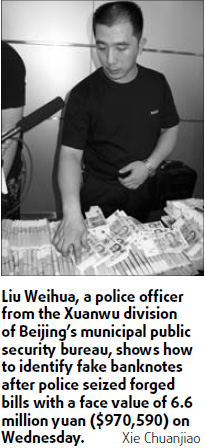 The counterfeit bills included 100,000 notes resembling five, 10, 20, 50 and 100 yuan notes.
Six suspects were also detained, said Sun Jiali, the political commissar of the criminal investigation league of the Xuanwu division of Beijing's municipal public security bureau.
Xuanwu police launched the raid in the Wangsiying township of Beijing's Chaoyang district at 5 pm Wednesday while four suspects were allegedly making a transaction.
Police then spent four hours at the scene, uncovering an alleged secret storage facility where they found counterfeit banknotes with a face value of 5.3 million yuan. Early the next day, police apprehended another two suspects in Daxing district, along with another 1.3 million yuan in fake notes.
Sun said the principal suspect, known as Zhang Jun, had been a target since he allegedly traded fake banknotes worth more than 2 million yuan in east China's Fujian province in May 2008.
Sun said Zhang has confessed to several offenses.
Kang Tao, chief of the plain clothes section at the Xuanwu police detachment, said officers were still tracking some counterfeit bills that he believed Zhang and his accomplices had passed.
"Residents need not panic. The forged banknotes are not in general circulation," Kang added.
Officials said most counterfeit notes are produced in Guangdong and Fujian provinces and trafficked to other communities.
Related readings:


 Fake money trading gang in E. China held


 Central bank intensifies fight against fake money


 National campaign launched against fake money crimes


 Holders should not pay for fake money


 Man gets 10-month jail term for using fake money
Since the end of last year, fake 100-yuan notes, most starting with serial number HD90, have turned up in 10 provinces and regions.
It is not yet known whether Wednesday's seizure was connected to the forged HD90 bills.
"Though counterfeiters are using improved technology, citizens can still tell the fake ones by using the traditional methods suggested by the banking sector," said Kang.
Kang said the forged notes seized this week were smoother and thinner than real bills - and the "100" mark did not change colors from grey to green.
Investigators believe the gang was also involved with fake banknotes detected by police in June 2008. At that time, police rounded up 14 suspects and seized two million yuan in forged banknotes.