Fake money trading gang in E. China held
Police in Fuzhou, Fujian province, announced on Wednesday that they had busted a gang dealing in fake Chinese money, confiscating currency with a face value of 1.03 million yuan ($151,000).
This was the largest fake money trading gang the police smashed in Fujian this year, said Liu Yidi, a police officer with the Fuzhou municipal bureau of public security.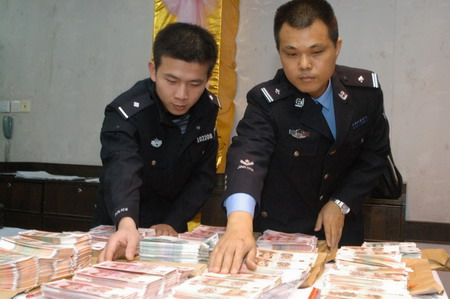 Police officers with the Public Security Bureau in Fuzhou, Fujian province, count a big stash of counterfeit money, March 18, 2009. The haul, with a face value of 1.03 million yuan ($151,000), was seized from the largest counterfeit ring in the province. [Xinhua
]
The confiscated fake money had a par value of 100, 50, 20 and 10 yuan. Most of the 100-yuan banknotes had serial numbers starting with CE86 and CH31 and were of a superior quality than the fake 100-yuan banknotes starting with the serial number HD, found earlier, he said.
Related readings:


 Police seize 90m fake RMB notes in Guangdong


 Fake notes found in Haikou


 Police find cache of fake cash on coach


 Central bank intensifies fight against fake money
On January 20, Fuzhou police found a man surnamed Zheng from Tingping township in Minhou county, Fujian, possessing fake money with a face value of 90,000 yuan. A month-long investigation showed a gang from the township was involved in fake money transactions.
On Feb 23, Chen, who carried fake money with a face value of 580,000 yuan, was arrested in the southern suburb of Fuzhou. Six other members of the gang were caught the same day.
They had purchased fake money with a face value of 1.265 million yuan from Shanwei, Guangdong province, on six occasions since 2002.
They would buy a 100-yuan banknote with 1.5 yuan and sell it for 3 yuan to the next buyer in Fuzhou who would then sell it to the third buyer for 5 or 6 yuan and so on.
A small amount of the fake money the seven criminal suspects bought were already in social circulation before they were nabbed, Liu said.
Elaborating on how fake money found its way into society, Liu said, massage girls with access to their client's pockets often replaced true money with fake currency. Second, gamblers exchange true money with fake ones in casinos. Third, taxi drivers often return fake money to passengers. Fourth, criminal suspects use fake money with a big face value in restaurants, farm produce markets and supermarkets and get true money as change.
Fake 100-yuan notes, mostly starting with the serial number "HD90", were reported in more than 10 Chinese provinces and cities since last year.
Reports say that sometimes even counterfeit detectors, which would not pass low-quality fakes, get hoodwinked by forgery of a higher standard.
Although the fake money confiscated in Fuzhou bore the watermark and magnetic security line and was believed to look more genuine than those with the serial number "HD90", Liu said that people with a sharp eye and counterfeit detectors in banks would know better.
Early in 2009, officials from the People's Bank of China denied the sharp rise of fake banknotes, claiming that the number of fakes detected by the financial institutions and police was not substantially higher than usual.
Zhou Xiaochuan, governor of the People's Bank of China, claimed that the technology used in the bank could easily detect fake banknotes.
Under Chinese law, people who knowingly hold or use counterfeit currency can face up to 10 years in prison. A 34-year-old Chinese farmer was sentenced to 10 months in prison and fined 15,000 yuan in January for using 55 counterfeit notes with a 100-yuan face value in a Shanghai shop.