Police in Yiyang, Hunan province, discovered 400,000 yuan in fake banknotes on a coach on Tuesday during a routine highway patrol, Beijing News reported yesterday.
A cache of forged 100-yuan notes was found inside a cardboard box on a coach traveling from Zhanjiang, Guangdong province, to Yiyang, it said.
While carrying out a routine luggage check, police saw a box labeled as containing milk and became suspicious.
"Milk is a product that can be bought anywhere, so we were suspicious as to why it was being transported such a long distance," Luo Guofeng, deputy head of the police patrol, said.
All of the counterfeit notes were prefixed with "HB90", he said.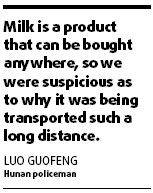 "We saw a mobile phone number written on the box, so we called it," he said.
After speaking with a man from Yuanjiang, Hunan province, a police officer, posing as the coach driver, arranged to meet him and arrested him on sight, the report said.
The suspect said he had no idea what was inside the box and that he was simply collecting it on behalf of his uncle, it said.
The investigations are ongoing, the report said.
Meanwhile, a man was arrested in Leqing, Zhejiang province, on Tuesday for being in possession of 20,000 yuan's worth of counterfeit notes, the China News Service reported yesterday.
The 30-year-old man, surnamed Jiang, appeared overly nervous during a routine vehicle check.
On further investigation, officers discovered a bundle of fake 100-yuan notes prefixed "HB90" in his coat, the report said. Jiang said he planned to use the money to buy lottery tickets, it said. An investigation is ongoing.
On Wednesday, the Ministry of Public Security launched a 10-month nationwide campaign to combat currency counterfeiting.
It also called on the public to lend its support and is offering rewards of up to 300,000 yuan for useful information.
(China Daily 01/23/2009 page4)