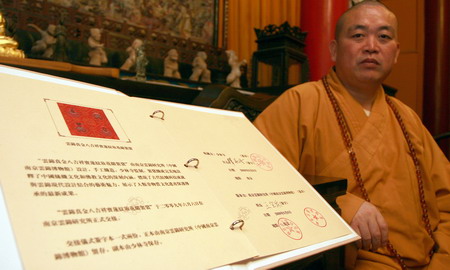 Shaolin Temple Abbot Shi Yongxin poses with the certificate of a luxury cassock, which was given to him as a gift by a silk company, in Songshan, Henan province, June 7, 2009. [CFP] 
The kungfu master never saw this punch coming.
Shi Yongxin, the abbot of the Shaolin Temple, a Chinese monastery famous for its martial monks, fell victim to an online hoax in which the front page of the temple's website was replaced with a fake letter of remorse.
"I traded the monastery's tranquility and holy Buddhism for the fame of Shaolin and myself," said the post, which appeared early Wednesday morning.
It accused Shi of commercializing the 1,000-year-old temple during his 10 years at the helm, staining the religion's reputation and breaching its fundamental discipline.
It was the second cyber attack in one week against the website and was meant to damage the temple's reputation, said an employee from the legal affairs department of a company affiliated with Shaolin. He refused to give his name.
Related readings:


 Shaolin monks perform Chinese Kung Fu in Malta


 Shaolin Temple Taiwan branch in talks: Shaolin abbot


 New Shaolin movie starts filming


 Jackie Chan, Andy Lau to star in new Shaolin movie

 $292m to rebuild North Shaolin Temple
"We have reported this attack to the police," he said on the phone. "The website will reopen with an official statement in two or three days."
But he did not disclose the details of the statement and refused to comment on the identities of possible attackers.
It was not clear whether Shi has knowledge of the attack.
The post was picked up by a number of media outlets and spread across China's cyber world.
The site has been inaccessible since Wednesday morning as its operators shut it down for investigation.
Shi has made a name for himself and the Shaolin temple by establishing at least five businesses using the Shaolin name in the past decade.
He also launched the "Kung Fu Star" reality competition in 2006, received contestants from a Chinese beauty pageant called "Miss Tourism", met foreign politicians and made friends with Hollywood celebrities.
But Shi's successes have also drawn criticism. There have been reports he owns a chauffeured premium SUV, wears a 160,000-yuan ($23,400) designer robe and has housed a mistress.
Shi has never admitted to these claims.