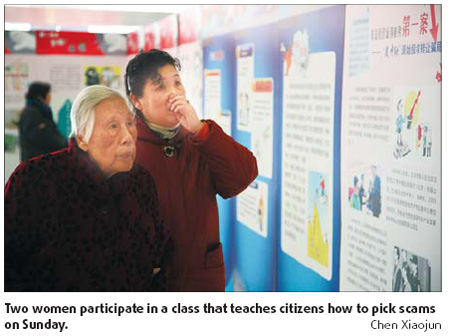 Beijing police are warning city residents to be on the alert as a spate of telecom scams were exposed recently.
From January to November, almost 100 phone fraud cases were handled by Chongwen district police bureau, the bureau said yesterday.
And women were the most heavily targeted group at more than 70 percent, according statistics from the bureau.
Hu Jianqiang, a press officer at the Chongwen police bureau, told METRO yesterday that the main reason for this was that middle-aged women spend most of their time at home and are usually in charge of domestic finances.
Women typically trust the police from a lifetime of positive reinforcement at school. They seldom doubt calls from the police or the courts, allowing for fraudulent impersonations, Hu said.
Additionally, Hu pointed out that middle-aged women are sometimes relaxed in their approach to seeking news from the Internet, newspapers or the TV.
In October, a 46-year-old female victim, surnamed Li from Chongwen district, received a strange call from a man claiming to be a policeman in Shanghai.
The bogus policeman told Li she was a suspect in an international money-laundering gang, and the Shanghai International finance department was investigating her. He asked her to transfer her money to another account for verification.
Li moved her 1 million yuan of savings to a "safe account", on a promise it would be returned after the investigation concluded.
On the same night, Li realized she had been cheated and immediately reported the scam to the police.
One month later on Nov 11, Beijing police detained six suspects in Zigong city, Sichuan province, and the police detained another seven suspects in Meizhou city, Guangdong province. The case is still under investigation.
Tongzhou police yesterday announced they had cracked down on a phone fraud gang of 28 scammers who had netted 500,000 yuan.
The youngest member of the gang is only 18. Most were young girls who sold fake 3G mobiles.
They have committed more than 400 phone fraud cases, involving four provinces and autonomous region, including Xinjiang, Anhui, Shandong and Yunnan. The purchasers always receive lower quality phones than expected.
(China Daily 12/15/2009 page26)