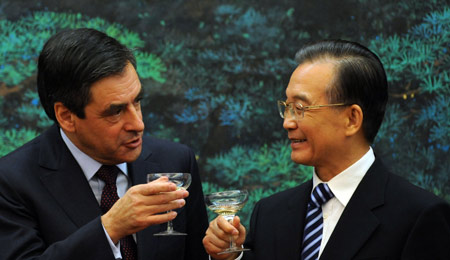 Premier Wen Jiabao (right) and his French counterpart Francois Fillon toast to celebrate the signing of several economic cooperation agreements at the Great Hall of the People in Beijing yesterday. [China Daily]
Beijing and Paris yesterday inked deals on nuclear energy and aviation, an indication of improved relations a year after the French president soured ties by publicly embracing the Dalai Lama.
France's President Nicolas Sarkozy also confirmed through visiting French Prime Minister Francois Fillon that he will attend the inauguration of the Shanghai World Expo in May next year in another sign of mended relations.
Nuclear energy has been Fillon's hot-button issue during his Beijing visit that began on Sunday. He and Vice-Premier Li Keqiang yesterday unveiled a nameplate for two nuclear reactors to be built with a total investment of 50.2 billion yuan ($7.35 billion) in Taishan, Guangdong province.
The joint venture by French energy provider Electricite de France and State-run producer China Guangdong Nuclear Power Group (CGNPG) is the largest foreign joint venture in China's electricity industry.
Developing nuclear energy was an important step by China to adjust its energy infrastructure, said Vice-Premier Li on Monday.
During his attendance at the United Nations climate change summit in New Nork in September, President Hu Jintao said China would endeavor to increase the primary energy use of nonfossil fuels to around 15 percent by 2020.
According to the country's long- and mid-term development plan of nuclear power plants, nuclear power will account for 4-6 percent of the country's total energy by 2020.
"The partnership between France and China on nuclear energy is a perfect match of cutting-edge technology and management experience with great market potential", said Zhou Dadi, former director of the National Development and Reform Commission's Energy Research Institute.
Xia Yishan, an energy expert at China Institute of International Studies, noted that more than 70 percent of the energy in France is generated by nuclear plants, while in the United States and Japan the rates range between 20 to 30 percent. In China, nuclear reactors account for one percent of energy production.
"Given the fact that dozens more nuclear power plants are to be built here in the future, China cannot reach the target without support from developed countries, especially France," Xia said.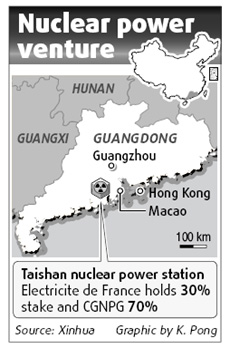 The two sides also signed nuclear-related deals to work together on the peaceful use of nuclear energy, safe disposal of nuclear waste, and equipment purchase from France for Chinese nuclear power plants.
Beijing and Paris also signed three aviation agreements. According to the deals, aerospace giant CFM International, a joint venture between General Electric and France's Safran, will build an assembly line in China to supply engines for the C919, China's first proprietary jumbo jet expected to rival the Airbus A320 and Boeing 737. The C919 is slated to debut in 2016.
Safran Chief Executive Jean-Paul Herteman said yesterday's deal was worth about $5 billion, while the accumulated deals are expected to reach $15 billion in the next three decades.
Fillon will meet President Hu Jintao and top legislator Wu Bangguo today before wrapping up his three-day visit.
The visit comes as ties between Beijing and Paris have gradually thawed after Sarkozy's publicly display with the Dalai Lama in December 2008. The incident prompted China to cancel talks with the European Union.
Sarkozy restored contact with Hu during international summits in the United States in April and September. Since then visits by high-level officials from both sides have increased. Minister of Commerce Chen Deming visited France last month with a delegation of Chinese business leaders.
Related readings:


 China aviation industry makes profit in 1st 9 months


 Airbus to enhance cooperation with China's aviation industry


 China may lead global aviation recovery


 China, France to advance bilateral ties: FM spokeswoman
According to French media, Paris is eager to further overhaul ties because of economic concerns.
A recent survey showed that one-third of the French people believe their country will escape the financial crisis next year.
The jobless population in France reached 2.63 million by the end of October, an increase of 650,000 compared with the first quarter in 2008.
Trade between China and France hit a record high of $38.94 billion last year, an increase of 15.7 percent year-on-year, according to Chinese authorities.
"The competence China showed in the fight against the financial crisis convinced France that it needs help from Beijing in the economic recovery," said Jin Canrong, deputy dean of the International Studies School at Renmin University of China.
Wen urged France to look after China's "core interests and major concerns" in the future, and said he expected to see France play a positive role in persuading the European Union to lift its arms embargo on China and recognize China's market economy status.