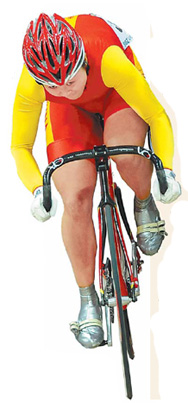 For Guo Shuang it was almost business as usual as she put on her red suit, helmet and goggles for her daily 2 1/2-hour training session.
The only difference for the 2008 Olympic bronze medalist when she hit Beijing's Laoshan velodrome on Tuesday was the fact that her chances of winning gold at the 2012 Games in London had ben substantially increased.
When she turned on her TV last Friday morning she learned the International Olympic Committee (IOC) had agreed to eliminate endurance events in track cycling and add team sprint and keirin events at the 2012 Games.
The Inner Mongolia native won the women's keirin at the World Championships in Pruszkow, Poland, in March. She also claimed bronze in the individual sprint at last year's Beijing Games and, at 23, is among the most promising candidates for gold in London.
"Every athlete sees the Olympic gold medal as the highest goal; I missed my chance last summer. Now there are more (chances) in London," Guo told China Daily yesterday in her dorm at China's cycling and fencing training center in Shijingshan, Beijing.
"But the chances are just the same for other teams. The competitors are very strong, especially England, Australia and the Netherlands," she said.
"As a developing country in cycling we still have a lot to learn from the European countries, it is not easy to make the breakthrough. I have to double my efforts to reach my dream."
China, with millions of bicycle riders, is undoubtedly the riding capital of the world. However, that has not translated into success on the competitive stage where the country has never won Olympic gold.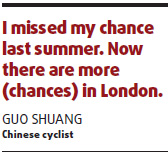 Chinese cyclists didn't reach the Olympic podium until 2000 in Sydney when Jiang Cuihua won a bronze medal in the women's 500m time trial. Her compatriot, Jiang Yonghua, won silver in the same event four years later in Athens.
On a more positive note, 13 Chinese cyclists qualified for 11 events at the Beijing Games, compared to six cyclists in four events in Athens.
Guo was expected to win gold on home soil but she came down the bank too steeply and her front wheel slipped in her decisive semifinal heat. It was re-run and, although Guo won, she was adjudged to have fouled on the final lap and her opponent, Anna Meares of Australia, went through to the final ride-off for gold.
"I have to say it was really a pity. I was so eager to win in front of so many Chinese fans," Guo said. "But it's also the most precious lesson I have ever learnt in my career. I have gained rich experience from my first Olympic Games and I will be more mature three years from now."
Her golden dream in London is wholly supported by Song Xiang, the captain of the national team.
"Our goal in London remains unchanged - the gold. It is crucial to have more people pay attention to the sport, which is still not very popular in China," Song told China Daily at the training center.
"But it remains a difficult task - even after the event adjustments. All of the top teams will fight for (gold), especially the host British team."