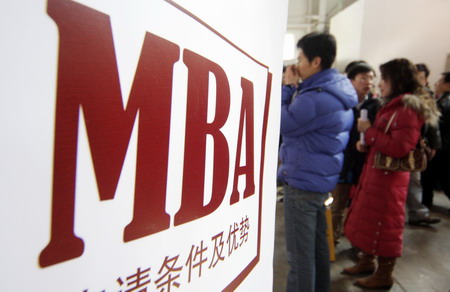 The number of applicants for Beijing MBA programs is up 20 percent this year, showing their continued popularity amid the economic crisis. [China Daily]
Top business schools in Beijing have raised their tuition fees by as much as 30 percent, as the city's universities respond to an steady increase in the number of MBA applicants.
Master of Business Administration courses are two-year full-time courses that are increasingly being seen as a solution to worsening graduate employment woes.
Tsinghua University will raise its full-time two-year MBA tuition fees to 128,000 yuan ($18,747) next year from 98,000 yuan. Its international program is also up, to 138,000 yuan from 120,000 yuan.
Peking University is following suit with its equivalent courses climbing to 108,000 yuan from 98,000 yuan, and international fees are now 128,000 from 108,000 yuan.
"The tuition fee has been raised because more valuable courses and higher-quality projects are being added into next year's program. They include more overseas internships and study opportunities," a press officer surnamed Ren from Tsinghua University said.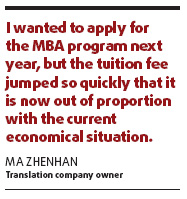 Despite the average 100,000 yuan for a two-year MBA program, a sharp contrast to the majority of academic masters degrees that sit much lower at 16,000 to 20,000 yuan, many applicants continue to be attracted to the business courses.
"Most of my classmates have worked and saved for more than three years, meaning that we can afford the comparatively expensive tuition fees," Zhang Bo, a 31-year-old chairman of the MBA program students union at Tsinghua University told METRO.
Zhang isn't alone. Numbers of nationwide applicants for the 2010 Beijing MBA admission exam jumped 20 percent from last year to a total of 15,384 people. This is the largest single group of the 258,654 students currently getting ready to take Beijing masters exams on Jan 9 and 10 next year, the Beijing Education Examinations Authority said.
Meanwhile, the likelihood of a successful application is also on the rise. For top-ranking universities like Tsinghua University and Peking University, the latest data reveals that almost one in seven applicants will be admitted to the nation's most prestigious universities.
However, the news is not all positive.
Related readings:


 Graduates pick study over job market


 Students suffer for 'low quality' education


 Survey indicates better job prospect


 China's public servant exam proves testing ground for graduates
A recent survey by the vocational magazine Staffers shows 70 percent of MBA students set to graduate in summer will find it "very difficult" to get jobs.
And 37 percent who get job offers are discovering that salaries are no higher than when they faced the job market before MBA study.
Ma Zhenhan, a 30-year-old owner of a translation company, questioned the point of MBA programs.
"I wanted to apply for the MBA program next year, but the tuition fee jumped so quickly that it is now out of proportion with the current economical situation," he said.
"I don't see that the job situation improves for graduates and I wonder if it is all really worth it."
Chen Bin, an expert on human resources, said many companies are very cautious about hiring new employees in the current uncertain economic situation.
He added it's estimated more than 60 percent of MBA graduates may earn an annual salary of less than 100,000 yuan, reported by Information Times.
Regardless of the concerns of some, the Ministry of Education reported that 55 colleges have been granted the rights to start MBA programs next year, a massive increase from the current 127.