China's rise as the world largest exporter, though significant, does not mean Chinese exports will be of as high a quality as Germany's goods, experts said.
The Chinese government should seriously consider ways to improve the quality of goods for export and create more value-added products to strengthen its competitiveness, they said.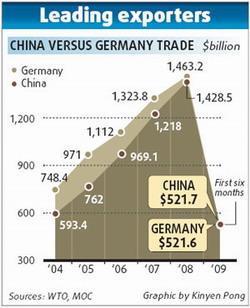 For the first time, China took the lead as the world's export champion, surpassing Germany by a minimal amount in the first half of the year.
A report released Tuesday by the World Trade Organization (WTO) shows that from January to June, China exported goods worth $521.7 billion. Germany, which has been the world's biggest exporter since 2003, exported goods worth $521.6 billion.
Despite the fact that Chinese exports have declined for nine months, "China's economic power is still rising, and excluding the exchange rate factor, China is expected to surpass Japan as the second-largest economy this year," said Cai Haitao, inspector of the Department of Policy Research under the Ministry of Commerce.
In late July, the WTO predicted China would pass Germany as the largest exporter in 2009.
The Organization for Economic Cooperation and Development also said the ratio of China's foreign trade to global trade will increase from the current 8.7 percent to 10 percent when the global economy recovers.
"The figure is not surprising, thanks to the nation's growing economic strength. And the possibility is high that the momentum will continue," said Li Daokui, senior Chinese economist and director of the Economic and Management Institute of Tsinghua University.
But WTO chief economist Patrick Low said it was impossible to say which of the two nations would come out on top this year or in 2010.
"It's a very tight race," Reuters quoted Low as saying Tuesday.
Related readings:


 China's export to resume growth in Q4: institutional forecasts


 China's export-oriented province aims high with new energy


 US seeks China office to ensure export safety


 Export dip in key sector


 Export fall may ease in second half, says minister


 China's major export base sees signs of recovery
"Obviously, the result will depend not only on what happens to export volumes, but what happens to exchange rates."
Last Tuesday, Germany's DIHK export association was quoted by AFP as saying that global demand for high-worth and high-priced products made in Germany had shrunk sharply during the economic crisis.
"Germany's trading partners are going more for cheaper products now," it said.
For China, the problem is still the quality and mix of exports.
"The Chinese economy has not benefited much from the exports. The biggest concern is the quality of exports," said Li.
Since late last year, trade protectionism against China has kept rising.
The nation has become a major target of trade remedy measures launched by developed nations, including the US and Europe, and developing nations, represented by India and Turkey.
From last October to this June, investigations concerning trade remedy measures against China were valued at $9.8 billion, rocketing up by 113 percent compared with the first three quarters of 2008.
"The question is, why it was all against China, not Germany?" said Li.
Germany has long enjoyed a good reputation for its high-tech and quality products. "Chinese exporters need to develop more value-added goods," said Li.
And Chinese exporters need to shift their focus to emerging markets, instead of the US and Europe, said Cai.
China's exports to the Middle East, East Europe, Africa and Latin America, respectively, accounted for 9.2, 3.7, 10.4 and 6.9 percent of their markets. But comparatively, the figure was 17 percent to 22 percent for the US and Europe.
The share of China's exports in the major 12 trade partners rose rapidly amid the economic recession.
According to the Customs, the market share climbed from 16.2 percent during the first quarter to 19.3 percent in early 2008. The 12 trade partners imported 75 percent of Chinese goods.
Although the global economy seems to have bottomed out, there is no sign that it will recover soon, which will force Chinese exporters to struggle for months.
"The global economy will experience low-speed growth for a long period of time," said Cai.