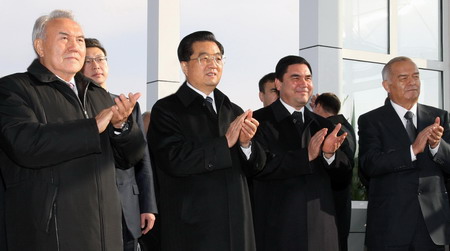 Leaders from four nations celebrate the opening of a gas pipeline linking Turkmenistan to China's Xinjiang. Pictured (from left) are Kazakh President Nursultan Nazarbayev, President Hu Jintao, Turkmen President Gurbanguly Berdymukhamedov and Uzbek President Islam Karimov. [China Daily]
China and Central Asia opened a new "Silk Road" yesterday when President Hu Jintao and leaders from three other nations officially opened a natural gas pipeline linking Turkmenistan to China's Xinjiang region.
The pipeline - the longest in the world - is being seen as a sign of growing trust in Central Asia and should help China hit its goal of cutting carbon emissions, experts said.
Hu helped get the gas flowing by turning a symbolic wheel to open a valve on the pipeline, along with Turkmen President Gurbanguly Berdymukhamedov, Kazakh President Nursultan Nazarbayev and Uzbek President Islam Karimov.
The gas will be pumped from Saman-Depe, in eastern Turkmenistan, all the way to China's most westerly region.
Officials cheered and hugged after the four presidents symbolically opened the floodgates in the windswept settlement of Saman-Depe, which was decorated with Chinese and Central Asian flags for the occasion.
"China is positive about our cooperation and the opening of this gas pipeline is another platform for collaboration and cooperation between our friendly nations," Hu said.
The 1,833-km pipeline will snake through Turkmenistan, Uzbekistan and Kazakhstan, before entering China at the border pass of Horgos in China's northwest region of Xinjiang.
It will be capable of delivering 40 billion cu m of gas a year, more than half of China's current annual gas consumption, once it reaches full capacity between 2012 and 2013.
China consumed 77.8 billion cu m of gas last year.
Central Asian leaders hailed the project, which will eventually deliver gas to cities including Shanghai, Guangzhou and Hong Kong, as a sign of new cooperation in the region.
"The pipeline passing through our countries will revive the ancient Silk Road, which was once a conduit for the exchange of goods between Asia and Europe," Berdymukhamedov said. "The successful implementation of this project could become a prototype for all international energy partnerships.
"This pipeline will have a positive impact across the entire region and beyond, and it will become a major contributing factor to security in Asia," he said.
Related readings:


 Turn on the gas: Transnational pipeline complete


 Russia, China work on gigantic oil, gas cooperation project


 Chinese cities grappling with natural gas shortage


 China begins construction of 2nd gas pipeline
The project is part of Beijing's strategy to reduce its reliance on coal, which currently meets around 70 percent of China's energy needs, said Lin Boqiang, director of Xiamen University's China Center for Energy Economics Research. "The project will definitely improve China's energy mix and eventually help curtail greenhouse gas emissions."
China wants to cut carbon intensity by up to 45 percent by 2020 from the 2005 level.
"To live up to its word, China has no choice but to resort to cleaner energy, such as natural gas, and import more to solve the shortage," Lin said.
The gas deal is also good for the Central Asia economy and will help the region recover from the global financial crisis, Lin added.
"Gas suppliers are keen to find stable, profitable export markets and the Chinese market is what they need," he said.
The opening of the new link comes as China and Russia are working on their first cross-border oil pipeline.
The two projects reflect the political will of China and its neighbors to work more closely together, said Yang Shu, director of the Center of Central Asian Studies at Lanzhou University.
"Only partners who trust each other will build such long, cross-border pipelines," he said. "Apparently, the bond between China and these countries is growing."
Improving ties will stabilize the region, which has been targeted by terrorists and separatists, Yang added.