The landmark China-Central Asian gas pipeline, hailed by national leaders as a token of strategic cooperation, will benefit both partners, experts said yesterday.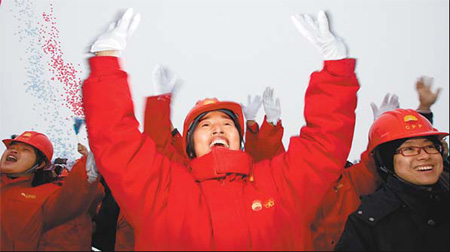 Chinese workers this weekend celebrate the inauguration of the Kazakh stretch of the new 1,833-km Turkmenistan-China pipeline, some 130 kilometers outside Almaty. [Agencies]
The 1,833-km pipeline, starting from Turkmenistan and threading through Uzbekistan and Kazakhstan before reaching China's Xinjiang region, is to be inaugurated today at a ceremony in the presence of leaders from the four countries. The Kazakhstan part of the project was inaugurated on Saturday.
Related readings:


 President Hu arrives in Turkmenistan for visit


 Hu leaves Kazakhstan for Turkmenistan visit


 China-Turkmenistan co-op to enter new stage

Turkmenistan says it can supply 40 billion cubic meters of natural gas a year in the next 30 years. China consumed 77.8 billion cubic meters last year.
During his Sunday meeting with Turkmenistan President Gurbanguly Berdymukhamedov, Chinese President Hu Jintao said that the landmark project, which is China's first transnational land gas pipeline, signifies the sincere and strategic cooperation between the countries.
Berdymukhamedov said that the project has high political significance and is in the interests of all sides.
Beimbet Shayakhmetov, general manager of the China-Kazakhstan pipeline company, was quoted by Xinhua News Agency as saying last week: "In fact, most important of all, through this project, we and our neighbors have found more common interests and opportunities for cooperation between us."
"During the Soviet era, Russia built a 'friendship' natural gas pipeline leading to Europe. But this Central Asian gas pipeline fully deserves the title of 'friendship pipeline', as it can well rival that pipeline in its immediate significance," he said.
Experts said the gas cooperation between China and Central Asia is a win-win deal.
The pipeline can help China solve the gas shortage that has choked its economic growth, Lin Boqiang, an energy expert at Xiamen University, told China Daily.
China now largely relies on its domestic production. The world's third biggest economy produced 77.5 billion cubic meters of gas last year, slightly less than its consumption of 77.8 billion.
But it may need to import more gas in the coming years to meet demand that grows up to 20 percent annually, Lin said.
"This trend will become obvious amid the country's economic recovery and urbanization," he said.
Through the deal, Turkmenistan, a net exporter of gas, finds a good buyer, he said. "The deal ... will help the two countries pull out of the financial crisis."
Russia used to buy most of Central Asia's oil and gas.
The natural gas reserves in Turkmenistan account for nearly a quarter of the world's total.
New fields of cooperation
Beyond mine ores, oil and gas, Hu also proposed to enhance the cooperation on the renewable energy with Central Asian countries. In one instance, China Guandong Nuclear Power Co (CGNPC) from Guangdong province, signed a deal with Kazakhstan's sovereign wealth fund Samruk Kazyna on wind power.
The deal will be followed by a series of cooperative projects jointly launched by the two countries in the field of renewable energy.
China, driven by economic growth, is in dire need of renewable energy to cut its reliance on fossil fuel.
Hu also proposed enhancing cooperation in the non-resources sector to his Kazakh counterpart, Nursultan Nazarbayev. "We should accelerate the implementation of the first batch of cooperative projects (in the field), and ensure as soon as possible the cooperation will grow and become profitable," Hu said.