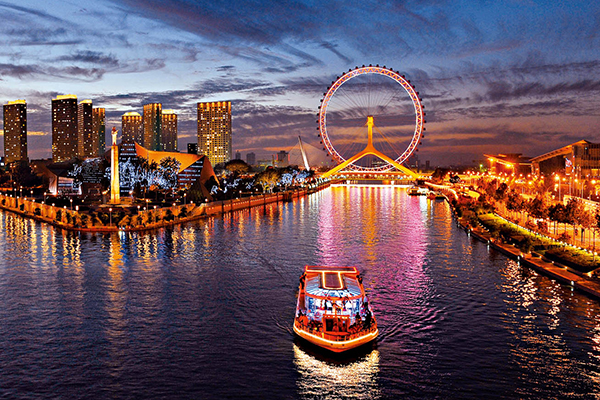 Nightview of Tianjin. [Photo provided to China Daily]
Tianjin, an economic hub in North China that is hosting the 10th 'Summer Davos' till Tuesday, plans to use the event to attract investment and boost innovation in order to drive regional economy.
The event, formally known as the Annual Meeting of the New Champions, is part of the World Economic Forum's various themed gatherings of the high and the mighty in key cities across the globe.
According to the event's website, the forum convenes "the next generation of fast-growing enterprises shaping the future of business and society, and leaders from major multinationals as well as government, media, academia and civil society".
Summer Davos, which started in 2007, alternates between Tianjin and Dalian. This year's theme is 'The Fourth Industrial Revolution and Its Transformational Impact'.
Huang Xingguo, mayor of Tianjin, said the theme is insightful and indicative of the times we are living in.
"The world's economy is going through a deep restructuring and a tough recovery process, which prompted a new round of technological and industrial revolution. I think this is very necessary, and could offer us a way out of the current economic dilemma," he said at the event's opening ceremony.
Tianjin, he said, is also aligning with this trend, to promote itself as a city committed to deep reform and an innovation-led strategy.
Zhang Jun, chief of the event's preparatory office, said Tianjin has transformed its role this year, growing from a mere venue for the forum to a co-organizer.
"The forum will not only be a channel for economic leaders to connect but a window to portray a vivid image of Tianjin to the world," he said.
Tianjin S.Quantum Technology Development Co Ltd and seven other enterprises are expected to showcase their strengths to reflect Tianjin's innovations in science and technology.
S.Quantum is a firm engaged in lighting engineering, electrical engineering, communications engineering, the Light Current System Project, green landscape projects. It began combining internet technology and professional electric power maintenance in 2012.
"Thanks to scientific and technological innovation, our company's turnover in the first six months (of this year) reached more than 600 million yuan ($91.3 million)," said Liu Baicheng, chairman of S.Quantum.
The firm has developed a user-side intelligent power maintenance service system for electricity security. The system improves energy efficiency and thus saves power. The company's products are used by many foreign and Chinese enterprises such as Airbus A320, LiSheng Pharmaceutical and Tianjin University.
By the time Summer Davos closes on Tuesday, Tianjin will have used every opportunity to inform the more than 1,700 participants from 90 economies about its achievements and unique features.
The city's economy grew at an average 12.4 percent over the past five years. Last year's GDP reached 1.65 trillion yuan, with per-capita GDP exceeding $17,000.
GDP in the January-March quarter grew 9.1 percent year-on-year, well above the country's full-year (2016) target of 6.5 percent.
Total output of Tianjin's traditional industries in the manufacturing sector reached over 3 trillion yuan. There are new industrial bases in electronics, information technology, petrochemicals and other areas.
Huang, Tianjin's mayor, attributed the high growth rate to the series of measures adopted to cut production and slash stockpiles. About 12,000 polluting companies and factories were either upgraded or eliminated.
"It's hard to imagine what would happen if the country's real economy collapses, because many industries such as finance and internet depend on the real economy," Huang said. "So we are trying to boost manufacturing and support our enterprises through tax cuts and financial services."
Tianjin also encourages small and medium-sized scientific and technological enterprises to innovate. The number of "little giant" enterprises with sales above 100 million yuan has risen from 1,800 to 3,453 this year.
Huang said the number of those "little giant" enterprises will exceed 100,000 in coming years. And 5,000 small and medium-sized science and technology businesses will achieve the status of "little giant" by 2020.
Jean-Loup Denereaz, senior director of general services and events operations of the World Economic Forum, praised Tianjin's efforts to make foreign visitors and exhibitors feel at home.
The city has chosen 890 volunteers to provide their services, including help in language and translation, during the event. Many interpreter rooms have been set up to create an environment of convenience for participants to discuss without difficulty.
Gaomu Tianyuan and Wang Ying contributed to the story.