For senior students in the colleges, it's time to depart. As graduation season has come, these students are holding activities to celebrate their final days of school.
However, graduates are being criticized by media outlets for spending too much money during graduation season. It is said that graduates' spending is higher than the average monthly salary of Chinese people.
According to an online job-hunting platform, ChinaHR.com, more than 45 percent of graduates spend over 6,000 yuan when they are graduating; 26.71 percent of graduates spend over 10,000 yuan, and the graduates' expenditures controlled under 3,000 yuan are only 17.77 percent.
Earlier, the National Statistics Bureau (NBS) said the average monthly salary for non-private sector employees in China's urban areas reached 5,169 yuan and for private sector employees, 3,299 yuan.
But another media outlet said graduates' spending is on an acceptable level because the graduation season is not only one month, it should include May and June. The graduates' average spending of 6,000 yuan in two month is less than Chinese people's average monthly salary.
So, where does the money go? Please have a look.
Farewell party
Saying good-bye to each other at a farewell party is the graduates' common choice. According to Yangtze Evening Post, the cost of a farewell party for one graduate often reaches around 1,000 yuan per month.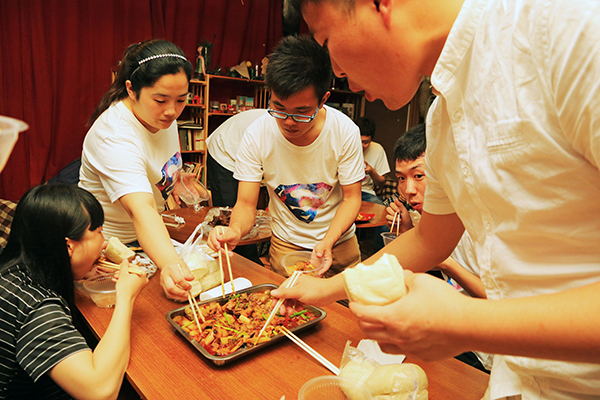 Graduates of Henan Agricultural University at their farewell dinner in Zhengzhou city, Central China's Henan province, June 22, 2016.[Photo /VCG]