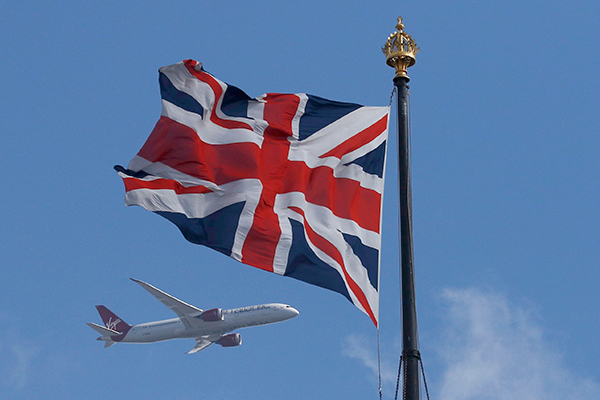 A Virgin Atlantic passenger jet flies past the Union Flag above the Houses of Parliament in Westminster, in central London, Britain, June 24, 2016. [Photo/Agencies]
Editor's note: Brexit will have an impact on China in areas like tourism, higher education, and expatriate affairs. Here is a snapshot of the developing complex situation:
Investors:
Brexit is expected to savage investors' risk appetite. Consequently, they will likely pull their money out of risky assets like stocks, analysts said. Chinese investors will be spooked by a weakening British pound and the shaky euro. Volatility is expected to return to global stocks as a section of investors is suspected to have failed to price in Brexit.
But investors will also see much value in safe-haven assets such as gold, US treasuries and the Japanese yen in the short term. Brexit's impact on the A shares and the renminbi will likely be limited given the existing capital controls of Chinese regulators. The People's Bank of China, the central bank, could also use the country's large amount of foreign reserves to support the renminbi, if fresh downward pressure emerges, analysts said.