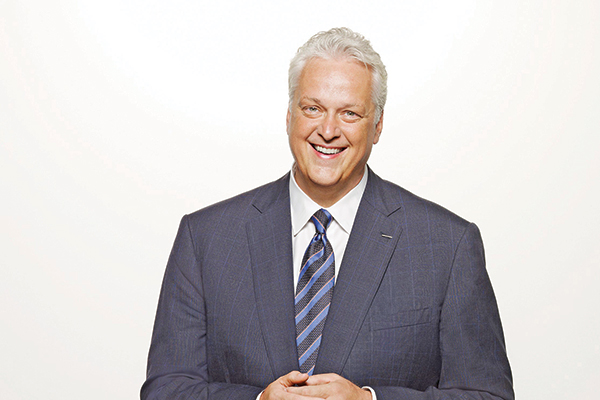 Tim Andree, executive chairman of Dentsu Aegis Network. [Photo provided to China Daily]
Former basketball player Tim Andree, who is now VP of Dentsu Inc, shares his game plan
When a harried shopper goes to buy a T-shirt at a Uniqlo store but is faced with a dizzying array of hundreds of designs, how does she choose?
A company called Dentsu Aegis has come up with a novel solution: The shopper can put a digital device over her head, watch a short video, and the device records brain waves reacting to the video. Then, it recommends a few designs based on the device's perception of mood and preferences.
The brainwave-sensing technology designed by Dentsu was introduced at a Uniqlo store in Sydney, Australia, last year and is expected to be available in China and other countries soon.
This type of cutting-edge technology is what Tim Andree and his well-equipped digital team at Dentsu Aegis Network are busy working on-crafting a digital marketing strategy that's innovative and surprising.
Andree, 55, executive chairman of Dentsu Aegis Network, which consolidates Dentsu's operations outside Japan, is pretty surprising himself.
First, he's a 2.1-meter-tall former professional basketball player who was drafted by the NBA's Chicago Bulls in 1983 but then became a free agent. The United States native also is executive vice-president of Dentsu Inc, the first non-Japanese director and member of the board of the world's fifth-largest advertising holding company.
Andree played basketball at the University of Notre Dame in South Bend, Indiana. He also played in professional leagues in Italy, Spain, Monaco and Japan, where he made business connections. 
Prior to joining Dentsu, Andree held senior marketing positions at Toyota, Canon, BASF and the NBA. He joined Dentsu in 2006 as CEO of Dentsu America, and that same year, was named Dentsu Inc's first non-Japanese executive officer.
Andree said his basketball experience was an important form of self-development and teamwork that has helped him in business.
"Even if you are the best player on your team, or in the world, it doesn't mean you win every game. You rely on others, too. It's the same in the advertising businesses."
Andree said he is more proud of his business career than his athletic achievements. He says it has been more challenging and rewarding.
"Dentsu was a very Japanese company when I joined. Only 3 percent of our revenue was from outside Japan," he said. Over the past 10 years, he has been working closely with others in the company to help it expand on a bigger global stages. Now, 55 percent of the company revenue is from outside Japan.
Dentsu has been in China for more than 20 years, and has evolved with the development of the industry. But the real growth in China has come since its acquisition of the British digital media company Aegis Media four years ago, a move also led by Andree. "It helped us double our size, made us the third-largest company in this industry in China and No 1 in digital," he said.
With yearly organic growth of 17 percent over the past four years, the Chinese operations of the company have become Dentsu's third largest, after Japan and the US. But the Chinese operation is growing faster than either of the top two.
Unlike its rivals in China with a legacy in traditional media, Dentsu has accelerated acquisitions in China. Dentsu Aegis Network acquired local digital agencies, including this year Darwin Marketing Ltd of Shanghai and Shanghai VeryStar Internet Science and Technology Co Ltd.
"Big scale is just part of the business strategy. But big size itself is not useful," Andree said.
"Human beings are empowered with big data and every means of technology. Ultimately, we are still in the business of understanding consumers, and connecting them with brands."
Andree said the most important element is talent: "To take all of the complexity and technology and turn it into value-value for both clients and consumers. The big change is that consumers are now much more informed than before, so the messages coming from the brand have to create value for that person. It remains a creative business. Whether we can attract the best talent and create the best team decides whether we can win."
Technology has made consumers less patient and more demanding, he said. "For example, I travel a lot, and I've got higher expectations for the hotels I regularly stay in. I expect them to know me, to know what I like in the morning. All of the data, all of the innovation that has been created is driven by management insight and user interface, like how to make the user interface better, faster and more informative than before."
Digital advertising depends greatly on strong technological support, and Dentsu has both its own subsidiary and collaborative technical firms such as Dentsu Robotics Business Operations, Dentsu Media Laboratory and Dentsu ScienceJam.
"A hundred years ago, if we wanted to make things automatic, we fed them with electricity. Today, if we want to make things smart, we feed them with data," Andree said. Chinese consumers are very e-commerce-driven and adaptive to technology, so big data becomes of great value in determining consumer habits and preferences in China.
Since big data became a popular concept in 2008, it has become one of the most repeated terms in China. However, doubts have been raised at times about the validity of some big data in China, especially in the notoriously chaotic e-commerce industry, in which some data and rankings have been called into question.
"It is the insight you pull from the data. The key is whether you can turn data into intelligence," he said.
Andree does not believe innovation is automatic. "So you have to create a culture where people are willing to risk. We have to create cultures that empower people, and even if cultures differ, values are shared," he says.
CLOSE-UP
Tim Andree
Executive vice-president, board member, Dentsu Inc Executive chairman of Dentsu Aegis Network
Age: 55
Education: University of Notre Dame (1979-1983) bachelor's degree
Career:
1989-2006: Senior marketing positions at Toyota, Canon, BASF and the National Basket-ball Association
2006-12: Chairman of Dentsu America
2010-12: President and CEO, Dentsu Network West
2012-13: Senior vice-president, Dentsu Inc
2012-14: President and CEO, Dentsu Network
2013 to present: Executive vice-president, board member, Dentsu Inc, and executive chairman of Dentsu Aegis Network