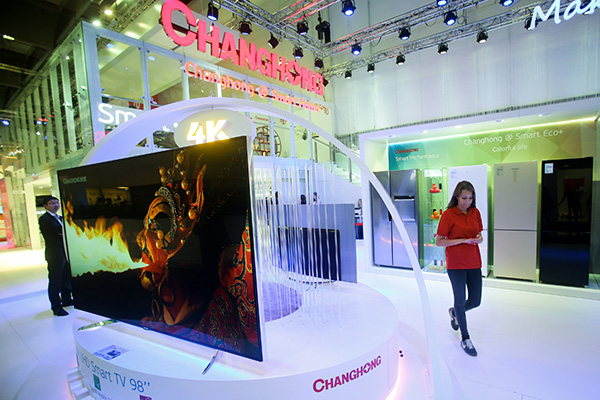 The stand of Sichuan Changhong Electric Co Ltd at an international consumer electronics expo in Berlin, Germany. [Photo/Xinhua]
South Korean and Chinese TV manufacturers dominate the top 10 list of global LCD television shipments, while their Japanese counterparts have been kicked out of the top five for the first time.
According to statistics from market consulting institute IHS Inc, South Korean tech giant Samsung Electronics Co Ltd is expected to ship 48.1 million LCD TVs globally in 2016, retaining its dominant position in the LCD business, followed by LG Electronics Inc with 28.4 million units.
The global LCD TV shipments of Chinese home appliances maker Hisense Group will reach 15 million this year, ranking third. TCL Corp and Skyworth Group are expected to ship 13.5 million and 12 million units, respectively, taking fourth and fifth place. The total shipments of the five Chinese TV brands in the top 10 will surpass 50 million units.
Japanese brands on the whole are gradually losing market shares to the rapidly growing Chinese brands. Japanese TV vendor Sony Corp is expected to ship 11.5 million units this year, being knocked out of the top five for global LCD TV shipments.
Industry sources said as Japanese TV manufacturers have stepped up their pace of transformation, their sales and market shares are gradually tapering off, and the current competition in the global LCD TV market is between South Korean and Chinese firms.
Zhang Yanbin, assistant director of All View Cloud, a Beijing-based consultancy specializing in home appliances, said: "The rise of homegrown Chinese home appliances makers has made Japanese electronics giants exit from the fierce competition, pushing the latter into business-to-business sales.
"However, South Korean enterprises, which have strong R&D capacities and advantages in the whole industrial chain, are active in technical innovation, and they have gained an upper hand compared with their Chinese rivals."
Ricky Lin, research manager of WitsView, a division of TrendForce Corp and a display market research firm, said a recent notable trend in the TV market has been the rise of Chinese internet brands. By offering affordable premium products online, these internet brands have seized much of the domestic market and upended the strategies of established TV makers.
Moreover, Chinese home appliances makers have stepped up their efforts in global market. In 2015, Skyworth acquired German TV manufacturer Metz Werke GmbH & Co for about $8 million. In May, TCL set up a joint production base in Egypt.