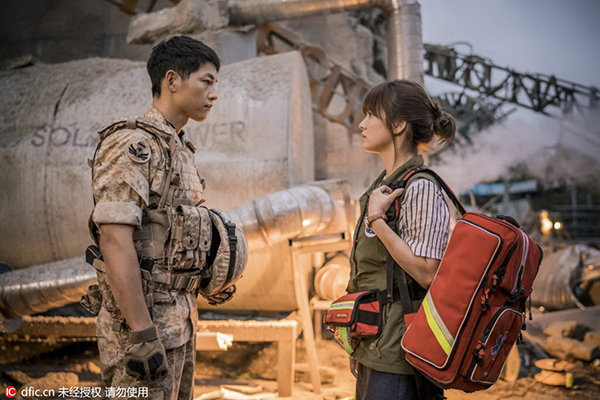 The still of Korean drama "Descendants of the Sun". [Photo/IC]
BEIJING - Chinese audiences accustomed to watching free or even pirated TV shows on their phones and tablets are now paying for VIP packages to watch a popular Korean drama online.
The provider of the online stream is offering VIP members priority viewing of the latest episodes.
"Descendants of the Sun" is a record-breaking 16-episode rom-com broadcast on Korean channel KBS2. It dominates the Wednesday-Thursday evening slot and was watched by a staggering 31.6 percent of the Korean audience on Thursday.
Exclusive rights to stream the show in China are owned by iQiyi. In December of last year, iQiyi had 10 million paying users. Zhang Yuxin, an intellectual property rights (IPR) manager at the provider, claims more than 1.2 billion views on the series since it premiered on Feb 24. The company's VIP package is ad-free and broadcast at the same time as the TV version in Korea, two episodes ahead of free users.
The exact increase in subscriptions is not yet available and the drama will not conclude until the middle of April, but iQiyi estimates that at least 3 million new VIP users have signed up to watch. With annual membership priced at 198 yuan ($30), this could represent as much as more than half a billion yuan in revenue.
Set in the fictional war-torn Republic of Uruk, Song Joong-ki plays a dashing captain in the army alongside Song Hye-kyo, a beautiful volunteer doctor. Their love grows week by week as they battle earthquakes and epidemics, massacres and mayhem together.
Zhang Xinyi, 21, a student at Wuhan University is a big fan. What appeals to her most about the series is that in traditional TV dramas, the heroine is almost invariably subservient to the leading male character, but "Descendants of the Sun" steps away from such stereotypes and depicts a relationship of equals. Both main characters are excellent in their field; both have strong, independent minds; and both are highly regarded by their peers.
Zhang paid 19.8 yuan for a one-month membership just to watch the series and has joined the swelling ranks of Song Joong-ki's Chinese followers. "I have heard he may come to Wuhan. If he does, I will try to see him at the airport or at his hotel," she said.
"Descendants of the Sun" is not the first drama to bring a sharp rise in paying viewers. Last July, the Chinese series "Grave Robbers' Chronicles," based on a best-selling series of young-adult novels, attracted 1 million new VIP members to iQiyi. In that case, VIPs were allowed immediate access to all episodes, rather than the regular updates provided to free users.
Other online players, such as LeTV and Youku, have begun to offer a range VIP memberships alongside their free services. At Youku, for example, free users can watch the first two episodes of "Yong Pal," another popular Korean TV series, but only VIP users can watch the remaining 16. LeTV allowed free users to watch the whole of its latest cliffhanger drama, except the final installment, which was only available to those prepared to pay.