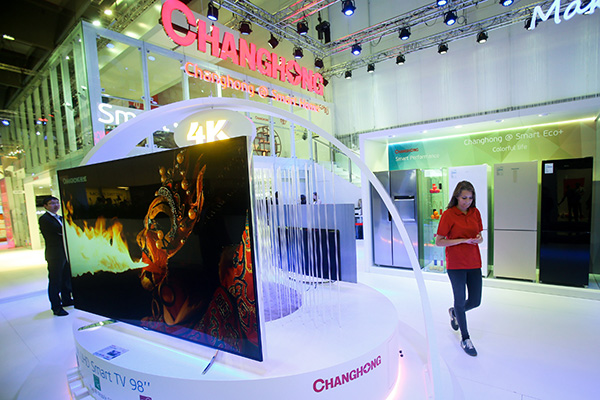 The stand of Sichuan Changhong Electric Co Ltd at an international consumer electronics expo in Berlin, Germany. [Photo/Xinhua]
Emerging Internet TV firms making sector more competitive
Two of China's largest home appliances manufacturers are predicting huge losses for 2015.
Sichuan Changhong Electric Co Ltd has forecast it will slip 1.97 billion yuan ($300.3 million) into the red, a staggering 3,455 percent fall compared with 2014, according to its pre-announcement figures issued on Saturday.
Shenzhen-based Konka Group Co Ltd also expects to lose 1.2 billion yuan to 1.4 billion yuan in 2015, compared with a net profit of 52.62 million yuan in 2014.
The two electronics giants both blamed being asked by local governments to return subsidies given to them to boost sales of energy-efficient products, as well as the yuan's depreciation against the dollar.
Changhong said it was required to return a 546-million-yuan subsidy, while Konka said the currency depreciation cost it 200 million yuan and that a change in its management team had also affected its bottom line.
Major appliances makers received notices in December from local finance departments asking for repayment of the subsidy. Preliminary estimates suggest the repayments have cost industry around 900 million yuan to far.
Experts said the huge losses related to the subsidy, combined with the toughening economic situation and the influx of Internet TV brands, mean more traditional electronics companies will have to up their ante this year to survive.
"The sluggish market conditions and the surge of Internet televisions companies, such as LeTV Holdings Co Ltd and Xiaomi Corp, mean the traditional players might face a severe 2015," said Liang Zhenpeng, a consumer electronics analyst.
The emerging Internet TV firms have already been pitching their products at very low prices, he said, resulting in a continuous fall in overall TV prices.
"This price war has resulted in deficits across the whole industry. The Internet companies are now earning profits from software, content and platforms, not just from the hardware (TV sets), which has broken the original business model.
"The market competition will become more intensive in 2016," Liang said.