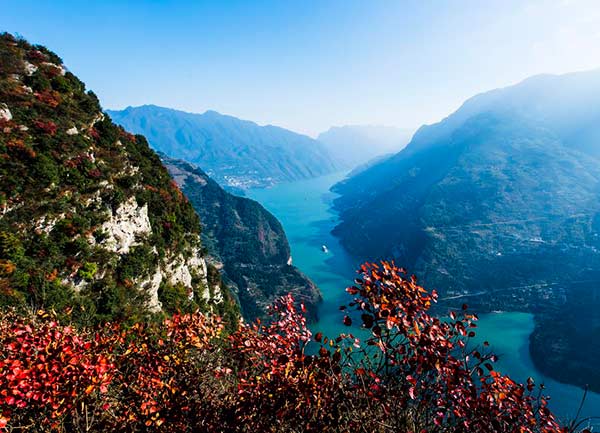 A vessel sails on the Yangtze River in the Three Gorges area in Zigui county, Central China's Hubei province, Nov 29, 2015, with red leaves seen on the riverside.[Photo/Xinhua]
South Korean companies are being encouraged to invest in the Yangtze River Delta region to allow more businesses and residents in the area to benefit from the China-South Korea Free Trade Agreement, the Ministry of Commerce said on Monday.
Officials said Zhongfa Group, a Beijing-headquartered company that manages more than 100 billion yuan ($15.2 billion) of capital and assets in the real estate and insurance businesses, for instance, will partner with seven South Korean companies from the service industry to build large hospitals, hotels, educational, financial and consulting businesses, as well as a movie and TV themed town in Yuecheng, a district of Shaoxing, this year.
The Federation of Korean Industries, which helps South Korean companies facilitate new business in overseas markets, and Shaoxing government and China National Building Material Group Co, will also build industry and innovation parks in Shaoxing to jointly develop new material, electric vehicle and energy-saving products through the industrial cluster effect this year.
Zhang Yuzhong, deputy director of the investment promotion agency of the Ministry of Commerce, said investing in Zhejiang province shows that these companies are keen to further develop service businesses in China's wealthy areas including Zhejiang and Jiangsu provinces and Shanghai in the Yangtze River Delta region.
Limited by land size and natural resources, South Korea is proficient in operating service industry trade and related sectors such as logistics, tourism, shipping, healthcare, education, finance and smart city development.
His comments came after some foreign media reported that the China-South Korea FTA only benefits certain areas in China, mainly Liaoning and Shandong provinces, which are closer to the country. However, the ministry dismissed such claims.
Foreign direct investment in China from South Korean companies surpassed Japan's for the first time in eight years to reach $3.7 billion between January and November 2015, according to the China Chamber of International Commerce.
There are 170,000 South Korean students, business personnel and their family members currently living in Shanghai, as well as in Zhejiang, Jiangsu and Anhui provinces, according to the South Korean embassy in Beijing.
"Developing service business in Shaoxing will also provide a platform to South Koreans in these places to obtain services similar to those in their own country," said Meng Xiaosu, vice-president of China International Council for the Promotion of Multinational Corporations, a business promotion organization under the Ministry of Commerce.
Meng said both Chinese and South Korean companies believe the FTA can be enriched and diversified through an investment-fueled economic development model.
Tian Liang, general manager of China New Building Eastern Co, a subsidiary of China National Building Material Group Co, said both local and South Korean companies have discovered that market demand in China is changing as consumers spend more on services, as well as high-value-added consumer goods.