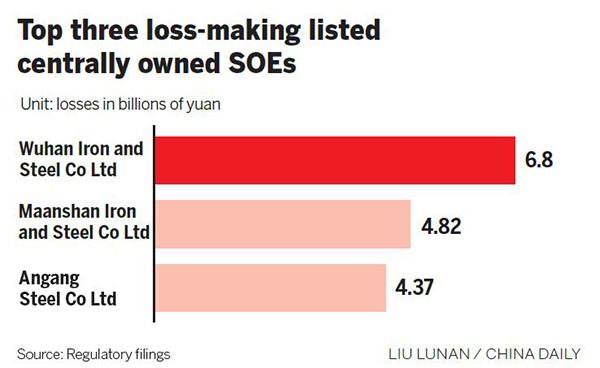 A third of China's 173 listed State-owned enterprises are expecting to have made a loss last year, with coal, iron and steel companies the hardest hit.
Fifty-eight of the companies-which are all directly controlled by the State-owned Assets Supervision and Administration Commission-are predicting slipping into the red in their earnings pre-announcements for 2015.
The three worst affected are Wuhan Iron and Steel Co Ltd, Maanshan Iron and Steel Co Ltd, and Angang Steel Co Ltd, with projected losses of 6.8 billion yuan ($1.03 billion), 4.8 billion yuan and 4.37 billion yuan, respectively.
Wuhan Iron and Steel cited sluggish downstream demand in the steel industry and sustained low prices. It also said a weakened yuan had resulted in significant foreign exchange losses.
Shanghai Baogang Group Co, often called Baosteel, is estimating a 83.4 percent crash in 2015 profits to 961 million yuan, blaming a decrease in steel prices far exceeding the prices of iron ore.
Standard & Poor's Financial Services LLC has downgraded Baosteel's rating from A- to BBB+, meaning the company's capacity to meet its financial commitments is likely to be weakened by the adverse economic conditions.
The China Iron and Steel Association has predicted its member enterprises have forecast combined losses of 64.5 billion yuan in 2015, compared with profits of 22.6 billion yuan the previous year.
In the coal sector, 10 listed companies to have posted earnings pre-announcements put their losses at between 13.6 billion yuan and 15.1 billion yuan, citing decreasing coal prices and sluggish demand.
China Shenhua Energy Co Ltd, however, considered the largest coal miner, expected a 6.1 billion yuan net profit, but only because of its business unrelated to coal, sources close to the company told China Business News.
They said much of its profit was generated by power generation, one of the firm's previous target investment areas.
Some of the country's SOEs, however, had a strong 2015.
Datang International Power Generation Co Ltd estimated its net profit will grow by 50 to 60 percent from 1.8 billion yuan in 2014 to between 2.7 and 2.9 billion yuan.