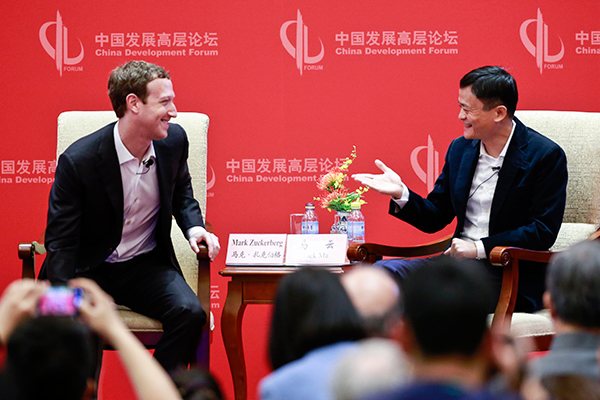 Mark Zuckerberg, CEO of Facebook Inc, talks with Jack Ma, chairman of Alibaba Group Holding Ltd at the China Development Forum in Beijing on Saturday. [Photo/China Daily]
Jack Ma and Mark Zuckerberg share thoughts on innovation, culture and philosophy
What does AlphaGo's recent victory over a world champion Go player mean to Alibaba Group Executive Chairman Jack Ma and Facebook CEO Mark Zuckerberg?
"Computers will be able to process the world and understand senses like vision and hearing better than people over next five to 10 years," Zuckerberg told audience at a forum in Beijing last week.
But Ma disagreed.
"Machines will be stronger and smarter than human beings, but they will never be wiser," he said. "Because one thing for sure, wisdom, soul and heart are the things that human beings have and machines can never enjoy failure, success, friendship and love."
And what do they think about virtual reality, widely believed to be another big thing along with artificial intelligence?
While Zuckerberg, 31, said it will be the most important computing platform in the future, Ma, 51, the former English teacher who has never received any formal training in technology, bantered: "Frankly, I don't understand most of what he was talking about."
The following are edited excerpts of the one-hour discussion between the two Internet moguls, with Qian Yingyi, dean of School of Economics and Management at Tsinghua University, as the moderator.
Moderator: A major theme of the 13th Five-Year Plan is innovation. What is innovation from your perspective?
Zuckerberg: I think it's to look out for five to 10 years to see what problems exist that you can take on over a long period of time. If you are solving an immediate problem today, to a lot of people it does not feel like innovation.
At Facebook, we focus on three sets of problems we want to solve over a long period:
The first is to help spread Internet connectivity, to have every person in the world have Internet. Today, with 7 billion people in the world, there are still more than 4 billion not (connected). They do not have access to all kinds of information and opportunities.
The second focus is artificial intelligence. We will have computers that can process the world and understand senses of vision and dreams, better than people. Computers may not be smarter than we are, but there will be a lot of progress in 10 years.