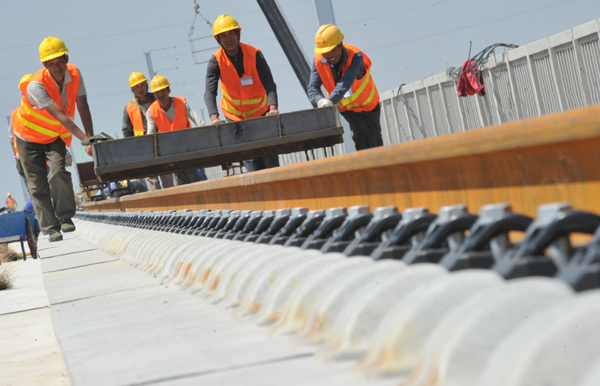 Workers construct a railway project in Yuncheng, Shanxi province. [Photo/Xinhua]
More investment needed to improve logistics and contacts
Panelists attending the annual Boao Forum for Asia called for more investment in infrastructure projects between China and other countries, pointing to the important role of the construction of the China-Thailand railway due to begin in May.
More investment is needed in infrastructure construction that will help bolster local logistics and trade contacts, especially electric power and railway projects, Ning Jizhe, deputy head of the National Development and Reform Commission, said at a panel discussion on production capacity on Thursday in Boao, Hainan province.
China has signed agreements on capacity collaboration with dozens of countries, including developing countries along the Road and Belt Initiative, and developed countries, such as France, according to Ning, who noted that it will be easier to start working with neighboring countries such as Pakistan and Kazakhstan as they have greater demand in terms of infrastructure compared with developed countries.
The initiative, proposed by China in 2013, is meant to improve transport infrastructure linking Asia and Europe.
Ning said that the railway project between China and Thailand, which will be designed and constructed by Chinese companies, marks a further step to enhance cooperation that is not only beneficial to local communities but also to China's equipment exports.
The $10.6-billion, more than 800-kilometer railway project that connects Thailand's Nong Khai province, Bangkok, and the eastern province of Rayong, was signed in December when Premier Li Keqiang went to Thailand for a regional meeting in 2014.
Delegates attending the forum said that such investment is a win-win strategy for everyone involved.
New infrastructure projects bring communities with more jobs and bring more tax income for the government, according to Pakistani Minister of Planning Development and Reform Ahsan Iqbal.
On China's side, capacity cooperation leads to a particular growth in railway equipment with high quality, according to Zhang Jiehui, vice-governor of Hebei province.
"There are more than 700 companies in steel and iron industries in Hebei that made investment and built factories overseas, each of which is making a profit," said Zhang, in response to concerns that China exports inferior capacity to other countries to tackle its own overcapacity problems.
"By moving factories abroad Chinese companies specialized in these fields could better play their roles in countries with higher demand in steel, cement and other manufacturing products," said Zhang.
Zhang said further investment would be made in cooperation with Pakistan and Kazakhstan, and he expected a prospective future for further cooperation.