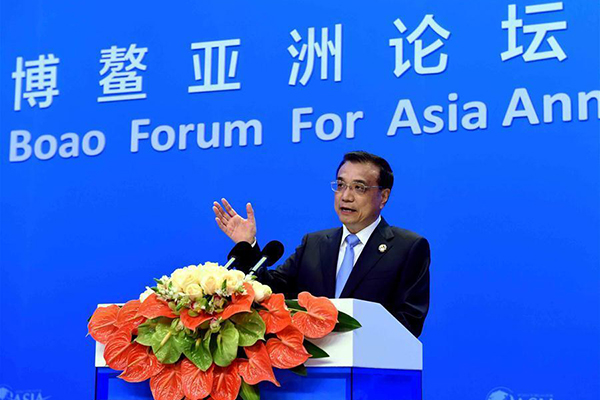 Chinese Premier Li Keqiang delivers a speech at the opening ceremony of the Boao Forum for Asia Annual Conference in Boao, South China's Hainan province, March 24, 2016.[Photo/Xinhua]
BEIJING - The keynote speech delivered by Chinese Premier Li Keqiang at the opening ceremony of the 2016 annual conference of the Boao Forum for Asia (BFA) has put forth a new vision for promoting regional development and revitalizing Asia, overseas observers said Thursday.
It also shows China's resolve to deal with challenges and could help restore public confidence in the global economic outlook, they added.
Li gave the speech, titled "Asia's New Future: New Dynamics and New Vision" on Thursday at BFA 2016's opening ceremony in China's southernmost island province of Hainan.
Building vibrant Asia
In his speech, Premier Li put forward a series of concrete proposals to promote Asian cooperation and development.
The premier said that China is proposing an Asian financial cooperation association to optimize the regional financial market and avoid large-scale financial turbulence, and stands ready to link the "Belt and Road" Initiative with development plans of countries in Asia and regional organizations.
He also expressed the hope that Asia's regional trade deal, the Regional Comprehensive Economic Partnership (RCEP), can be reached within this year.
The proposals came at a time when Asia needs a new model of development to replace the outdated export- and investment-oriented economy, said Jin Jianmin, a senior fellow at Japan's Fujitsu Research Institute.
China has called for deepening integrated regional development, conducting cooperation in infrastructure and other fields, and promoting interconnectivity, which could jointly bring about an expansion in trade due to improved communication, Jin said.
He noted that the e-commerce based on the Internet could promote innovation among small- and medium-sized enterprises.
Asia has tremendous potential for future development, since Asia has the capital and technology to realize self-innovation, he added.
Asian countries have established a number of bilateral trade agreements that have promoted regional development over the past five years, but a broader framework such as the RCEP which could link all the smaller ones would be better, said James Laurenceson, deputy director of the Australia-China Relations Institute at the University of Technology Sydney.
Laurenceson noted that with China and India being included, the RCEP will boast huge advantages given the two Asian giants' capability of creating economic growth and trade opportunities.