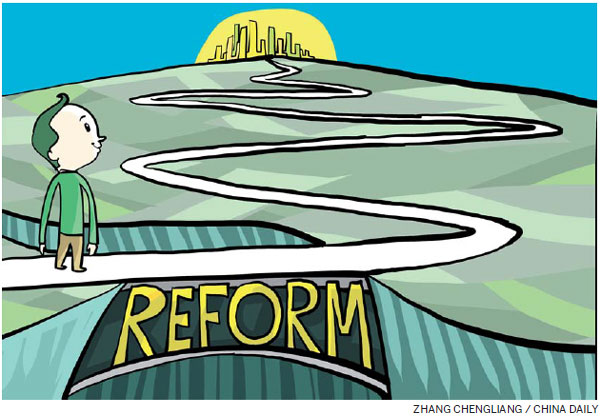 BOAO, Hainan - Economists and business leaders from Asia and beyond at the ongoing Boao Forum for Asia are closely following China's efforts and progress in economic structural reforms, saying that these are more important than the growth speed.
"People have been talking too much about the growth speed. I would say even a growth of 6 percent is not so bad," said Fred Hu, chairman of Primavera Capital Group and a former senior executive of investment bank Goldman Sachs, at the forum in China's southernmost island province of Hainan.
China had an economic growth of 6.9 percent last year, which is lower than the country's stellar growth a few years ago but still much higher than the world average of less than 3 percent in recent years. The government has set a growth target range of 6.5 percent to 7 percent for the economy this year.
"The most important are efforts to implement structural reforms such as State-owned enterprise reform, mass innovation and entrepreneurship and reduction of monopoly," Hu said.
Hu said China's debt-to-GDP (gross domestic product) ratio, a key indicator of short-term system risks, does not support concerns about China's growth speed, even though the corporate sector debt level is relatively higher.
Indicators of the banking sector do not support worries about any system risks, either, said David He, partner and managing director at the Boston Consulting Group.
More than 2,000 participants from more than 60 countries and regions gathered at the Boao Forum for Asia, which runs from Tuesday to Friday, for discussions on various topics, especially the regional and global economy.
Most of the experts at the forum agree that China has the monetary and fiscal policy room to ensure its economic growth remains on track. The Chinese economy is still "in a good shape," said financial futures pioneer Leo Melamed.
The growing size of the Chinese economy means much more added economic output than seen from China's faster growth in the past.
Strong employment creation is cited as another key factor underpinning the resilience of the Chinese economy. Statistics show 13.12 million jobs were created last year, better than expected. The official target for this year is to create 10 million new jobs.
"There won't be any major problems with employment. China has the economic size to do it, thereby eliminating a factor that might affect social stability," said He.
Economists said the crucial part is the pursuit of a transition from economic growth driven by investment and exports to growth led by consumption. Chinese leaders say they will face up to the challenges and have rolled out various policies. Many reforms are ongoing.
"That is the next major step that has to be happening in China. That is quite difficult but I think China is capable of doing that," Melamed said.