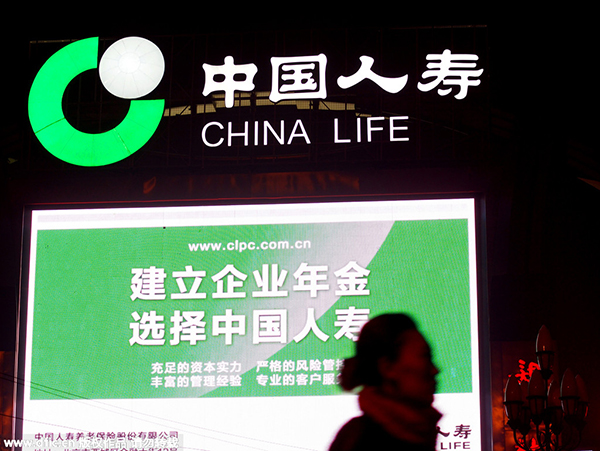 A pedestrian walks past an advertisement for China Life Insurance in Beijing, China, Oct 29, 2013. [Photo/IC]
China Life's regular premium, for the first time on record, will exceed that of single premium this year, a result of the insurer's efforts to improve its business structure, the company's president said on Friday.
"Our regular premium is expected to reach 70 billion yuan ($10.7 billion) this year, while that of single premium will hover around 65 billion yuan," said Lin Dairen, president of China Life, the largest commercial insurance group in the Chinese mainland.
A higher proportion of regular premium in an insurer's business portfolio is good for a higher embedded value - an important indicator of the insurer's future profitability.
To realize this target, Lin said, insurance agents will play a key role. By the end of 2015, the insurer's number of agents had reached 979,000, up 31.7 percent from a year earlier.
China Life reported a lower than expected rise in 2015 profits on Wednesday, with analysts warning that low interest rates and its stake in a Chinese bank could weigh on this year's earnings.
It posted a net profit up 7.7 percent to 34.7 billion yuan ($5.3 billion) against 35.7 billion yuan forecast by analysts, Thomson Reuters data shows.