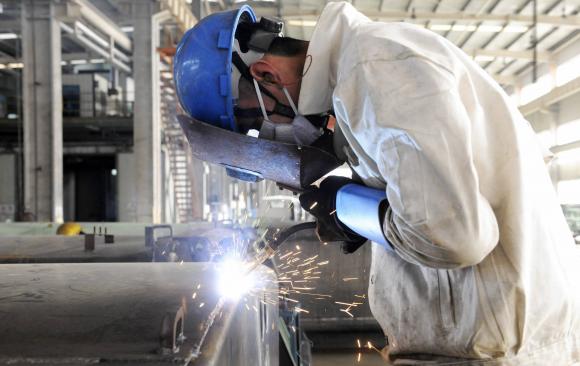 An employee welds the exterior of a vehicle along a production line at a factory in Qingdao, Shandong province Dec 1, 2014. [Photo/Agencies]
BOAO - China's ongoing transition to "new normal" featuring slower but better growth means new investment opportunities, in areas ranging from e-commerce to high-end manufacturing, attendees of the Boao Forum for Asia (BFA) agreed Wednesday.
"Aggravated overcapacity would not be an issue if investment was channeled to sectors with capacity shortages," said Justin Yifu Lin, a former World Bank chief economist, in an article published by BFA.
China is implementing supply-side structural reforms, with a focus on reducing overcapacity, destocking, deleveraging, reducing costs and shoring up weak growth areas. The reform will advance economic restructuring by expanding medium-to-high-end supply.
"Investing in industrial upgrading and technological innovation would be an [entry route] for businesses seeking opportunities in China," he said.
When attending the sub-forum "Dialogue of Asian Civilizations" at Boao, former Pakistani prime minister Shaukat Aziz highlighted the cooperation opportunities the Belt and Road Initiative had brought to his country and to regions along the routes.
Aziz said trade and investment should also be enhanced via local mechanisms including ASEAN.
During the same forum, Nobel Prize laureate Mo Yan shared his thoughts on how online shopping had made exchanges much faster. He shared that his daughter had bought him some dates from the Middle East, which arrived just a day after she had pressed send on the order.
"I couldn't imagine how quick the date would be delivered."
China will set up more cross-border e-commerce pilot zones to attract businesses, create jobs and nurture new business models that will boost foreign trade and stimulate the economy, the State Council announced in January.
E. Allan Gabor, president of the Asia Pacific region for Merck Biopharma, told Xinhua at Boao that he is confident that China, one of the biggest markets for most of Merck's products, will offer more opportunities for Merck thanks to the country's rising middle class.
"In 2016, the Chinese government implemented the universal two-child policy. This will bring additional demands on the treatment and service level in the hospitals [...] we hope to provide better products and services to patients." Gabor said.
According to Merck, although the Chinese economy has entered a "new normal" phase, the demands of its 1.3 billion population continue to increase, which is a driving force for economic development.