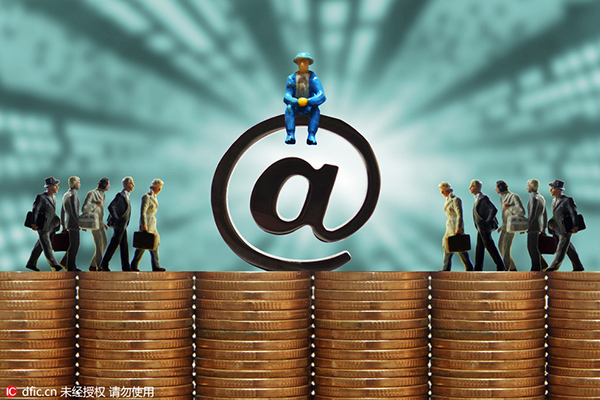 Online financing is outperforming financing services offered by bricks-and-mortar channels, bringing more positive effects to loan seekers despite concerns over high risks of bad debt on Internet platforms, a report said on Tuesday.
The report was jointly released by Boao Review, Nielsen Holdings Plc and Tencent Holdings Ltd at the annual Boao Forum for Asia, being held this week in Boao in Hainan province.
It used three measures-accessibility, availability and profitability-to evaluate the performance of online financing and came up with a China Financial Internelization Index that now stands at 108.5.
According to the report, when the index stays at 100, it means that the impact of online financing is the same as offline. When the reading is above 100, it shows that online financing is bringing more positive effects than that of offline to loan seekers.
When the Index is below 100, it indicates that performance of online financing can only be rated as secondary and what offline financing has achieved at this stage prevails.
"For years, small-business financing has been an impediment to China's market economy," said Kevin Wang, director of finance research of Nielsen China.
"Internet financing can help small businesses and startups that do not have access to bank lending and traditional financing resources in a good way. So those emerging online finance platforms can strengthen China's financial industry and promote its small and medium-sized businesses."
The report is based on a poll of 4,267 people and 2,211 companies.
It found that nearly 40 percent of those surveyed said they experienced the rejection of a loan application by a bank and nearly 42 percent said they successfully received a loan from an online financing platform.
Liu Yannan, chief executive officer of Beijing Tiandao Jiran Technology Co Ltd, which in 2015 launched an app offering loans to buyers of used cars and consumer electronics, said the smaller the loan, the more difficult for people to borrow it from banks.
"That is because the risk to offer small loans purely based on individuals' credits is high for traditional banks, but through big-data technology, it is easy for Internet firms to find out who can be good debtors," he said, adding his firm has offered 2 billion yuan ($307 million) worth of loans to consumers since September 2014.
While online financing makes it easier for people to get their hands on loans, the bad debt rate at Internet-enabled finance organizations is also high due to the unsound credit system, said Xie Ping, former deputy general manager at China Investment Corp.
"The higher risk drives up the financing cost. The annual interest rate at offline banks is usually at 7 percent while the interest rate at online financing platforms is usually higher than that," he said.
Cliff Zhang, chief executive officer of ppdai.com, a Shanghai-based online credit loan platform, said that with the Internet integrates further into people's life, more data are expected to gather online.
"The more data we get, the more we can reduce risk of bad debt through big-data technology," he said, adding his company's bad debt rate has been gradually reduced to about 2 percent.
According to the China Banking Regulatory Commission, the nonperforming loan rate of commercial banks in the fourth quarter of 2015 was 1.67 percent.