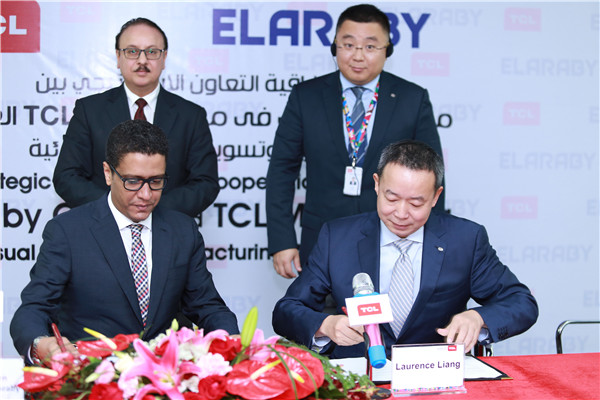 Liang Tiemin (right), general manager of TCL Multimedia's strategic customer business center, and Mohyielden Elaraby, chief marketing officer of ELARABY Group, signed an Memorandum of Understanding in Shenzhen on Thursday about a strategic partnership between the two, including establishing a joint TV production base in Egypt to supply African and Middle East markets. Provided to China Daily
TCL Multimedia Technology Holdings Ltd, the Chinese TV maker with the third largest global shipment volume of LCD TV, announced on Thursday its plan of setting up a joint LCD TV factory in Egypt that is expected to have the largest capacity among the Chinese-invested joint LCD TV manufacturing bases in North Africa.
The joint factory will complete the first phase investment of $2.4 million and go into operation in 2017, and the annual output will amount to 2 million sets over the coming five years, TCL told China Daily.
TCL, the largest Chinese TV exporter to Egypt, and ELARABY, the largest home appliances enterprise in Egypt, signed a memorandum in Shenzhen on Thursday about the "win-win" cooperation.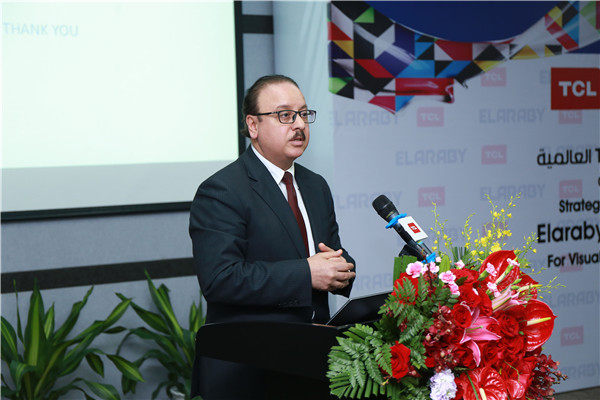 Yasser El-Kady, Minister of Communications and Information Technology in Egypt, gives a speech at the signing ceremony about the "win-win" joint venture between TCL Multimedia and ELARABY. He said that Egypt's trade agreements with different countries in Middle East and Africa will facilitate TCL's entry into these markets. Provided to China Daily
"The Egypt-based joint LCD TV factory will supply the African and Middle East markets and get stable orders for TCL with the help of ELARABY's well-developed sales network," said Liang Tiemin, general manager of TCL Multimedia's strategic customer business center.
"We have established long-standing partnership with TCL's TV business arm. WE are excited to deepen our relationship further through this collaboration and are confident that it will expand our sales network and strengthen our market presence with an increased share," said MohyieldenElaraby, chief sales officer of ELARABY.
TCL will contribute 30 percent of the first phase investment on the joint factory, and ELARABY will contribute 70 percent.
While the markets for LCD TV in China, the United States and Europe have become saturated, TCL is optimistic about the prospect of the markets in Arab states, Africa and the Mediterranean countries, estimating the demand to exceed 20 million sets per year in total.
Also, the Egyptian government gives tax rebates to those exports that have more than 40 percent of the production done in Egypt.
As one of the first Chinese companies going global, TCL Corporation, TCL Multimedia's parent company, established its first overseas TV manufacturing base in Vietnam in 1999 and has raised the proportion of its overseas revenue to nearly half of the total annual revenue.
TCL Multimedia has established a factory in Poland to serve the European market and a factory in Mexico to serve the North American and Central American markets.
The joint venture in Egypt marks the start of TCL's new round of overseas expansion, which will step up efforts to develop businesses in emerging markets, given the opportunities brought by China's Belt and Road Initiative, TCL said in a press release.