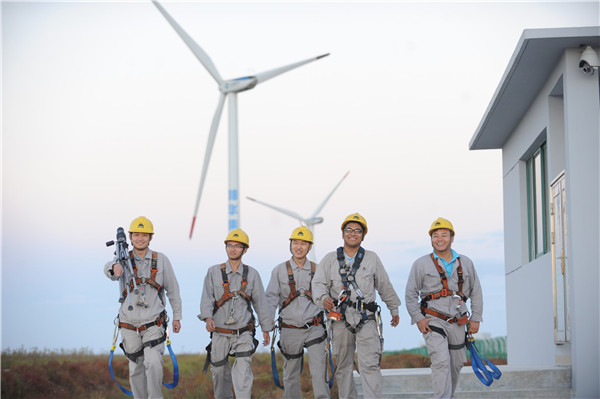 Workers at a wind power plant in Dongtai, Jiangsu province.CFP
German industrial firm determined to expand product portfolio despite flat Chinese sales
German privately owned industrial company Freudenberg is looking at merger and acquisition opportunities in China in a bid to expand its product portfolio and diversify its business, a senior executive said on Wednesday.
"We are constantly seeing companies as possible acquisitions, because it is part of our strategy to enlarge our footprint and stay ahead of the curve," said Hanno D. Wentzler, the Asia regional representative for the century-old German company.
"It is very rare that we shed activities-we only consider buying others both from China and abroad," he said.
With businesses ranging from sealing products, lubricant to automobile parts and chemical products, the company saw flat sales last year with declining revenue in debt-ridden industries such as steel, cement and mining.
"Overall we are satisfied with our development in China, but we can do better in the coming years as we see high potential for growth in the offshore wind market," said Wentzler, a member of the Freudenberg family.
China is the third-largest market for Freudenberg after the US and Germany, accounting for 11 percent of its overall business. There are 6,191 employees working for the company in the country.
The company raked in 6 billion yuan ($917 million) in China in 2015, up a mere 0.4 percent from a year earlier, mainly driven by business from the wind power and automotive sectors, according to the company's financial report.
Freudenberg has set a target of more than 4 percent growth by 2017.
Despite China's economic slowdown, it has invested more in the world's second-largest economy in terms of research and development and factory expansion, Wentzler said.
Freudenberg's R&D spending rose 70 percent over the last three years.
Commenting on some experts' opinions that China is likely to have an "L"-shaped economic recovery, Wentzler said the steel industry might have such a recovery but not other sectors.
"China will be the world's biggest manufacturing country for many years to come," he said.
"Now, the country is trying to upgrade its manufacturing industries through innovation and high-efficiency, and you will need a free-market and bring in more competition, and it will eventually lead to innovation."
The executive warned the process won't be painless as it took more than a decade for the countries in Europe and the US to complete their transition.